A Trust Crisis? The Edelman Trust Barometer 2021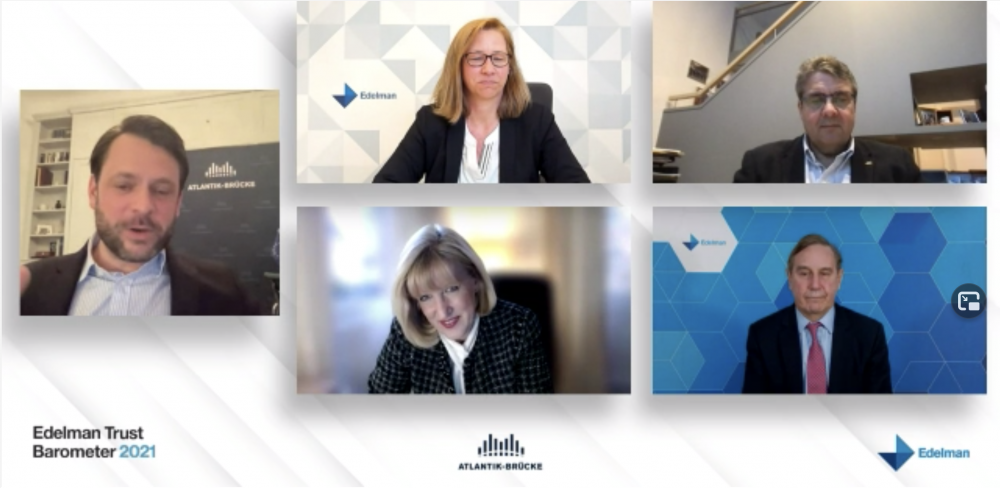 Just under a year after the outbreak of the Corona pandemic, Germans' confidence in institutions (government, companies, media and NGOs) continued to grow. This makes Germany unique in international comparison, as shown by the latest data from the 21st "Edelman Trust Barometer". On the occasion of the survey's launch in Germany, Atlantik-Brücke organized a panel discussion together with Edelman Germany.
If you would like to rewatch the event, please click here.
Richard Edelman, President and CEO of Edelman, and Christiane Schulz, CEO of Edelman Germany, outlined which institutions have gained or lost trust and discussed how institutions can meet expectations in the long term. Atlantik-Brücke board member Julie Teigland, Managing Partner EY Europe, Middle East, India and Africa, Ernst & Young, and Atlantik-Brücke Chairman Sigmar Gabriel, commented on the survey results.
David Deißner, Executive Director of Atlantik-Brücke, moderated the event.
The "Edelman Trust Barometer" is an annual study by the communications firm Edelman that examines trust in institutions. For this year's study, 33,000 people from 28 countries were surveyed. The results of the study can be found here.