"The State of Trust and the US-German Partnership: A Transatlantic Survey"
A Survey conducted in late May 2022 finds that majorities of the general populations in both countries consider the US-German partnership crucial for the world's stability
Defending democracy, climate change, and economic growth are priorities for both Germans and Americans
Measures taken by both governments to respond to the Russian invasion of Ukraine have created trust
Younger generations in both nations think that the best days of the partnership are ahead
You can find a pdf of the survey results >here.
"The State of Trust and the US-German Partnership: A Transatlantic Survey" was released on the occasion of the 2022 German-American Conference hosted by Atlantik-Brücke and the American Council on Germany.
The study, surveyed a total of 4,000 Americans and Germans – nationally representative of their respective general populations – to understand their confidence in the stability of the US-German partnership, their attitudes towards the role of government and business to restore trust in democracies, and their views on global challenges facing both countries.
The survey was jointly commissioned by the American Council on Germany and Atlantik-Brücke, both in their 70thanniversary year. It was conducted by the opinion research institute Edelman Data & Intelligence (DxI) and underwritten by Allianz SE.
Key findings include:
Trust in the transatlantic partnership is high in both nations. However, American participants have greater trust in the Federal Republic of Germany and its institutions than vice versa. (Business: USA 58% / GER 51%, Government: USA 55% / GER 54%, NGO's: USA 55% / GER 51%, Media: USA 53% / GER 44%).
The vast majority in both countries (USA 70%, GER 75%) believe that the partnership is needed today more than ever and plays a crucial role for stability in the world.
While American participants are more optimistic on the partnership and believe its best days are ahead (USA 55% vs. GER 46%), positive scores in each country are mostly driven by younger generations, particularly Millennials in the US and Gen Z in Germany.

A United Defense
Survey participants recognize that the foundations of the partnership are rooted in its military and defense alliances (USA 74%, GER 76%), with trade and commerce also being foundational (USA 74%, GER 79%). The pooling of military resources is a top priority for nearly 30% of American participants and 39% of German participants. 
The response to the war in Ukraine and the actions of the relatively new administrations in the U.S. and Germany have helped to strengthen trust in the partnership.

Prioritizing Climate, Jobs, and Democracy 
There is alignment that addressing climate change is a current top priority (USA 31%, GER 39%), though more American participants say economic growth and job creation should be the future focus (42%), when asked to choose among a list of top three priorities. By contrast, an overwhelming number of German participants view climate change as the top priority of the future.
Strengthening democracy is a core common value. In Germany, it is the second biggest priority, only behind addressing climate change. For Americans, it is the second biggest priority, only behind economic growth and job creation. Defining and articulating a common view on democracy will only further strengthen trust between the two nations.
The data reveals opportunities to demonstrate how addressing climate change can benefit economic growth, create jobs, and in turn stabilize and strengthen democratic societies.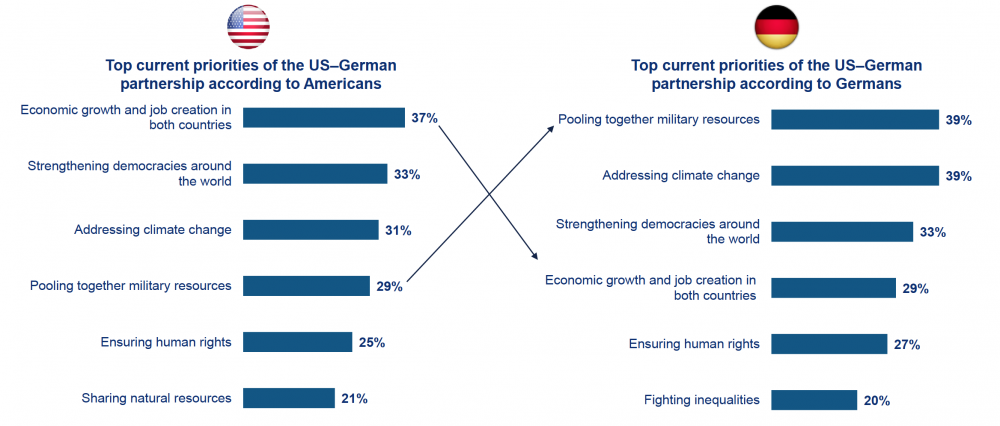 Business Competence and Long-termism Build Trust
Participants in both countries report positive perceptions of each other's business competence and reliability.  Trust in businesses is built on three pillars: historic trade relationships, high perceptions of the quality of the products and services delivered, and the ability to innovate. However, for Germans, differing views on free trade undermine trust in US businesses, and a lack of confidence to regulate fairly and transparently was the leading source for Germans' distrust in the US government.
The majority of respondents expect governments and businesses to co-lead the partnership and continue to build trust with transparency and a focus on long-term, shared goals that balance both economic growth and climate responses.
Next-Generation Optimism
The survey found that men, older and more affluent groups are generally more trusting of the partnership. Notably, however,  a majority of younger Americans and Germans, especially Millennials in both countries, expressed trust in the partnership (Millennials in both USA and GER 69%).