"A semester's worth of transatlantic relations in one week"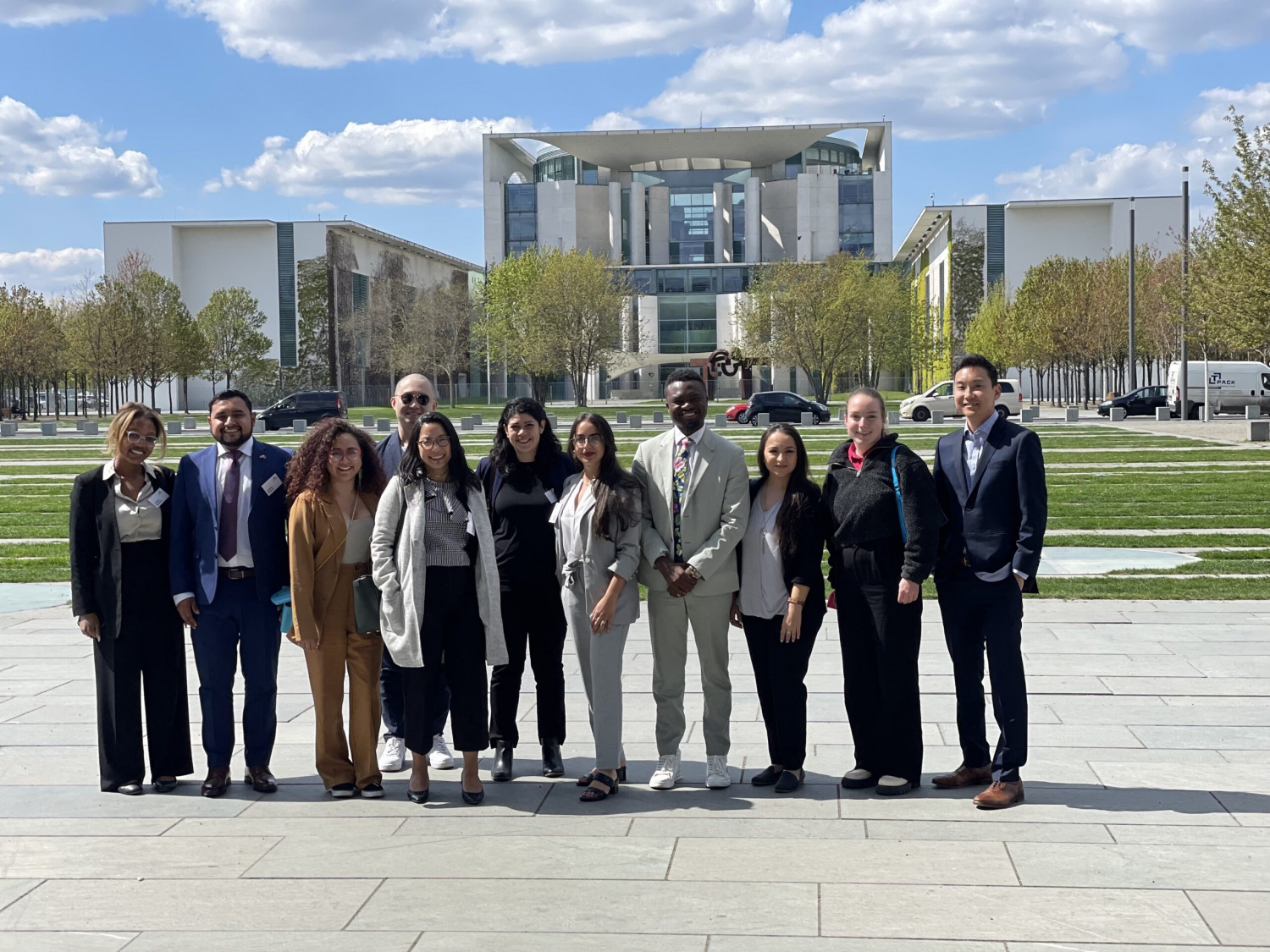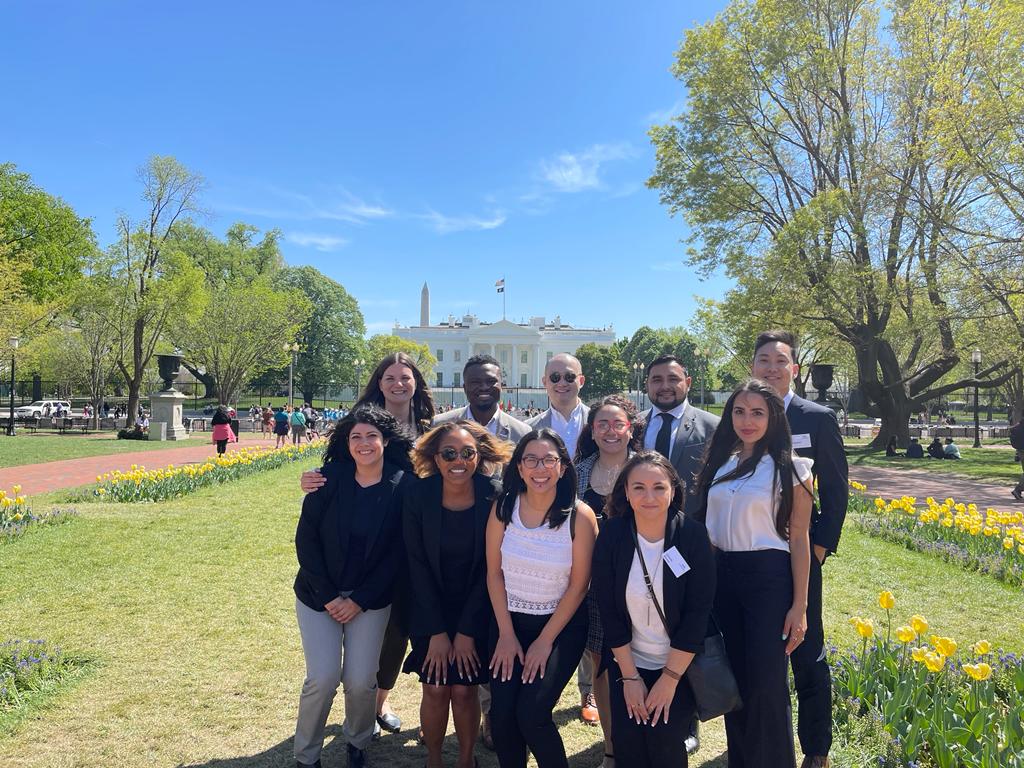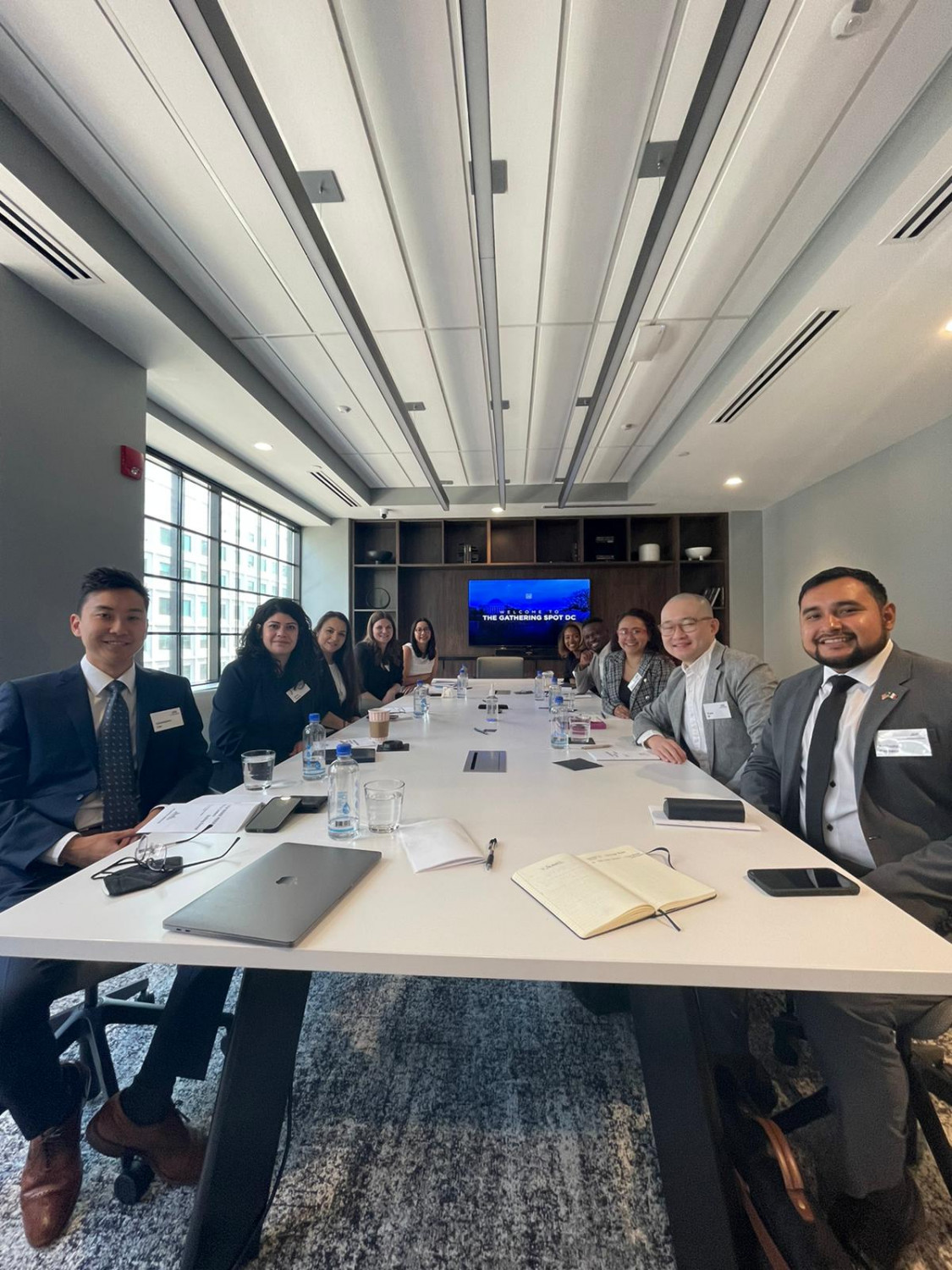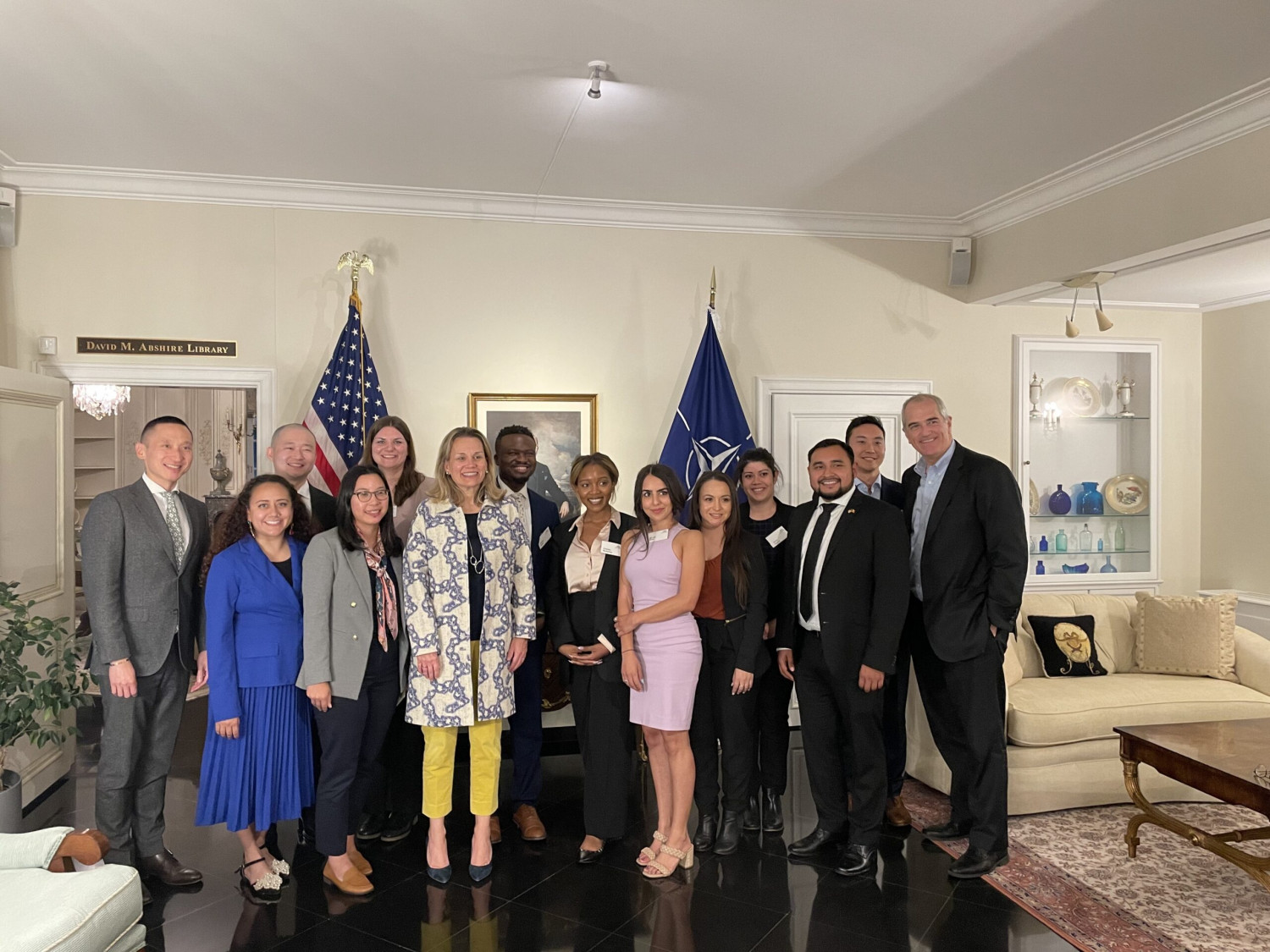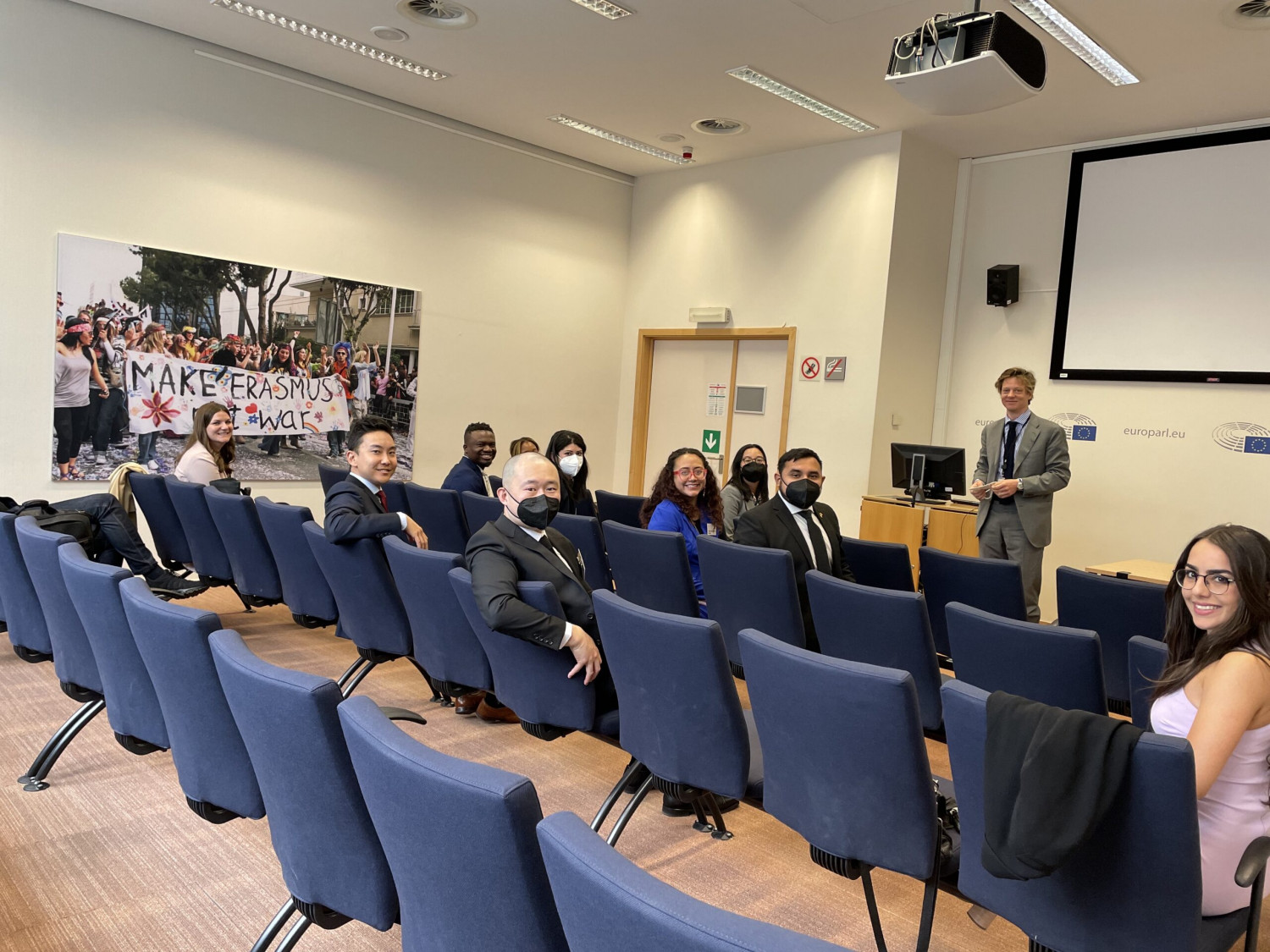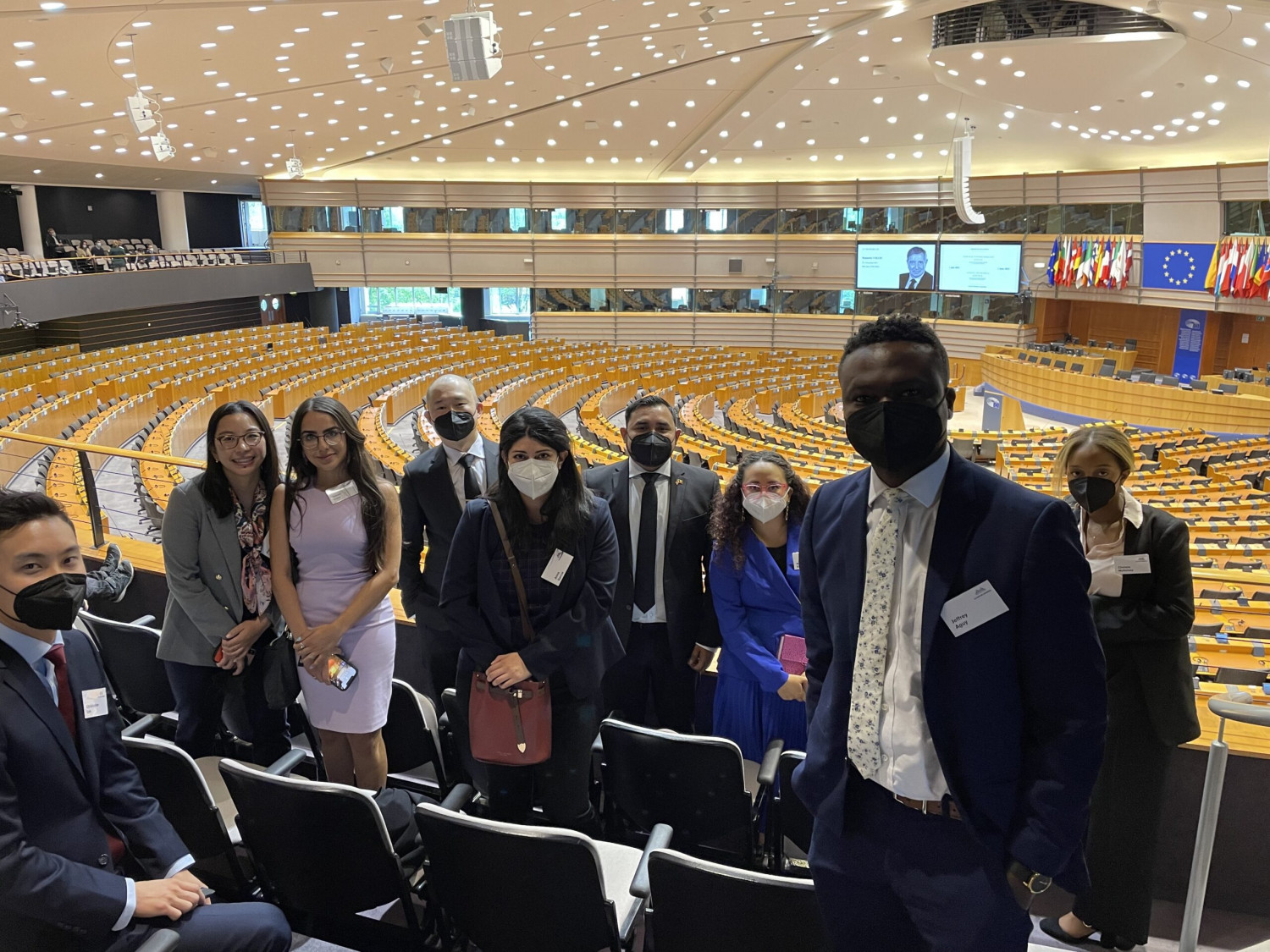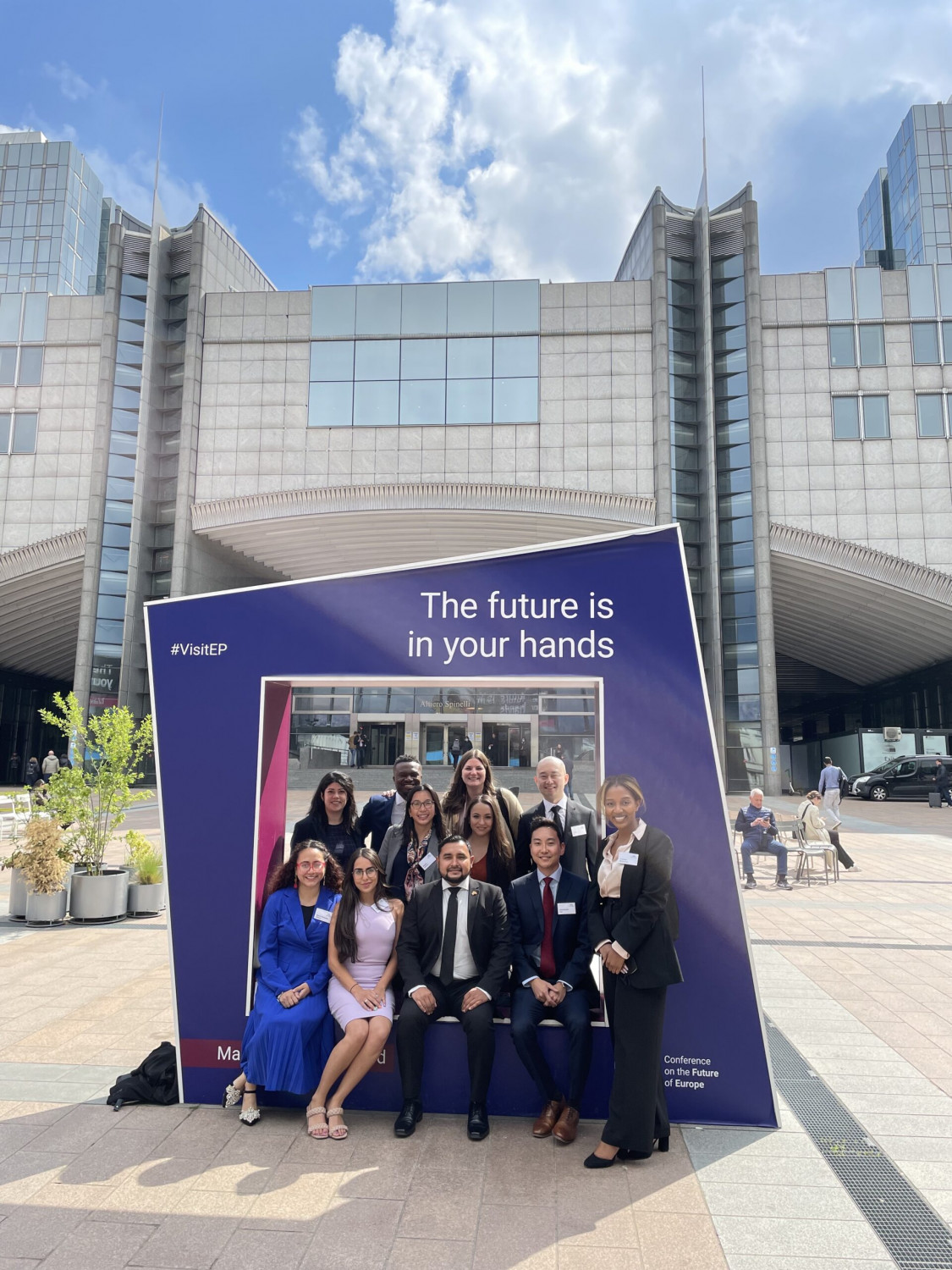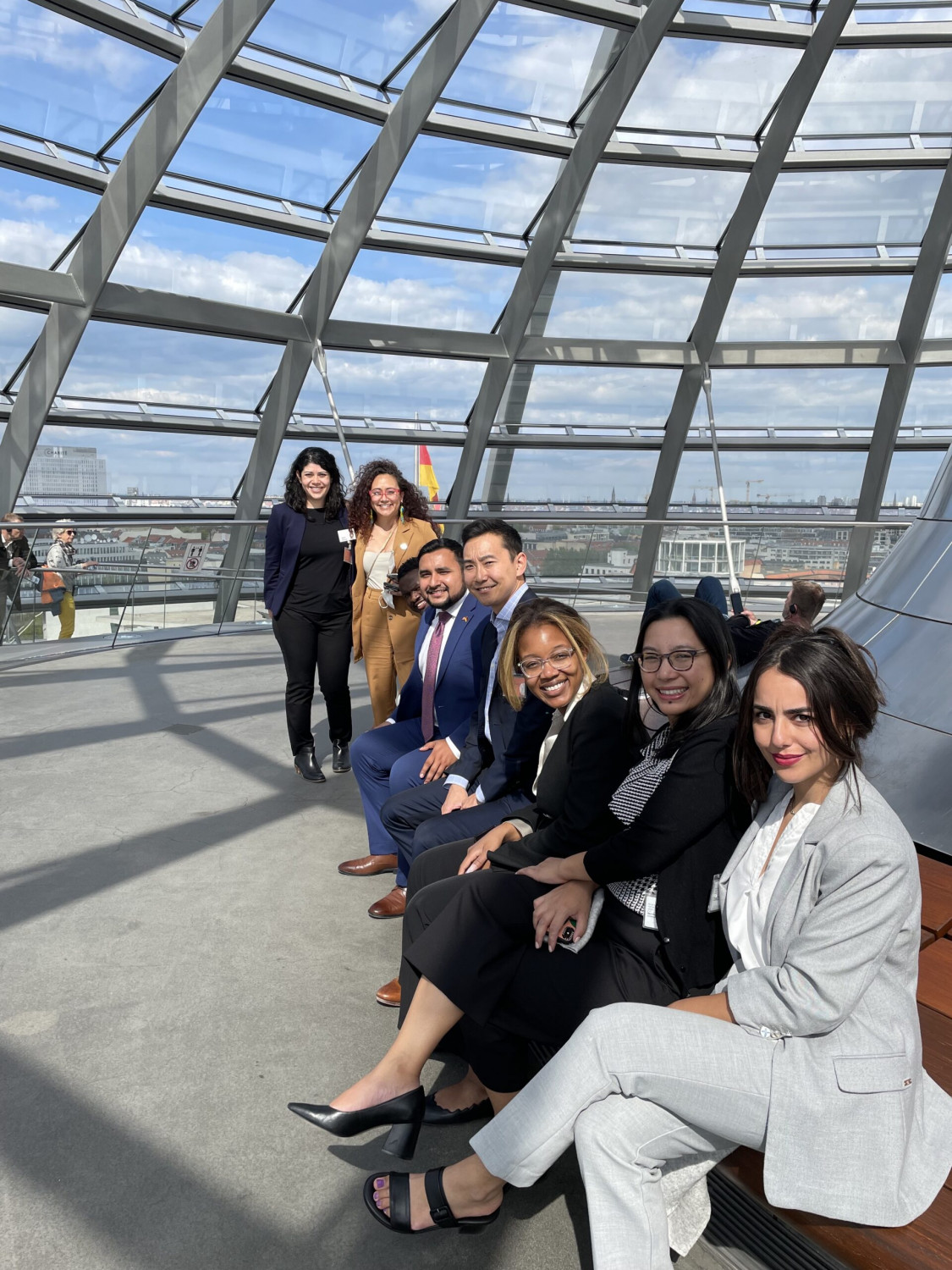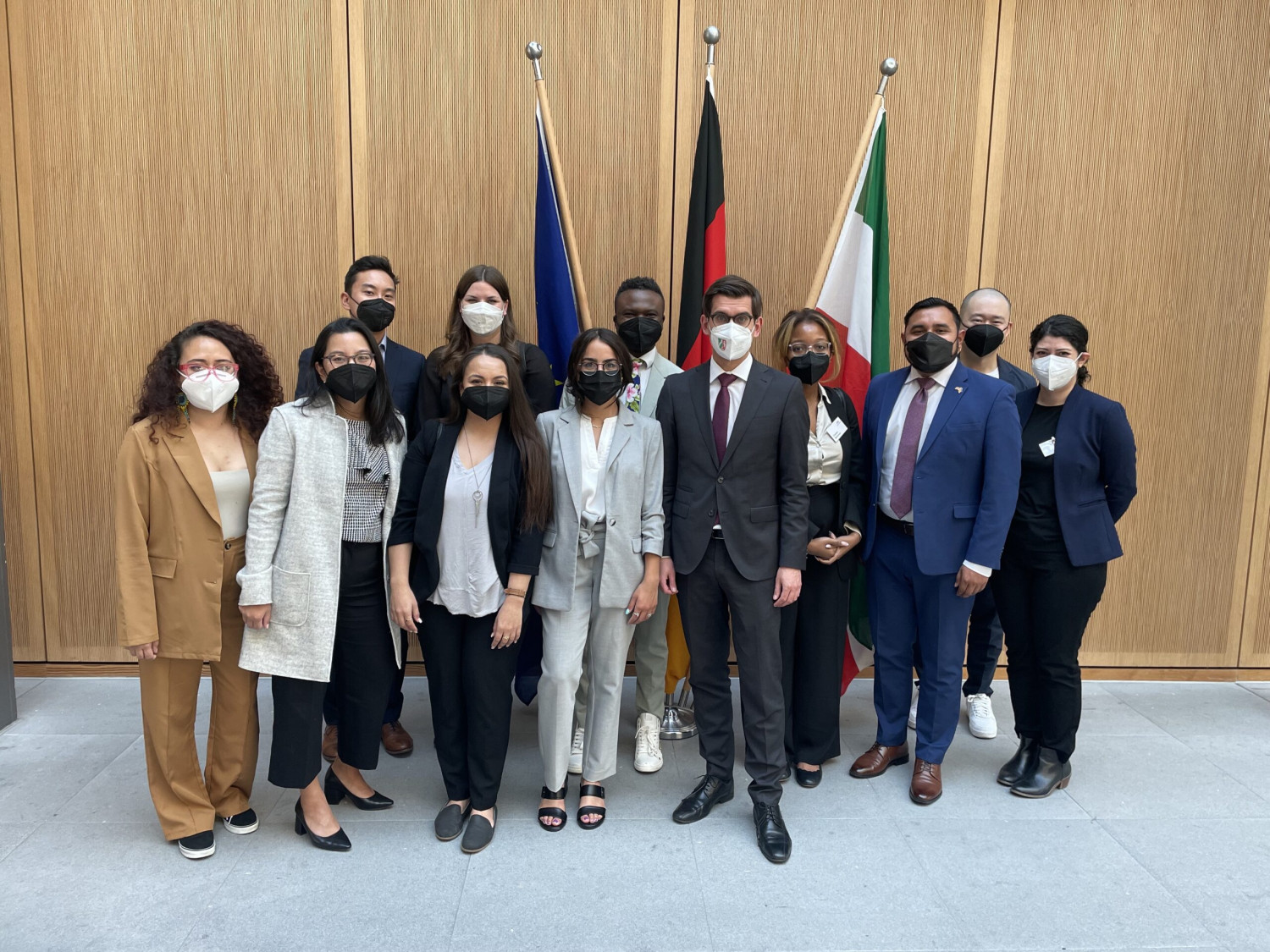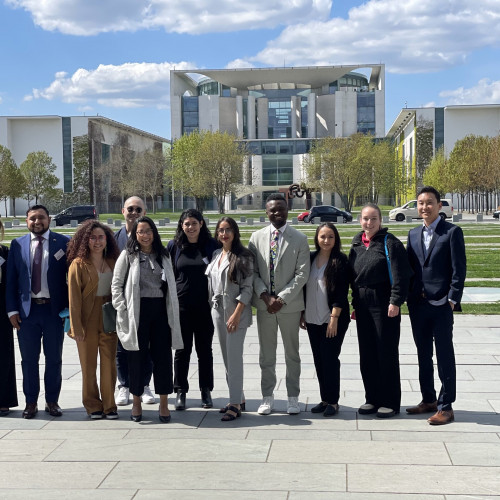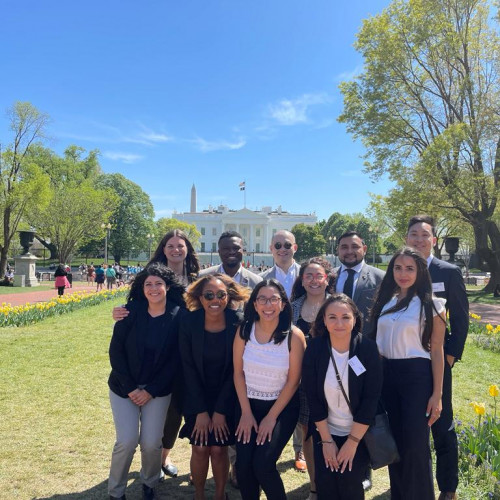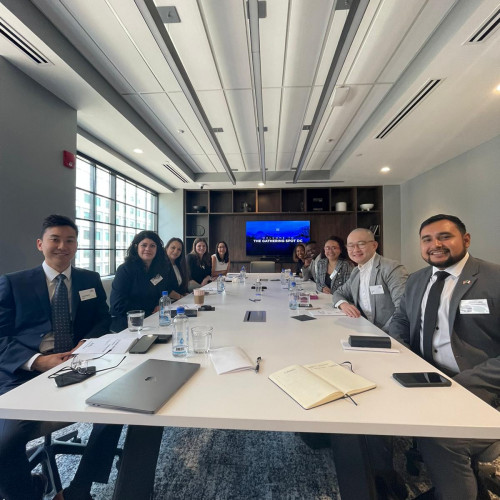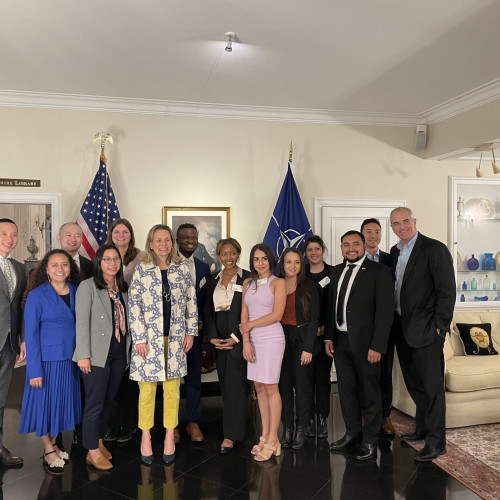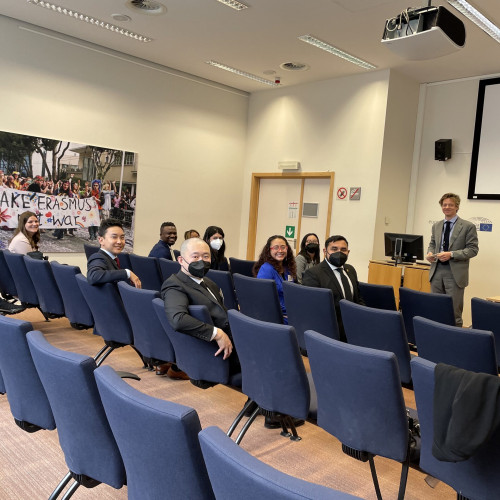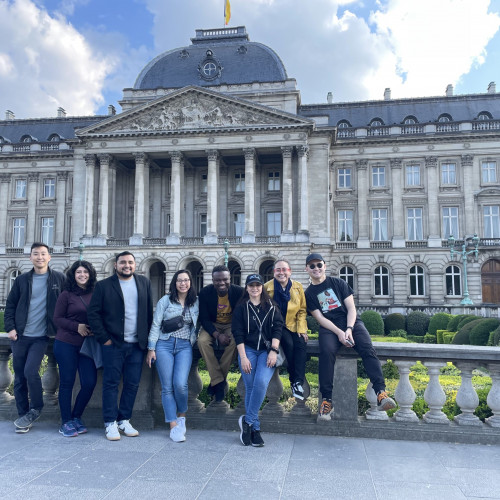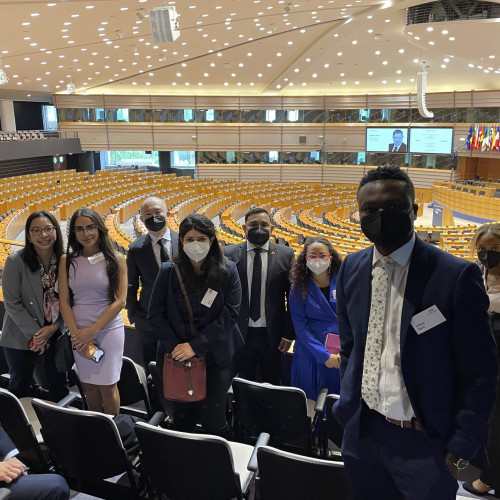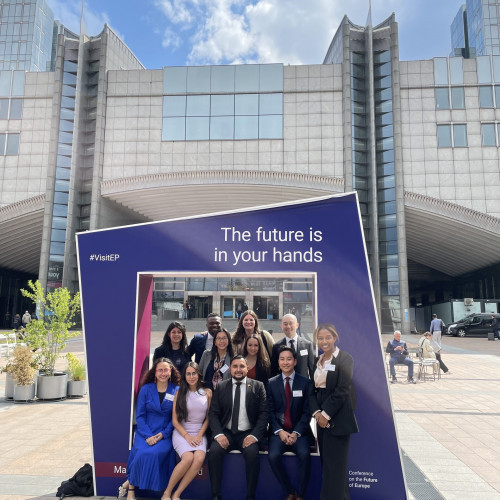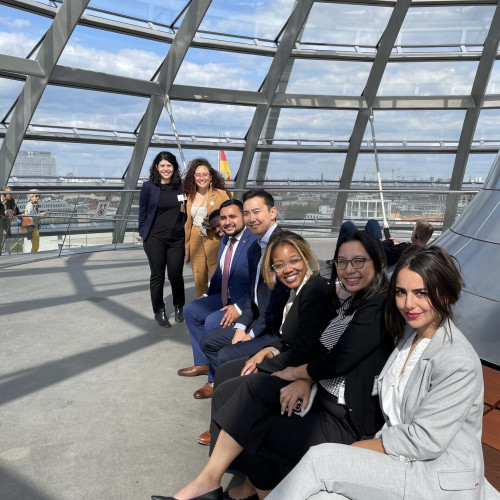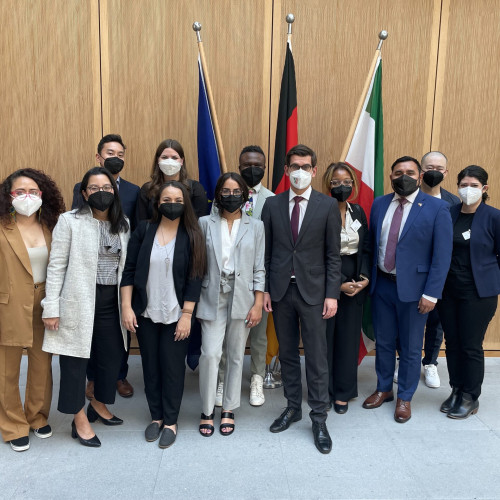 Alyssa Llamas and Frank Bi report on their participation in the New Bridge Program. They recount their trip to Washington, DC, Berlin, Brussels and Hamburg, and reflect on the topics they discussed. Read about their trip and their thoughts below:
Introduction to Transatlantic Relations
(by Frank Bi, Director of Tools and Technology, Star Tribune, Minneapolis)
As expected of a transatlantic study program, the airport served as the backdrop that bookended our experiences through the New Bridge Program. Our cohort of nine met at Dulles International Airport outside Washington, D.C. Longer introductions yet to be, we were off to the races and shuttled to our first event as soon as all our checked luggage was collected off the airport conveyor belt.
The swift transition from a long flight to the home of Atlantik-Brücke board member Michael Werz set expectations with the cadence of what we could anticipate for the next 10 days. Over a lovely dinner in the backyard, Werz imparted upon us the significance of our trip – not only were we traveling to Europe at a historic time, but we were also going to meet with leaders who have dedicated their careers to nurturing transatlantic relations and preserving democracy. He helped us understand that the Russian invasion of Ukraine has massive implications for all of Europe and the world. We spent the remainder of the evening getting to know each other and other guests, including program alumni and German officials who happened to be in Washington for the Spring Meetings of the International Monetary Fund and the World Bank Group.
The next morning, the tempo picked up again as we "fit a semester's worth of transatlantic relations" into three hours, thanks to an energetic seminar from Dr. Joyce Marie Mushaben, adjunct professor at the BMW Center for German and European Studies at Georgetown University. The seminar broadened our historical perspective and prepared us to get the most out of our time in Europe.
A lunch reception at The Army and Navy Club also helped to prepare us for the journey ahead. Hosted by Dr. Jan Grünhage, Acting Deputy Chief of Mission at the German Embassy in Washington D.C., we mingled with German natives working at the embassy as well as with representatives from the New Bridge Program's partner organizations.
Media Tour
(by Frank Bi, Director of Tools and Technology, Star Tribune, Minneapolis)
The program afforded us opportunities to see German media at work from two perspectives – how German media covers the U.S. for the audience at home and how German media covers Germany for non-German audiences.
At ARD in Washington D.C.'s Georgetown neighborhood, we toured the D.C. Bureau of Germany's public-service broadcast network. A studio tour provided the intricacies of television and radio journalism, and a Q&A with journalists and other staff at ARD gave us insight into how they approach their work in a foreign country while reporting to an audience at home.
In Berlin, we visited the headquarters of state-owned international broadcaster Deutsche Welle and met with veteran journalist and presenter Pia Castro and colleagues. Along with questions surrounding the process of reporting in Germany and the work that Deutsche Welle does abroad to broadcast German and global issues through a German perspective, Castro also gave us leadership advice and talked about being a Latina, originally from Argentina, in Germany.
Learning about the Holocaust
(by Alyssa Llamas, Policy Director, Wynne Health Group)
Before departing for Europe, we visited the United States Holocaust Memorial Museum, a sobering experience that deepened our understanding of the dark, yet important, history of Germany and the legacy of the Holocaust. We wandered through the exhibits, each with an identification card describing the experience of a person who lived in Europe during the Holocaust, following along what happened to them during the rise of the Nazi party in Germany and the start of World War II (1933 to 1939), during the war years and in concentration camps (1940 to 1945), and their ultimate fate (1945). The following quotation by Martin Niemöller, a Lutheran pastor who spent the last seven years of Nazi rule in concentration camps, resonated with many of us:
"First they came for the socialists, and I did not speak out – because I was not a socialist. Then they came for the trade unionists, and I did not speak out – because I was not a trade unionist. Then they came for the Jews, and I did not speak out – because I was not a Jew. Then they came for me – and there was no one left to speak for me."
At the German Historical Institute Washington (GHI), one of the fellows, Marifer, facilitated a debrief of our museum visit, where we further discussed the danger of complicity – not only during the Holocaust but also at present, particularly in regard to public policies and sentiments that continue to harm historically marginalized communities in the United States. We also met with two historians at the GHI, Dr. Axel Jansen and Dr. Richard Wetzell, and engaged in a lively discussion on how learning about historical events can help us better understand and respond to current issues. A major takeaway from the Holocaust exhibition was seeing how the gradual turn of events, starting with the boycott of Jewish-owned businesses and antisemitic propaganda, resulted in the systematic mass murder of European Jews and other groups, including people with disabilities, Sinti and Roma, and gay men. The Holocaust was not an overnight phenomenon; rather, it was a culmination of rising anti-Semitism over multiple years. On that point, Dr. Wetzell encouraged us to "watch for the beginning," because major atrocities often have humble beginnings; it is incumbent upon us to watch for, and act upon, these foreboding signs.
European Union 101
(by Alyssa Llamas, Policy Director, Wynne Health Group)
Besides our knowledge of the euro and the relatively seamless ability to travel from one country in the European Union (EU) to another, many of us were generally unfamiliar with the EU. Roland Freudenstein, Vice President and Head of GLOBSEC Brussels, educated us on the "founding fathers" as well as the principles and treaties of the EU that serve as its basis for economic and political integration. We also learned about the institutions of the EU and their distinct roles in policymaking. The voting system of the Council of the European Union, which requires a qualified majority for most issues and unanimity on sensitive matters, such as foreign and security policy, was particularly eye-opening. The discussion with Roland left us with a more curious perspective on how different democracies operate and, of course, a greater appreciation for the euro.
After our EU 101 session, we toured the European Parliament in Brussels, an exciting first for the New Bridge Program. Before entering the building, we all observed the blue and yellow of Ukraine's flag fluttering alongside the flag of the EU and its 27 member countries – a symbol of EU solidarity with Ukraine. We had a Q&A session with Tim Peter, a staffer of Bernd Lange, Member of the European Parliament and the Progressive Alliance of Socialists & Democrats. He explained the intricacies of the European Parliament. On our way out, we stopped by the European Parliament Plenary, where the 705 Members of the European Parliament debate and vote on legislative proposals. The large booth for interpreters reminded us of the cultural and linguistic diversity of the EU, which makes all materials available in its 24 official languages. With language access critical to engaging in the democratic process, we were impressed and inspired by the EU's prioritization of translation services.
Conflict in Ukraine and NATO's Role
(by Alyssa Llamas, Policy Director, Wynne Health Group)
The conflict in Ukraine was top of mind and a part of nearly all of our conversations with the people we met throughout the trip. Ahead of our visit to NATO Headquarters (HQ), one of the fellows, Chris, briefed us on Russia's invasion of Ukraine on February 24, 2022, including the events leading up to the attack, more recent developments, and NATO's involvement. The opportunity to go to NATO HQ, the central nervous system of the Alliance, at this moment in time, was not lost on any of us.
Nick Nguyen of the NATO Archives Unit toured us around Headquarters and briefed us on its history. We learned that the building was designed to resemble interlaced fingers as a symbol of NATO's unity and cooperation. Among the many historical documents and photos, we viewed Article 5 of the North Atlantic Treaty, providing the principle of collective defense, which invoked greater significance for us amid the Russia-Ukraine war. We also walked through the atrium of NATO HQ, a magnificent space where we could see offices, the North Atlantic Council meeting room, and the special entrance for and office of NATO Secretary General Jens Stoltenberg.
Our group met with three experts from the Joint Intelligence & Security Division at NATO HQ – Agnieszka Blümel, Senior Analyst; Lt. Col. Jesus Reyes (US Army), Head of Middle East Branch; and Edward Wrong, Senior Analyst. We appreciated their open and candid responses to our many questions. They talked about their day-to-day activities as well as their process for collecting, analyzing, and disseminating intelligence. With the seemingly infinite amount of information received on a daily basis, they focus their assessment, or "running estimate," on "reducing uncertainty," explained Lt. Col. Reyes.
Unable to resist a unique photo opportunity, we all grabbed a snapshot striking our best power pose at the former desk of the NATO Secretary General. Like any delegation visiting NATO HQ, we also took photos with the flags of NATO and its 30 member countries and the NATO Star sculpture.
Our time in Brussels concluded with a dinner discussion on transatlantic security and defense with Ambassador Julianne Smith, United States Permanent Representative to NATO, at her official residence, Truman Hall. We were joined by Richard Holtzapple, Deputy Chief of Mission; Sergeant Derek Landers, U.S. Military Delegation Representative; and Jesse Shaw, Assistant Information Officer. Over an exquisite three-course meal, we discussed the role of NATO in Ukraine from an American perspective and the importance of mentorship and diversity in the workplace. Ambassador Smith talked about the personal impact of being mentored by Madeleine Albright, the first woman to serve as U.S. Secretary of State, as well as her experience as a woman in national security, a field mostly dominated by men. Whether any of us will pivot towards a career in the U.S. Foreign Service remains to be seen. However, the surreal experience of dining with Ambassador Smith and other American diplomats certainly opened our minds to the possibilities of a career in foreign policy, not just for us but also for our communities at home.
In Berlin, we met with Ambassador Boris Ruge, Vice Chairman of the Munich Security Conference and former Deputy Chief of Mission at the Germany Embassy in Washington, D.C. He explained the Russia-Ukraine war from a German perspective and how Germany's history has influenced its foreign policy. We also discussed the Munich Security Conference and its increasingly comprehensive view of security issues, such as the connection between food security and political stability, as well as the implications of COVID-19 and other emerging infectious diseases.
Climate Change
(by Frank Bi, Director of Tools and Technology, Star Tribune, Minneapolis)
Climate change was a central theme of the program, and our range of speakers offered various perspectives on this global issue. From representatives at the U.S. Embassy in Berlin to young activists, we received a holistic view on the impacts of climate change through a German lens, including implications of the Russia-Ukraine war.
At the U.S. Embassy in Berlin, we heard from Dr. Martina Kohl who explained how they are getting young Germans and Americans to adopt new perspectives on the environment by encouraging habits to combat climate change and to further understand the issue. We were also given a perspective on Germany's dependence on energy sources, from nuclear energy at home, to gas from Russia, and what the future holds for the country. The visit to the U.S. Embassy was capped off by a meeting with Dr. Amy Gutmann, U.S. Ambassador to Germany, who answered our many questions and offered her leadership advice to the cohort.
Over a dinner of schnitzel, we further discussed climate change with activists Helena Marschall and Henrike Cremer of Fridays for Future. In this conversation, we heard first-hand the challenges they faced along with the strategies they developed to overcome them. The conversation also led us towards a deeper discussion of how our different cultures act in the face of the biggest issue of our time. Their commitment and their work to spread awareness about climate change and the environment at their young age was inspiring for all of us.
Germany's Political System
(by Alyssa Llamas, Policy Director, Wynne Health Group)
As we walked through Berlin, Alina, project manager of the New Bridge Program, pointed out that each of Germany's 16 states had a representation in the city. In our meeting with Dr. Matthias Roßbach, Head of Coordination of Federal and European Policy and International Affairs at the Berlin Representation of the State Chancellery of North-Rhine Westphalia, we learned that the physical presence of Germany's states in Berlin and their proximity to federal offices illustrate Germany's political system. Dr. Roßbach explained "cooperative federalism" in Germany, which entails state governments, represented in the Bundesrat, actively participating in the federal legislative process. This concept was quite intriguing, especially in contrast to the federalist system in the United States.
The modern architecture in the government district of Berlin was impressive. The relative newness of the German Chancellery and Reichstag Parliament building reminded us that German reunification happened just over 30 years ago. We learned that the buildings' glass facades are intended to symbolize political transparency, a cornerstone of postwar Germany. We toured the German Bundestag and climbed the glass dome of the Reichstag, which offered a stunning 360-degree view of Berlin. From the glass dome, we looked into the plenary hall below, another symbol of the German government's openness to citizens.
Our group met with two members of the German Parliament and the Alliance 90/The Greens party – Tessa Ganserer and Omid Nouripour. In a pre-meeting briefing, fellows Anthony and Anna shared highlights of their careers and achievements. Ms. Ganserer, one of the first two openly transgender people to be elected to the German Parliament, has been a vocal advocate for transgender and LGBTQ rights. She shared her campaign experience, including running under her deadname (or birth name) in protest of the longstanding German law requiring a person to obtain a medical certificate in order to legally change their name and gender identity. Mr. Nouripour, who fled from Iran to Germany with his family at the age of 13, leads the Alliance 90/The Green Party. We talked to Mr. Nouripour about different issues within the context of the Russia-Ukraine war, including migration policies for Ukrainian refugees versus Syrian refugees and energy policies related to Germany's current reliance on Russian gas.
Germany's Dual Education System
(by Frank Bi, Director of Tools and Technology, Star Tribune, Minneapolis)
Thanks to a thorough briefing on Germany's dual education system by fellow Jeff, we were prepared to visit Aurubis, Europe's largest copper producer and recycler. Headquartered in Hamburg, we met young Germans who were enlisted in a vocational apprenticeship at Aurubis as an alternative to a full-time academic education. The young apprentices told us about their mix of on-the-job training and time in the classroom. For apprentices at Aurubis, this also meant time abroad at a university in the United States.
From Aurubis, we headed to an apartment above the Hamburg State Opera for a lunch hosted by Prof. Dr.-Ing. Dr. Sabine Kunst, Chairwoman of the Joachim Herz Foundation. There, we also met Darion Akins, U.S. Consul General for Northern Germany, who gave advice on leadership and consulted with members of our cohort on starting careers in the U.S. Foreign Service.
Dinner Discussion on Diversity and Anti-Discrimination in Germany and Europe
(by Frank Bi, Director of Tools and Technology, Star Tribune, Minneapolis)
Diversity in Germany was markedly different than our view of diversity in the United States, something we noticed early in the program. We learned that the Federal Statistical Office – Germany's version of the U.S. Census Bureau – only differentiates between Germans and foreigners in its survey because of Germany's history of using this data for evil. Another perspective that stood out was how the German Chancellor is most frequently gendered as a woman because of young Germans who have only ever known Angela Merkel as chancellor.
From an American perspective, it also stood out how German birthright citizenship is not as clear as it is in the United States. A child born in Germany is only granted citizenship under certain conditions. This, along with learning about historical migration from Syria, Turkey – and most recently Ukraine – helped us understand what it means to be German in Germany.
We met with Ouassima Laabich-Mansour, PhD Candidate at the Free University of Berlin, and Project Manager at Superrr Lab at LAWRENCE in Berlin Mitte, a Middle Eastern restaurant with a workforce composed mostly of employees with refugee background. Laabich-Mansour was also one of the few people of color that our cohort met in Europe. In a private dining room (that doubles as a gallery showcasing contemporary art illustrating migration and globalization), we chatted with Laabich-Mansour about a whole range of topics. She shared her lived experience in Germany – such as being a student in the dual education system, interacting with law enforcement, and working in the community.
Exploring Brussels, Berlin, and Hamburg
(by Alyssa Llamas,

 

Policy Director, Wynne Health Group

)
The packed schedule of the New Bridge Program included dedicated time to explore Brussels, Berlin, and Hamburg. Chelsea, one of the fellows, led our tour through Brussels, which entailed enjoying local delicacies, such as Belgian fries, waffles, and beer, and buying lots of chocolate to bring home. Many of us also sprang at the opportunity to eat moules-frittes (steamed mussels with fries and mayonnaise), the national dish of Belgium. We visited several landmarks, including La Grand-Place, a large square with buildings mostly from the 17th century, and Palais Royal de Bruxelles, the royal palace of the King and Queen of Belgium.
Hannah, our American tour guide who fell in love with Berlin, walked us through the city, recounting major historical events at different stops along the way. We gazed at Brandenburg Gate, reflected at the Memorial to the Murdered Jews of Europe, "jumped over" where the Berlin Wall once stood, and stared into the eyes of Checkpoint Charlie at the former border crossing between East and West Germany. Our food adventure continued with Berlin specialties – currywurst and döner kebab – as well as delicious Georgian and Sudanese cuisine, highlighting the cultural diversity of Berlin. We also rode the U-Bahn (or perhaps, it was the S-Bahn) to further soak in the sights and culture of Berlin.
By high-speed train, clocking over 200 km/h, we traveled from Berlin to Hamburg, a major port city in northern Germany. In addition to visiting the Aurubis Factory, we toured the streets of Hamburg, a bustling city juxtaposed with architectural marvels from different eras. We also learned about Hamburg's colonial history. Before our ride back, we grabbed Franzbrötchen (a sweet cinnamon pastry from Hamburg), pretzels, and other snacks for the train.
On our walk from the train station to the COVID-19 testing site (for U.S. entry requirements), we saw signs directing Ukrainian refugees to the welcome center, a white tent decorated with Ukrainian flags – another reminder of the war, its devasting impact on Ukrainians, and German solidarity with Ukraine. As for getting tested for COVID-19 (at a hotel for free), the easy process available 24/7 entailed scanning a QR code, registering, getting our nose swabbed, and receiving our results by email within 15 minutes. Fortunately, we all tested negative.