"An Inspiration for the World"
Der kanadische Botschafter Stéphane Dion spricht auf dem Frankfurter Sommerfest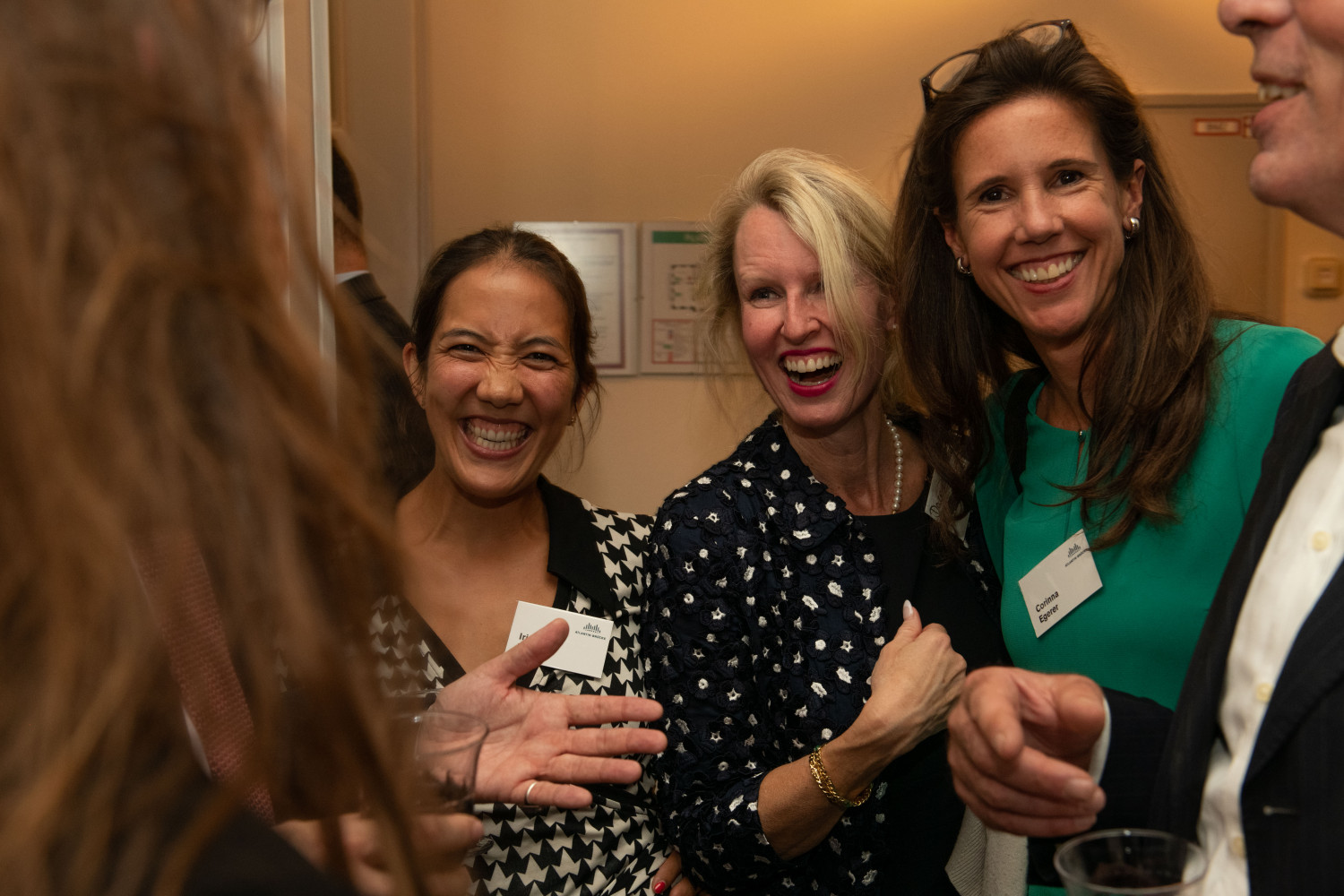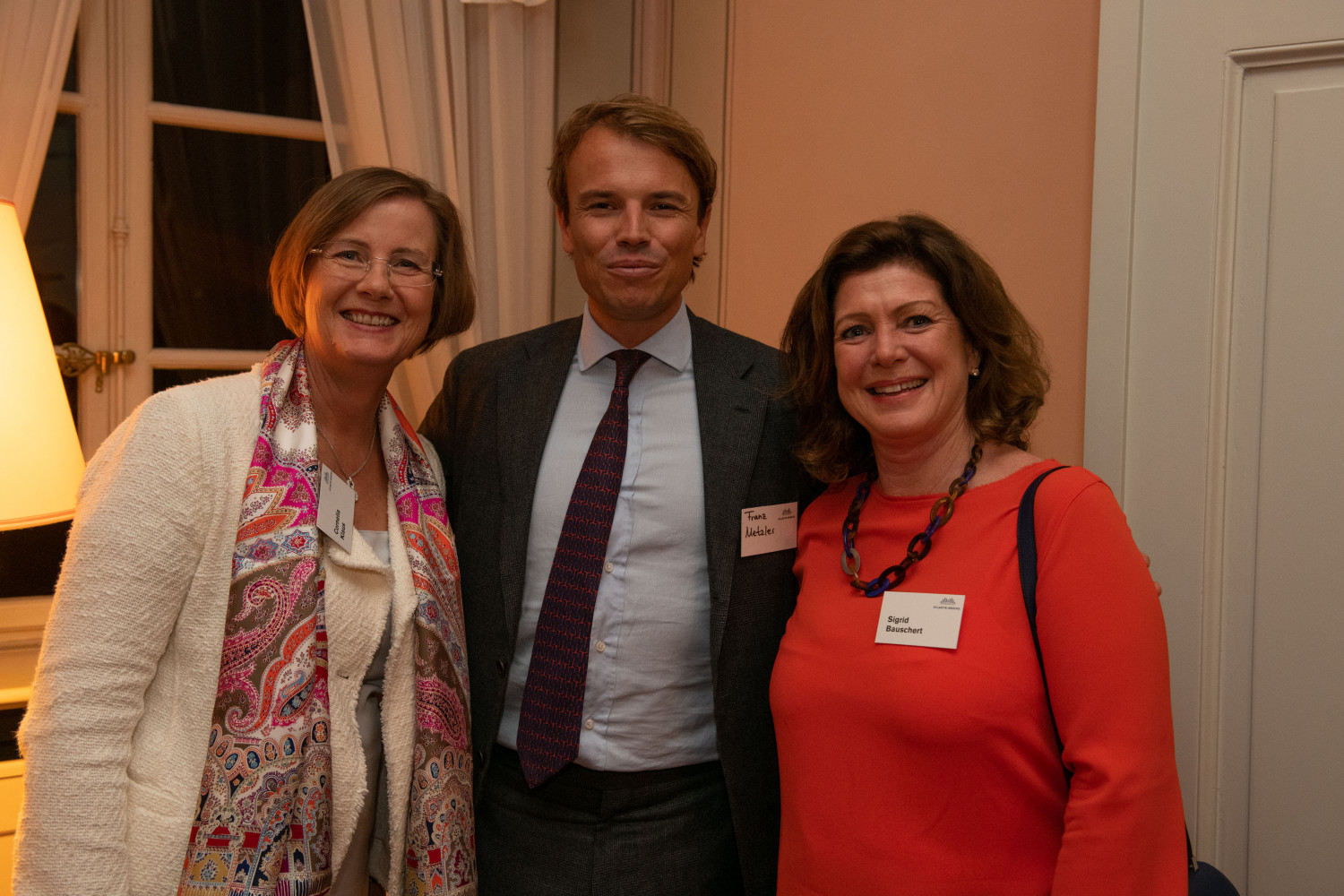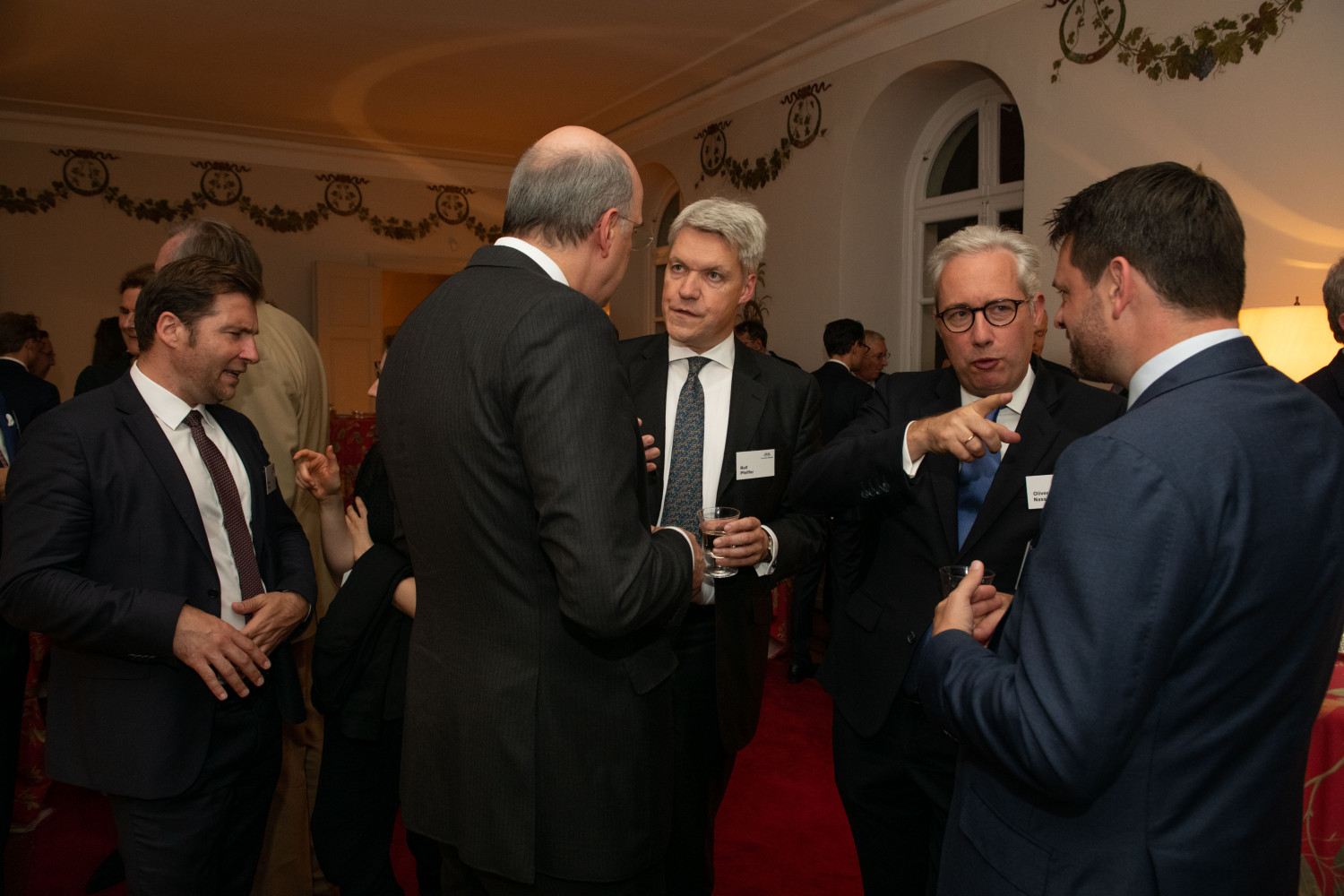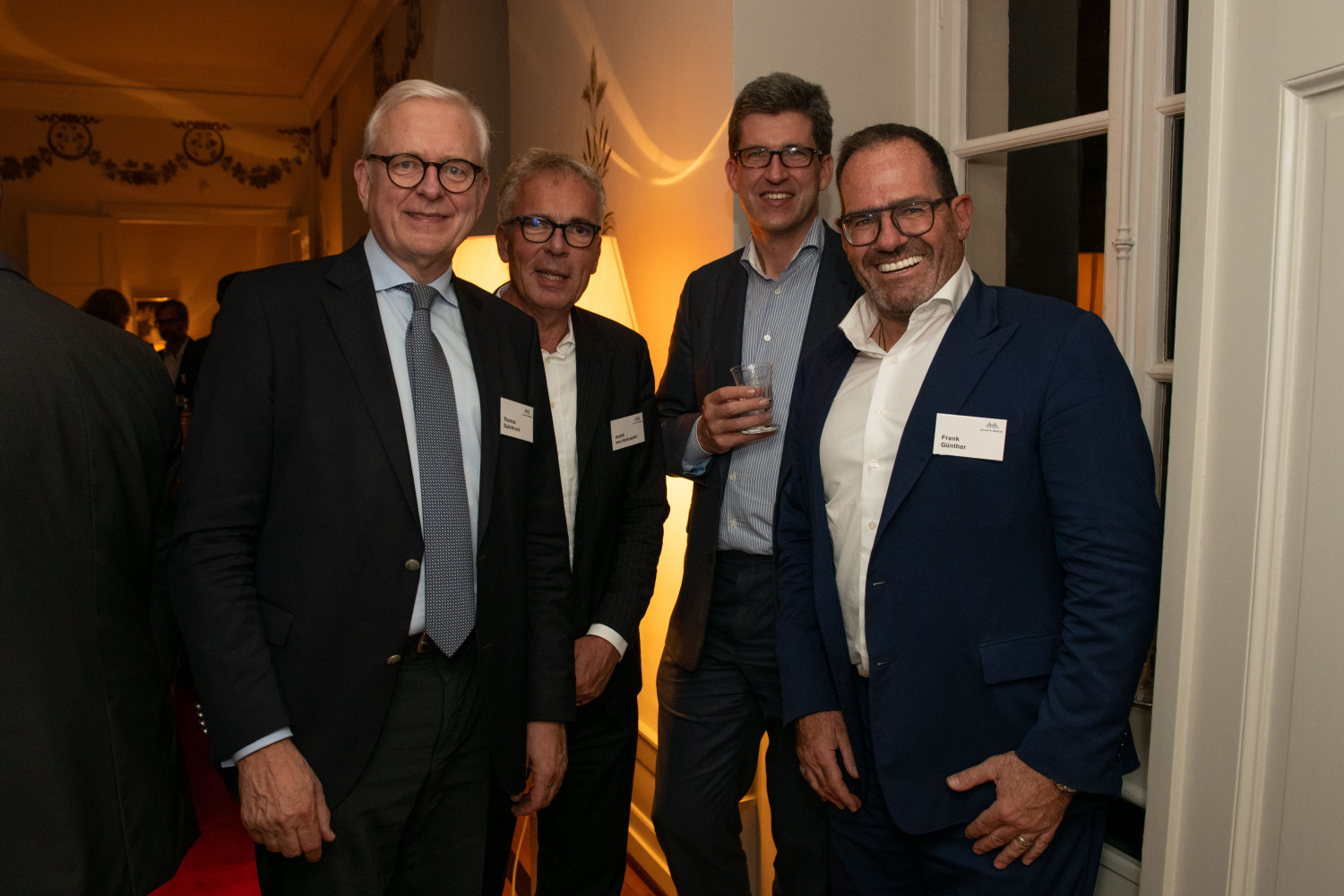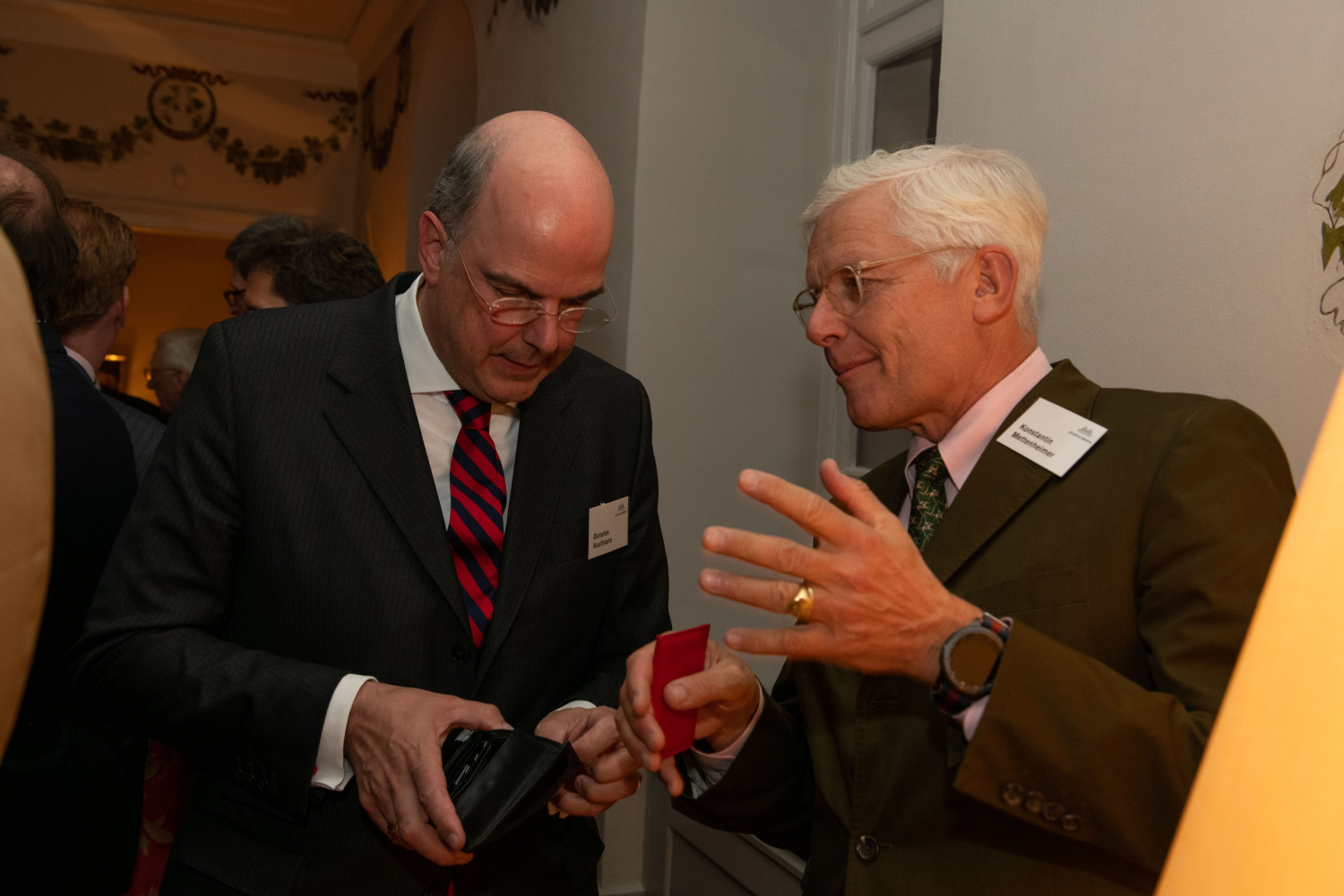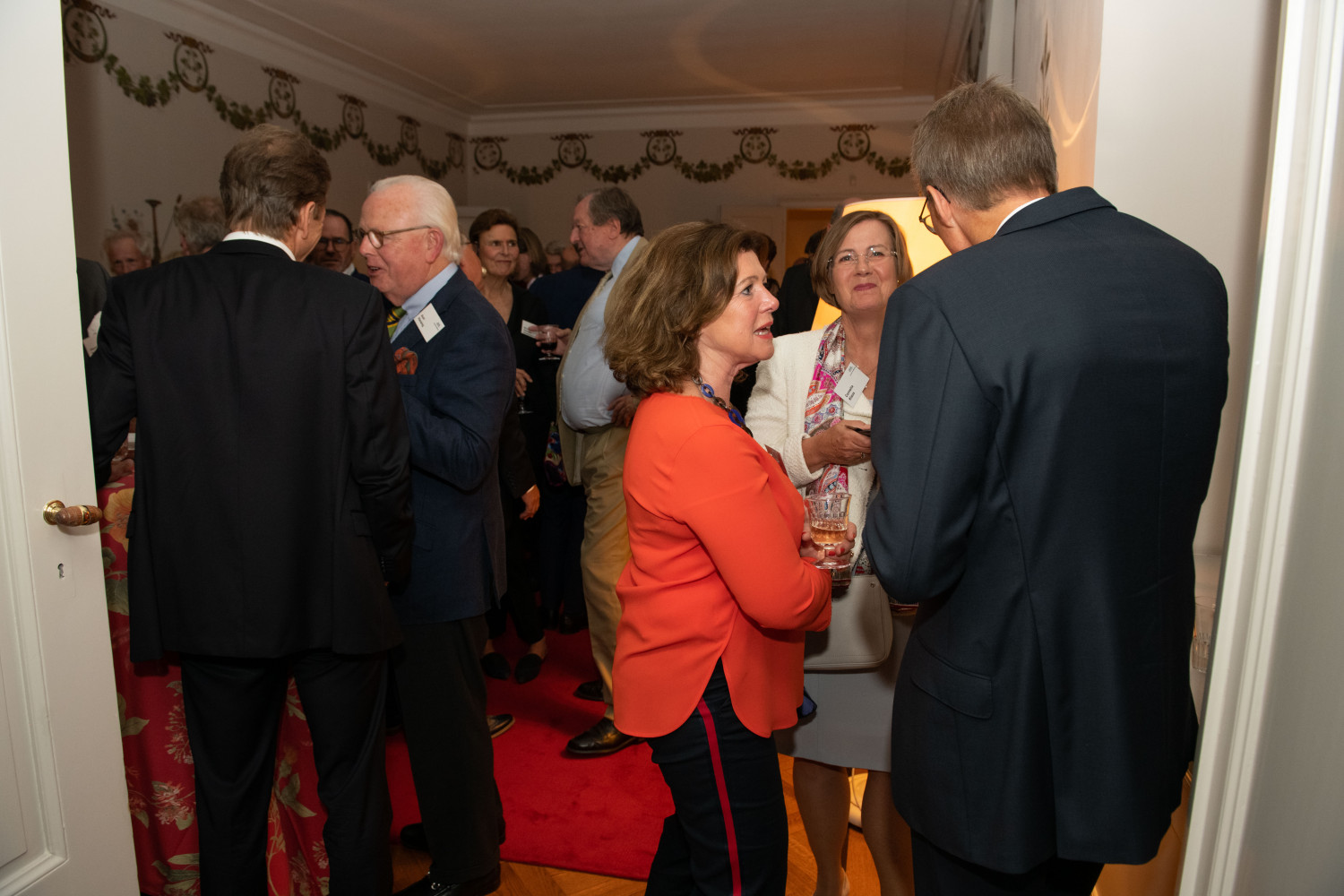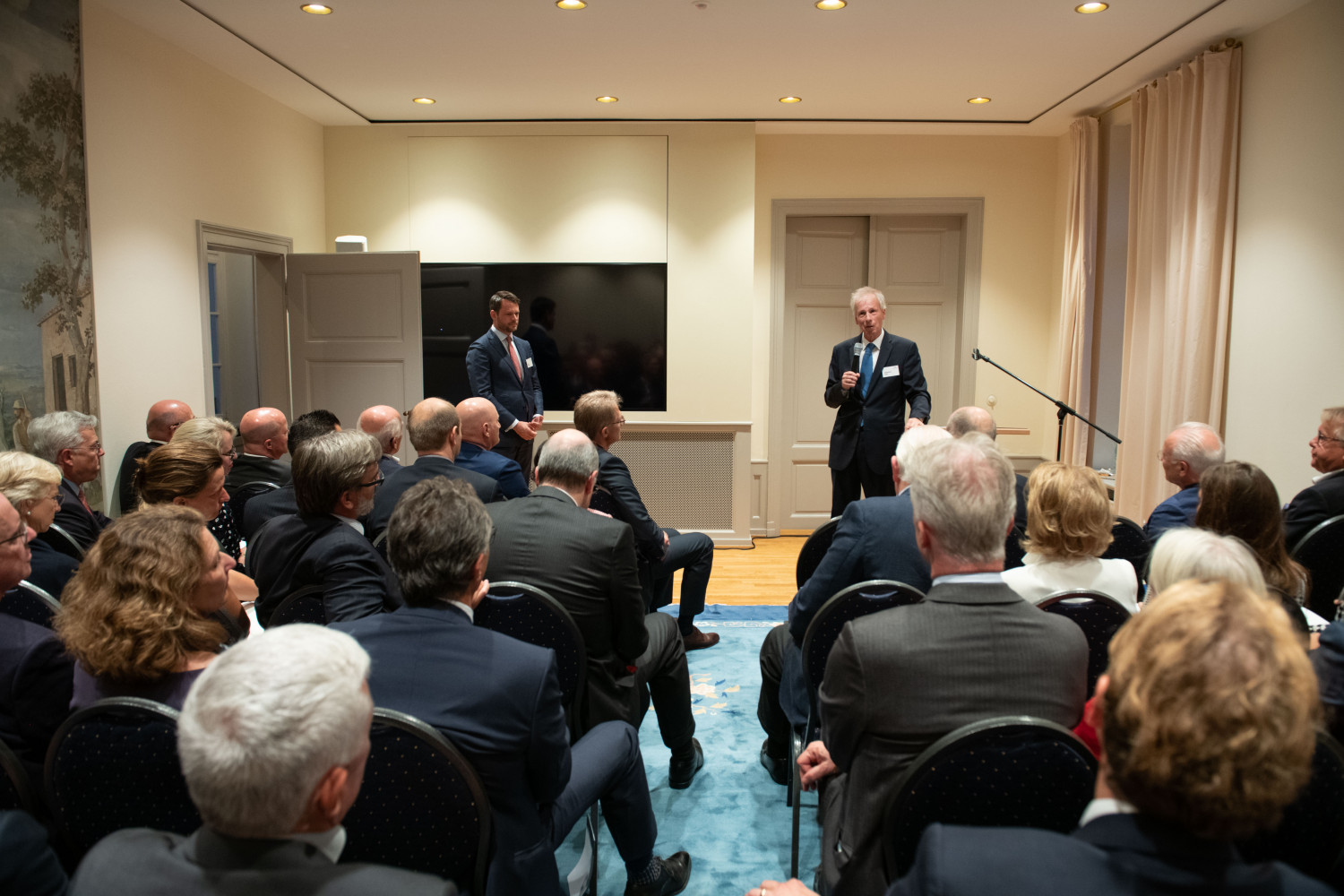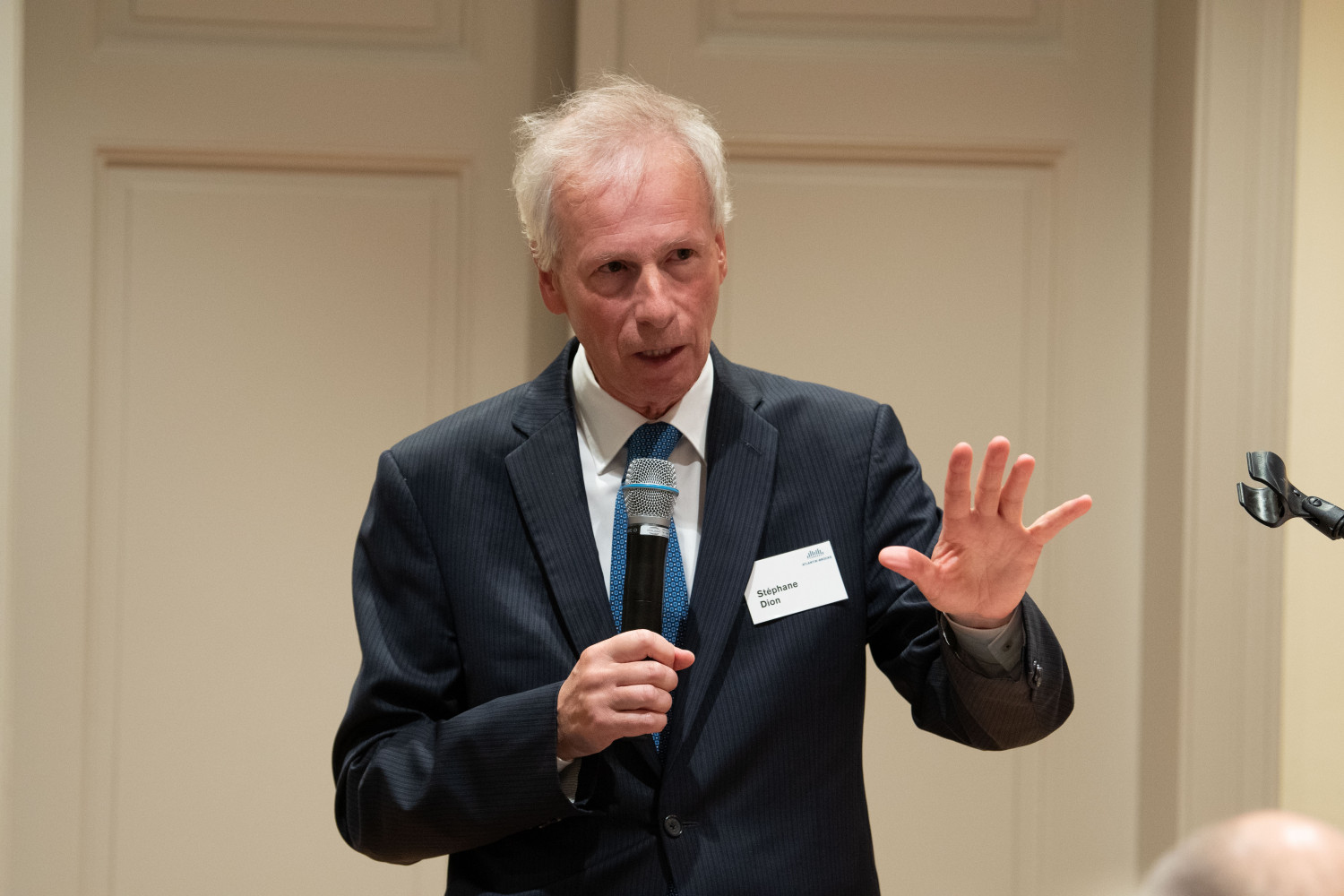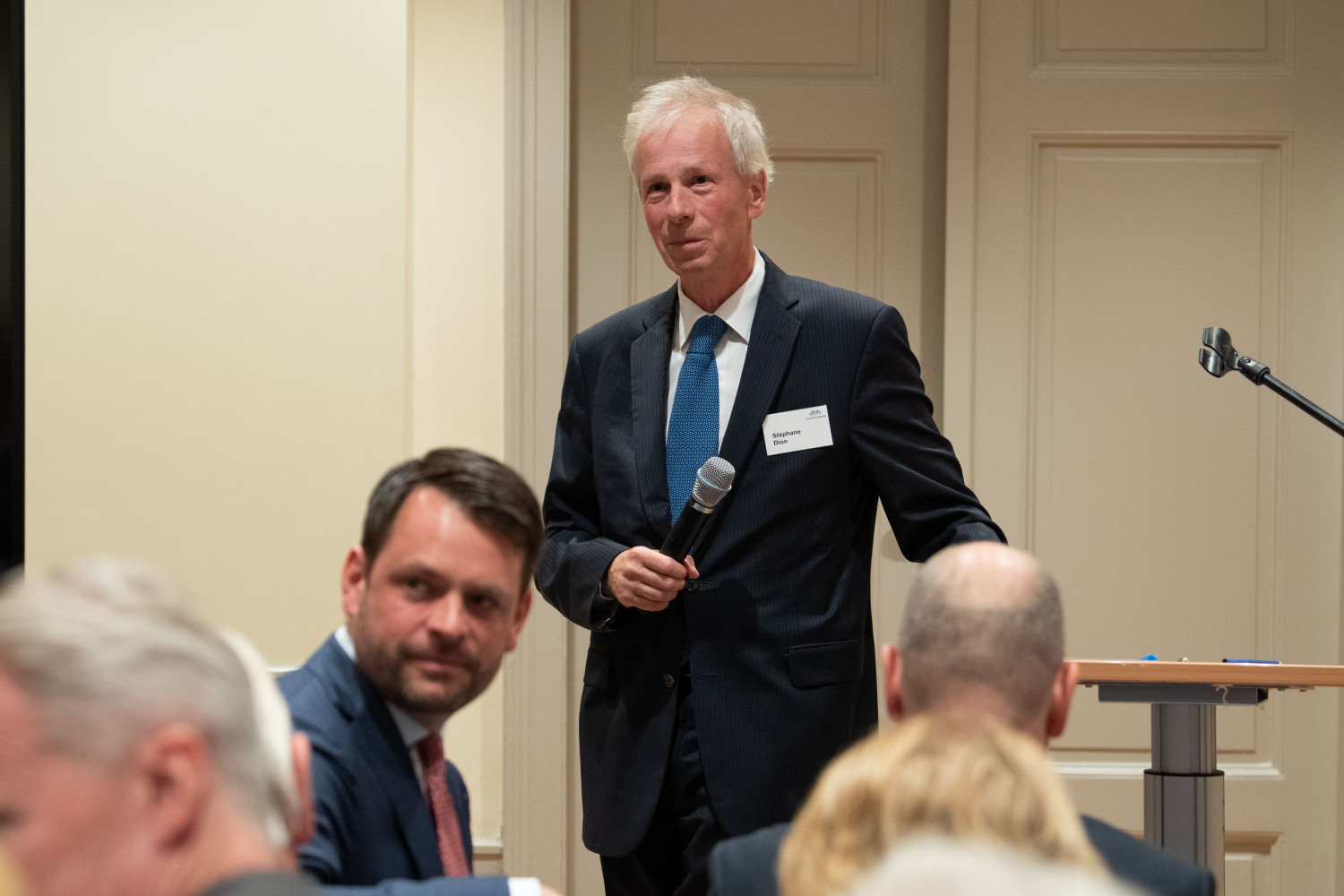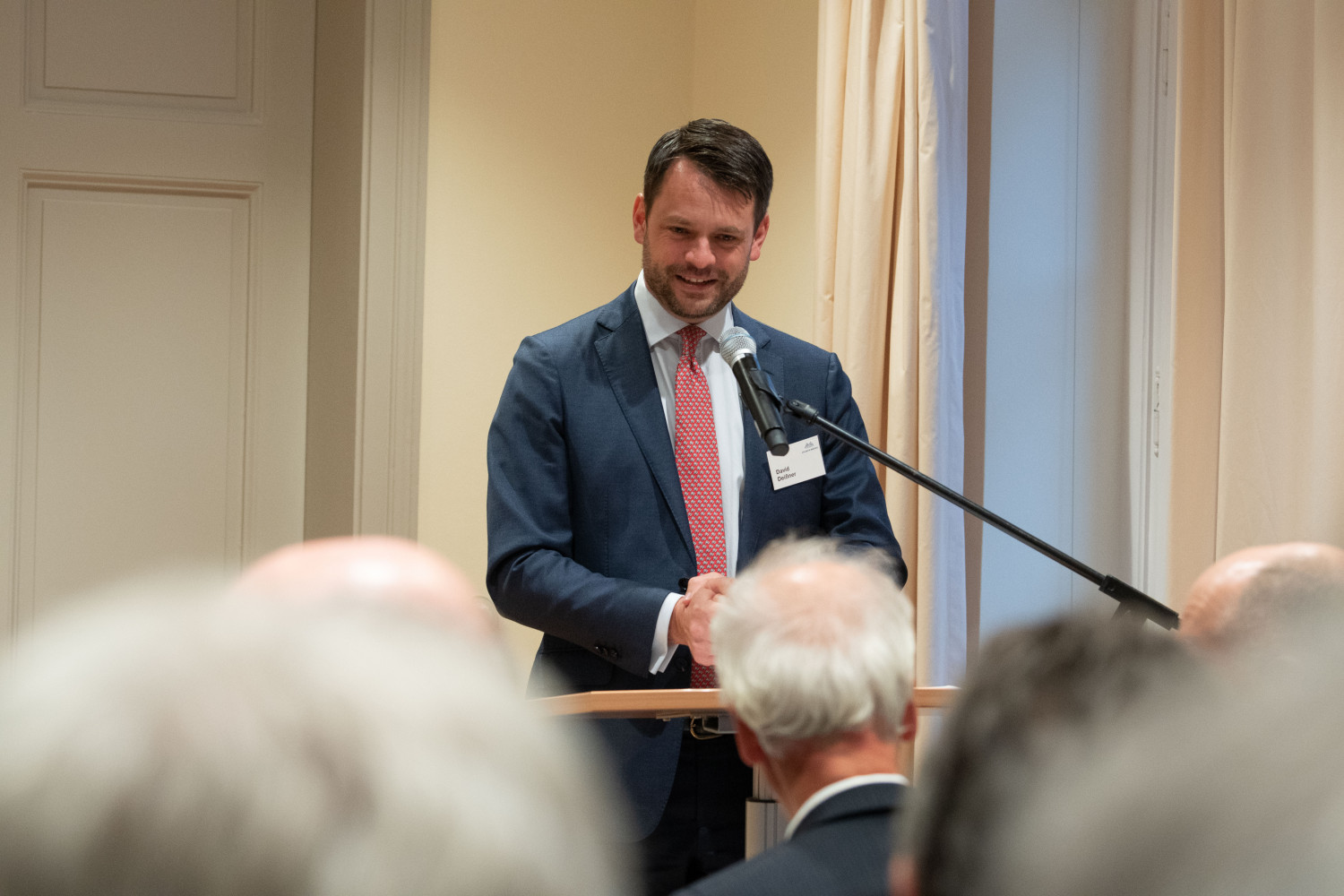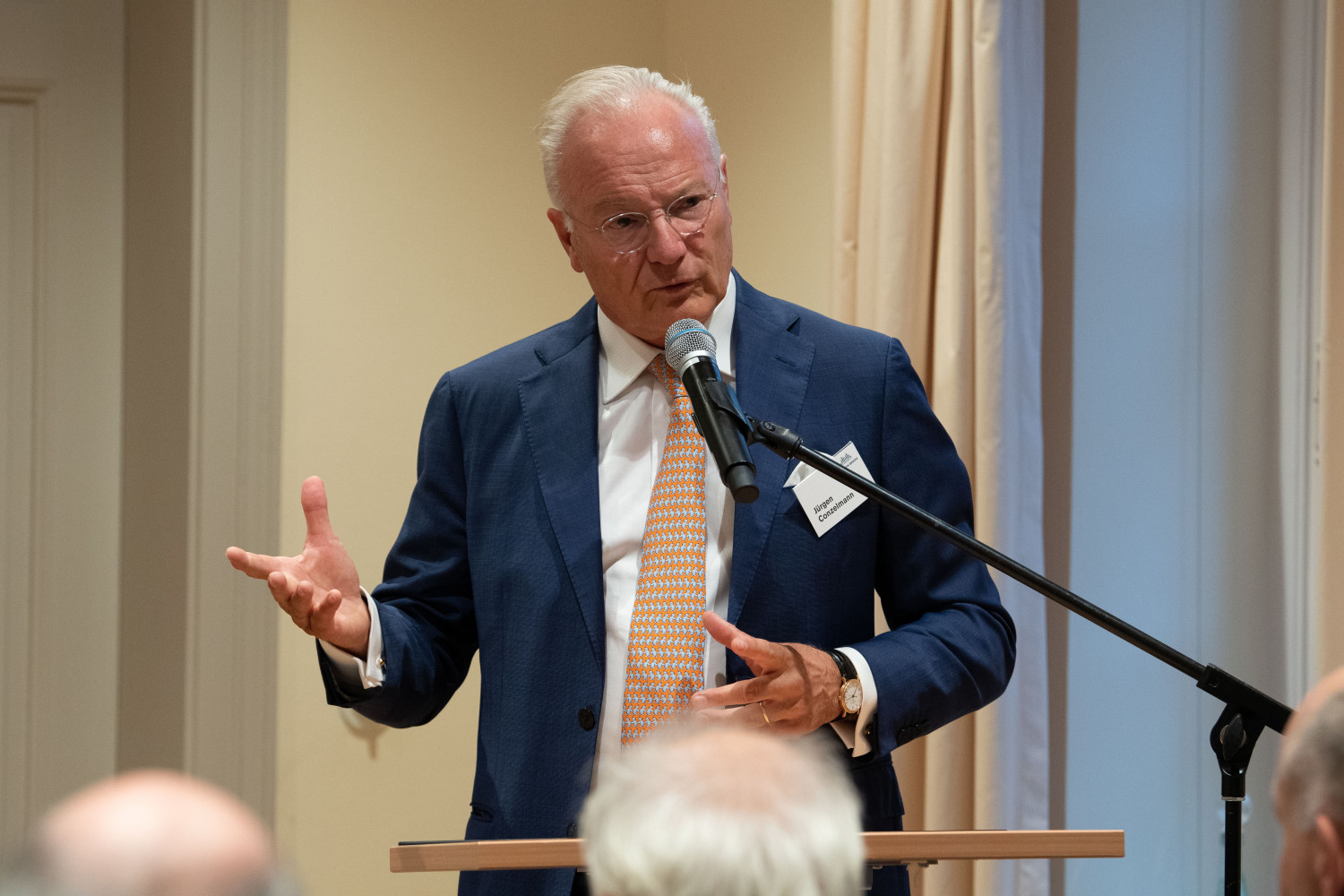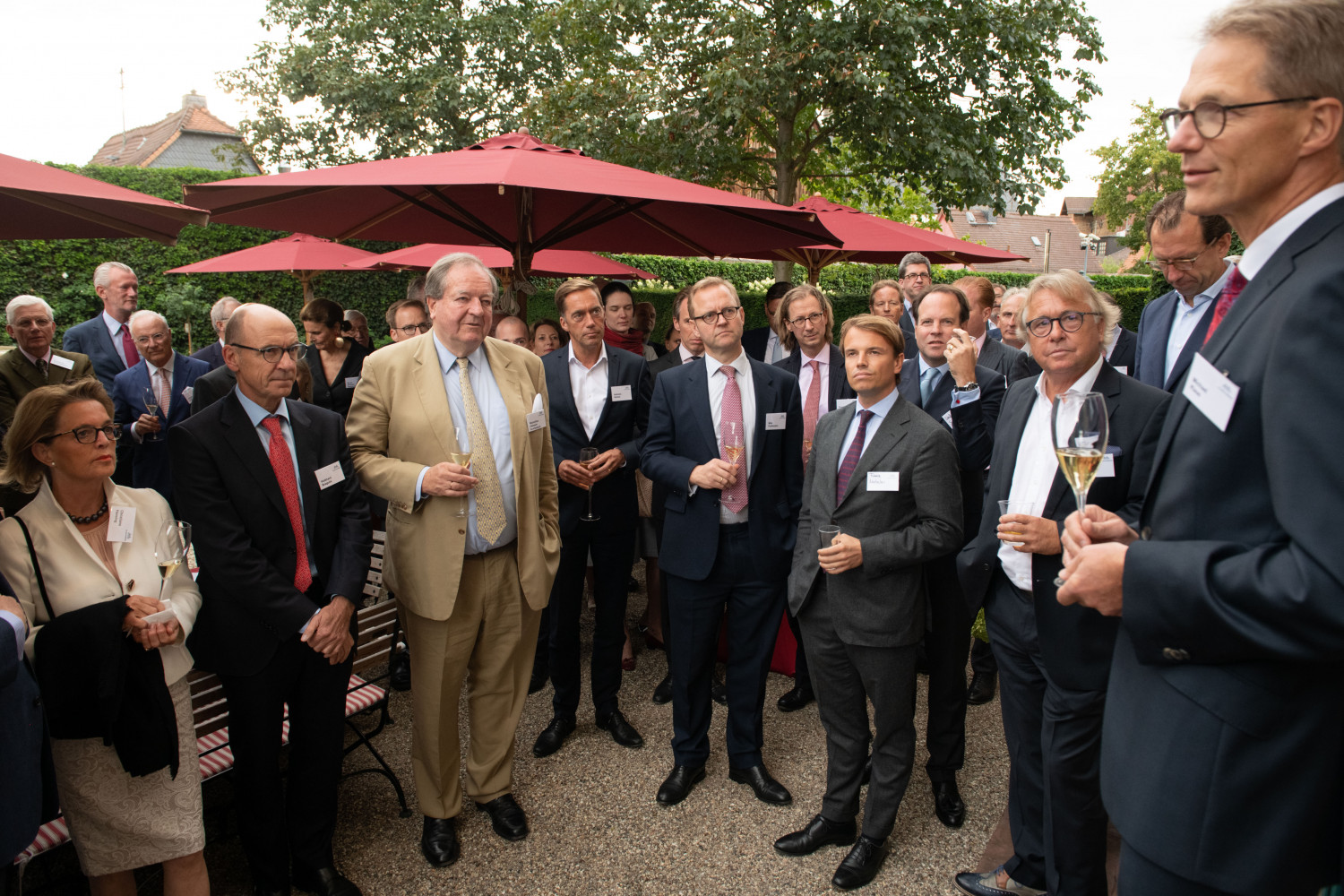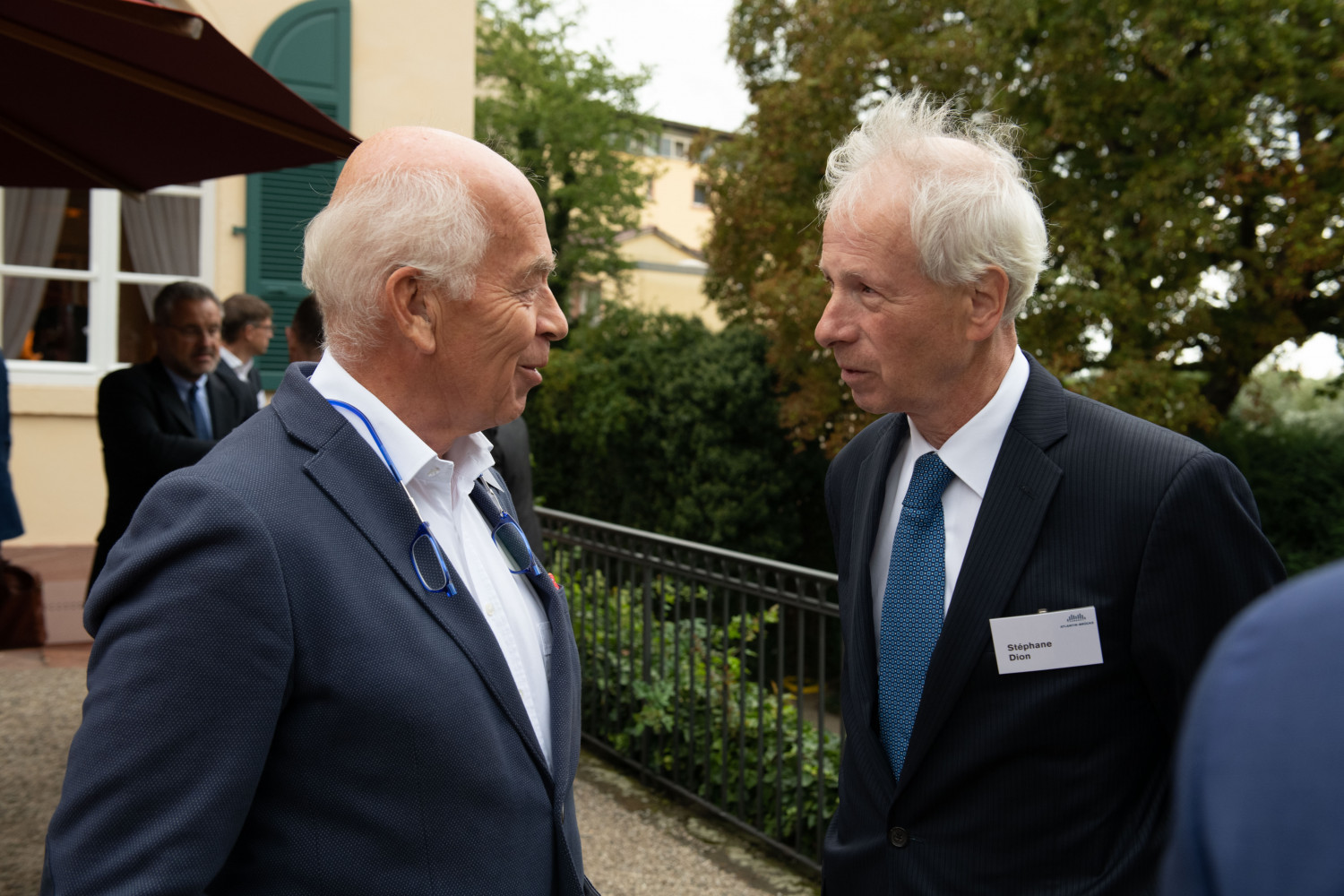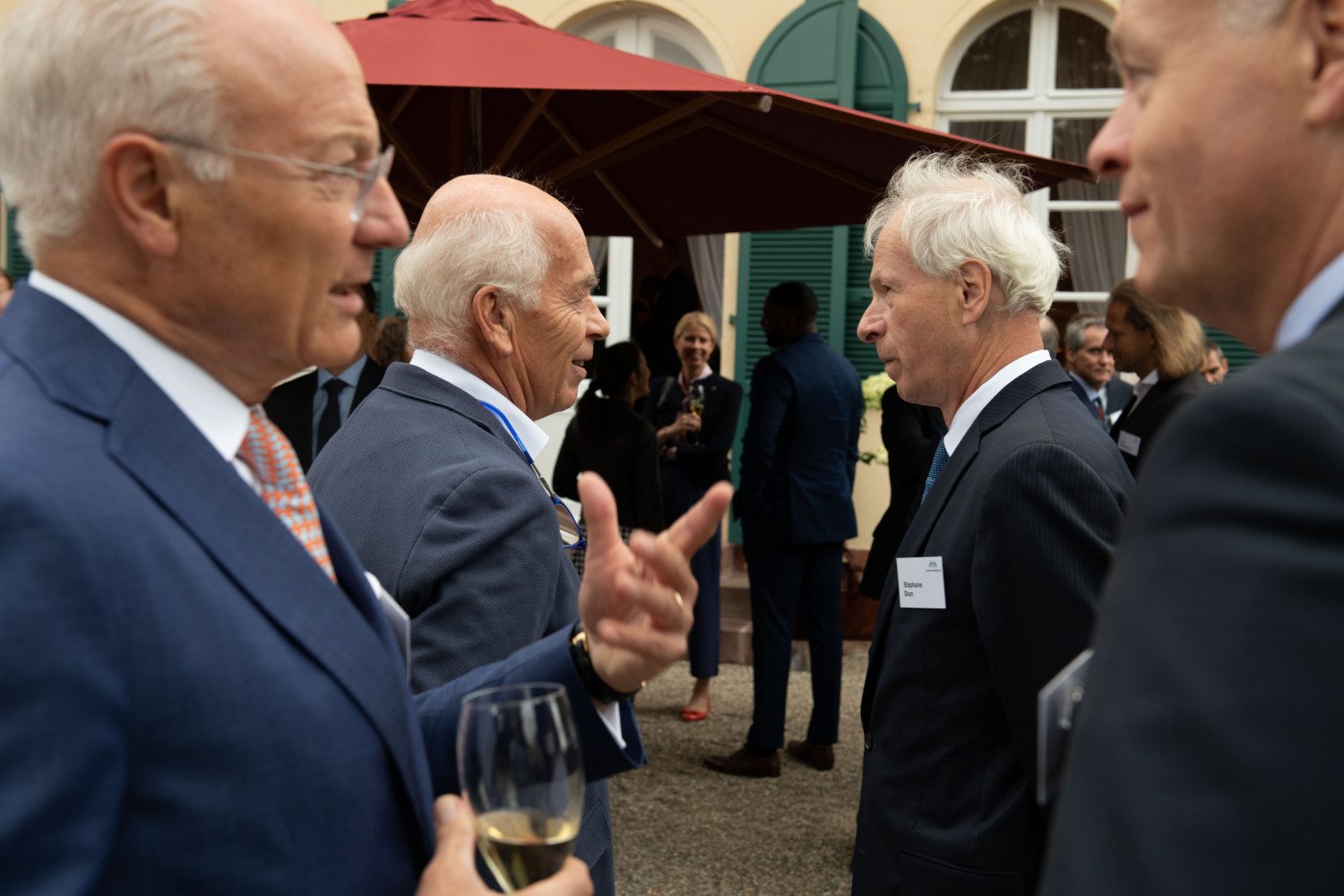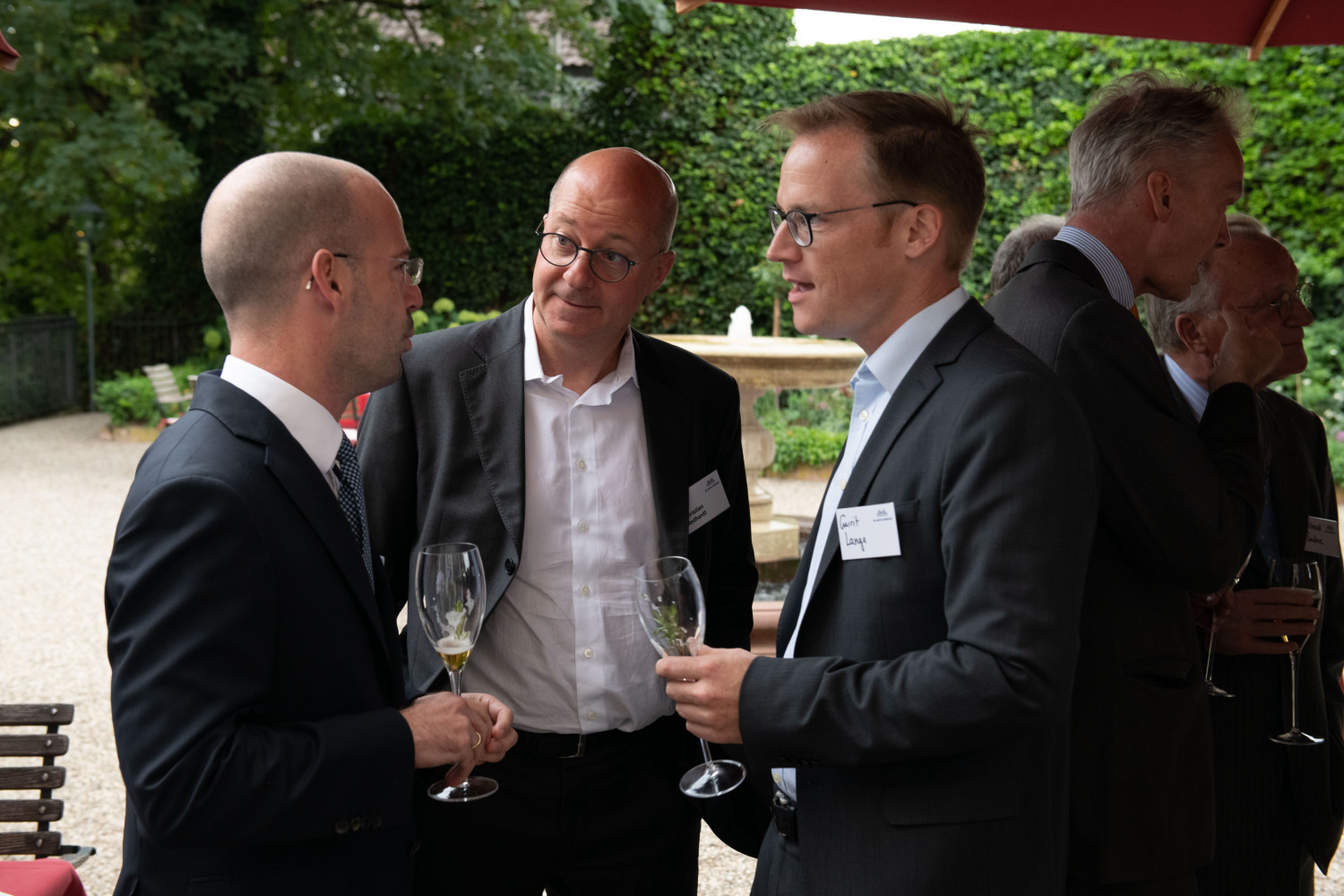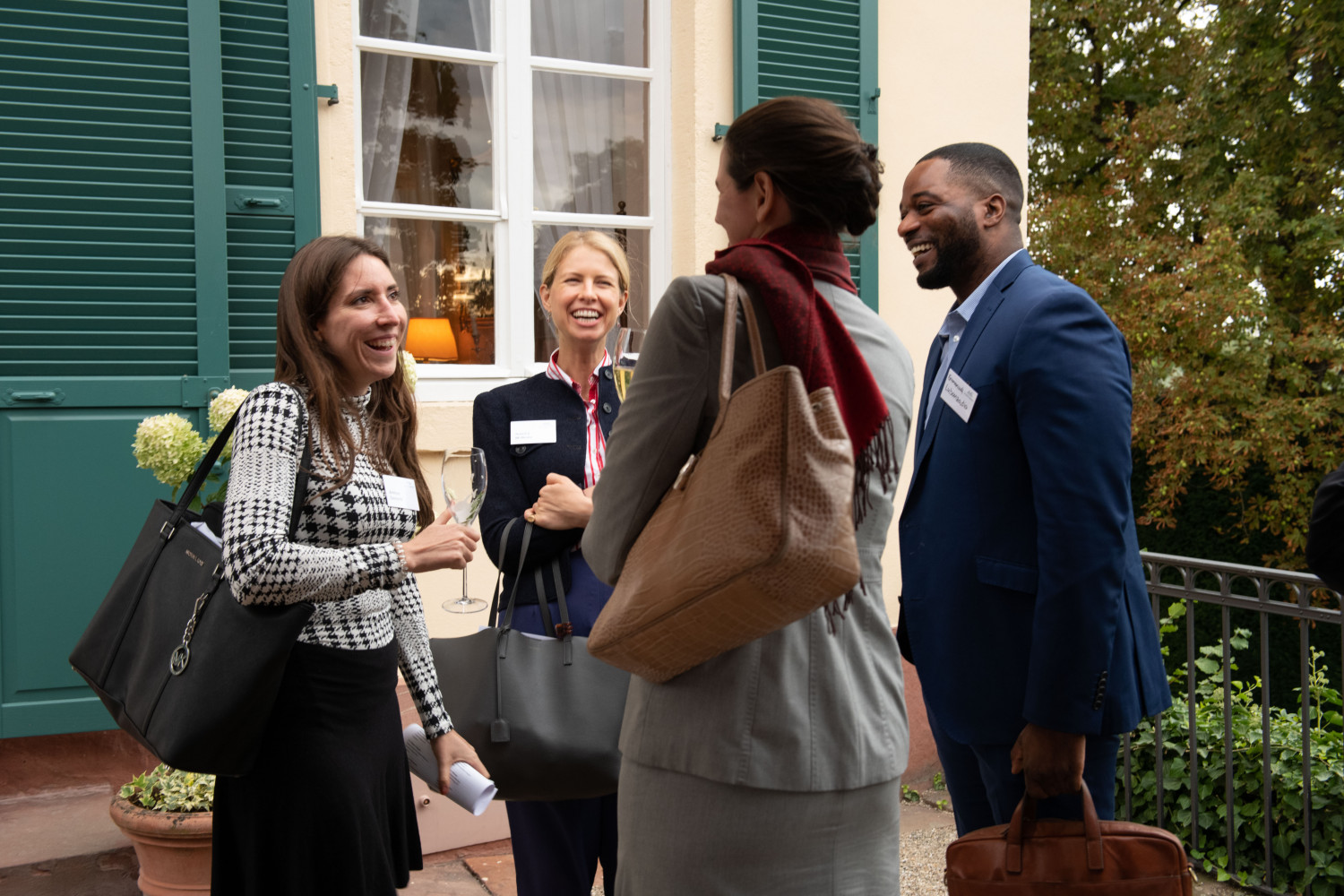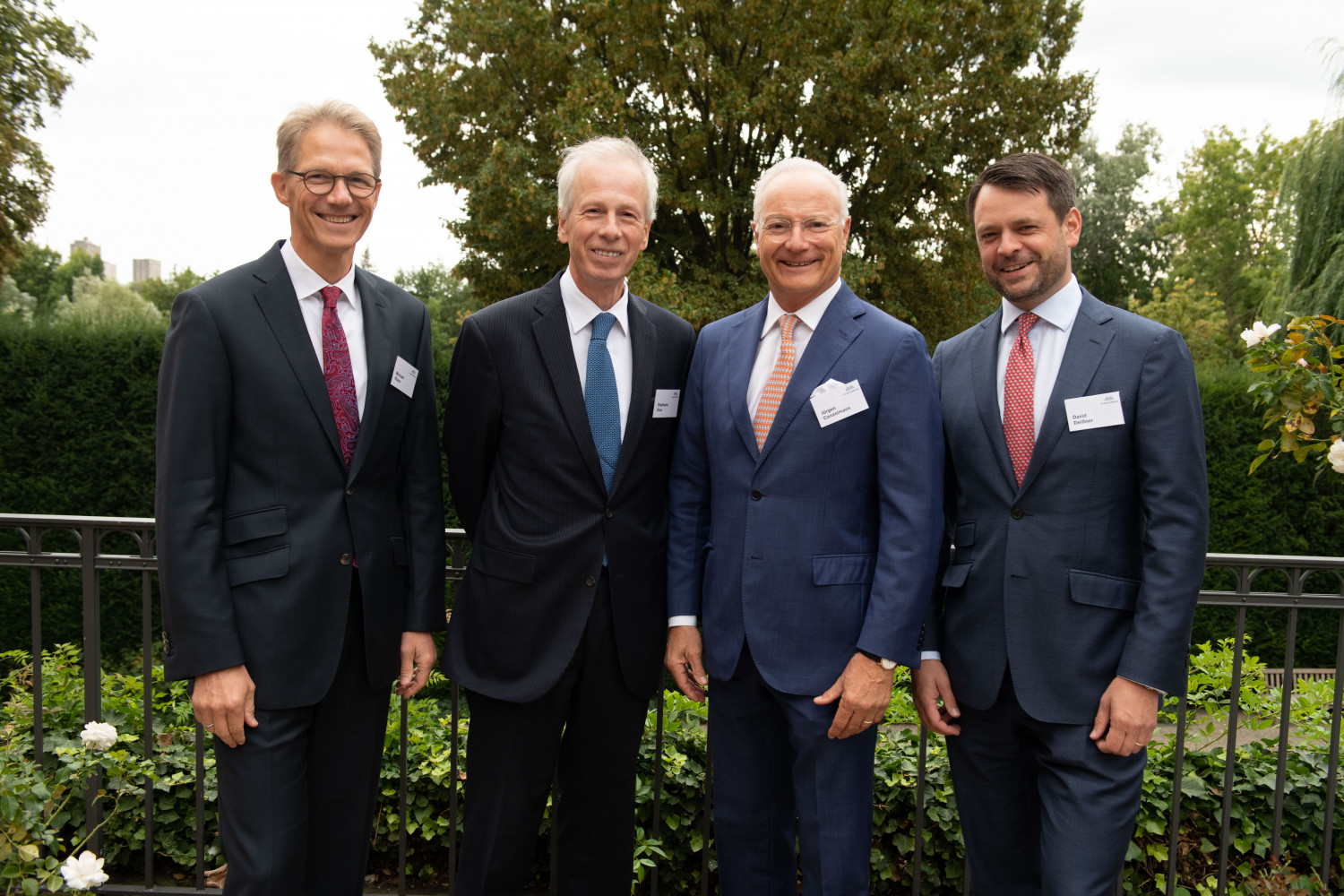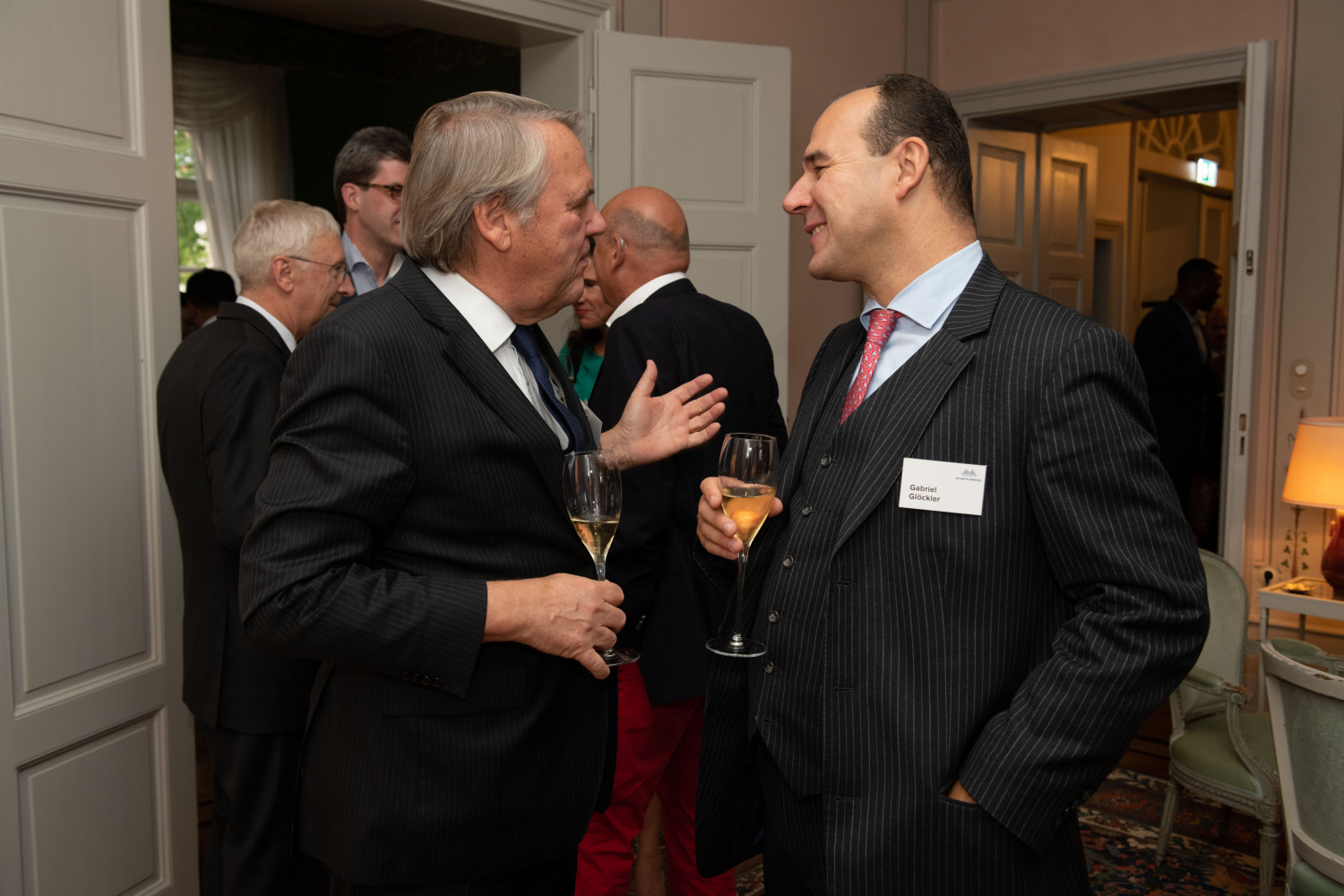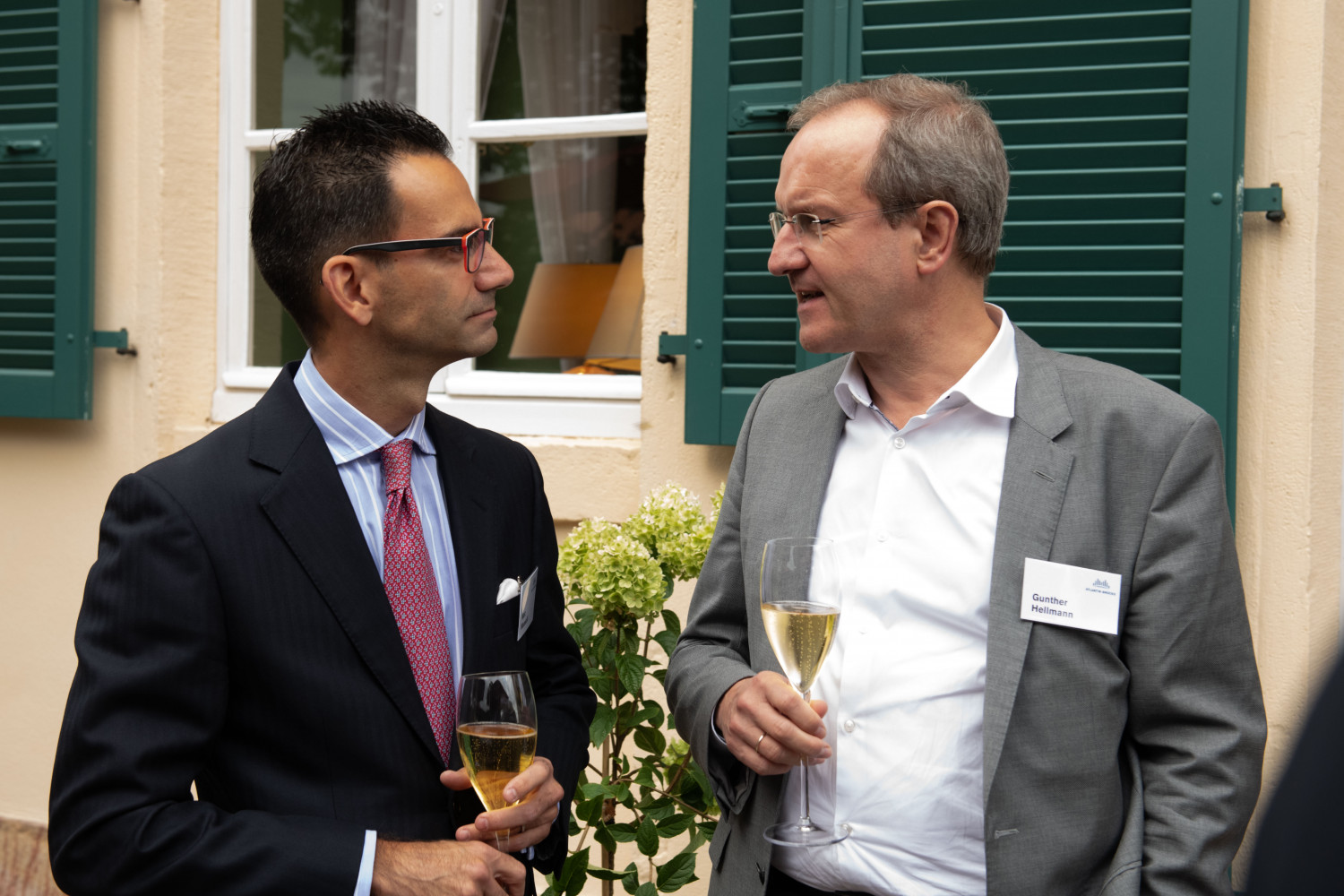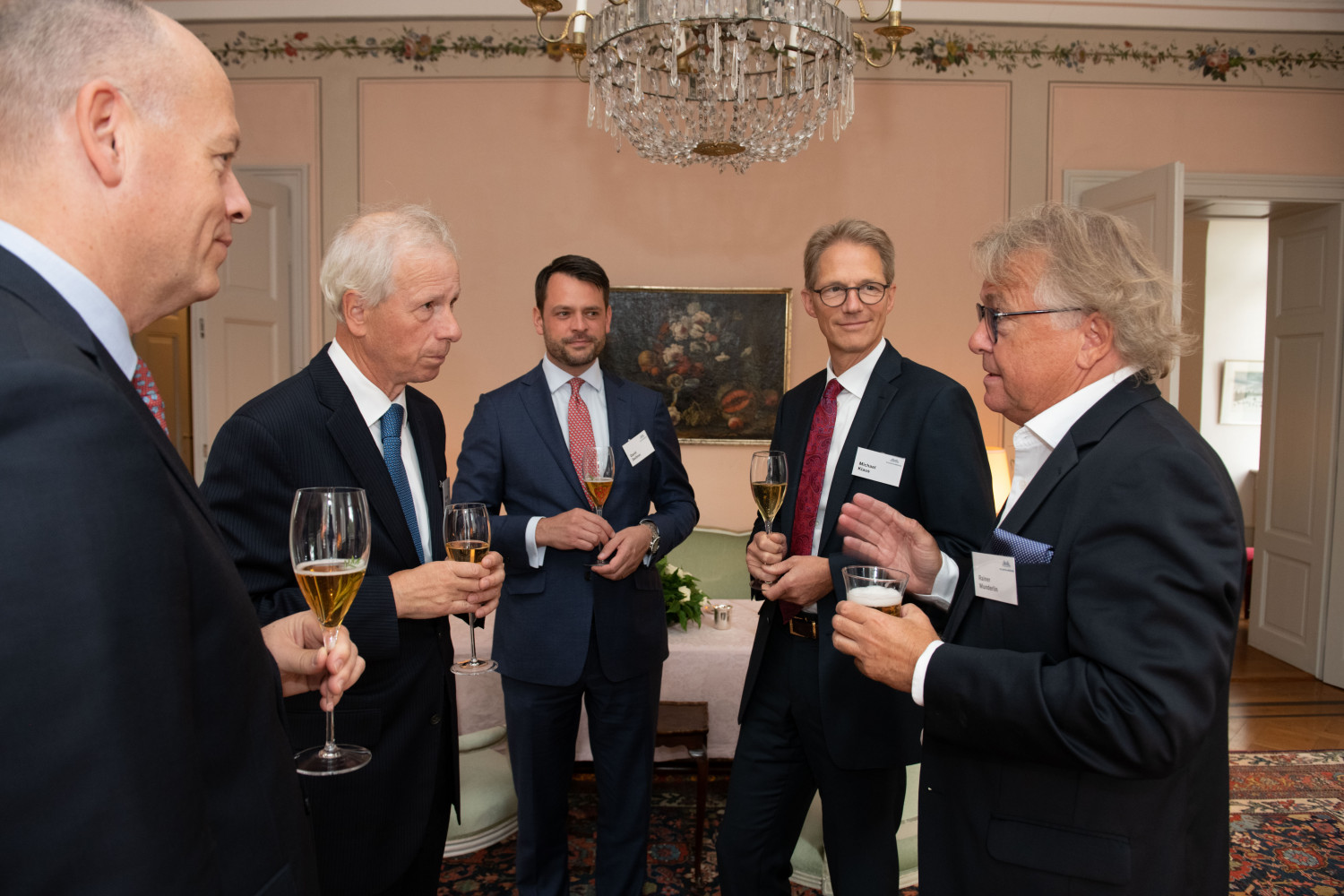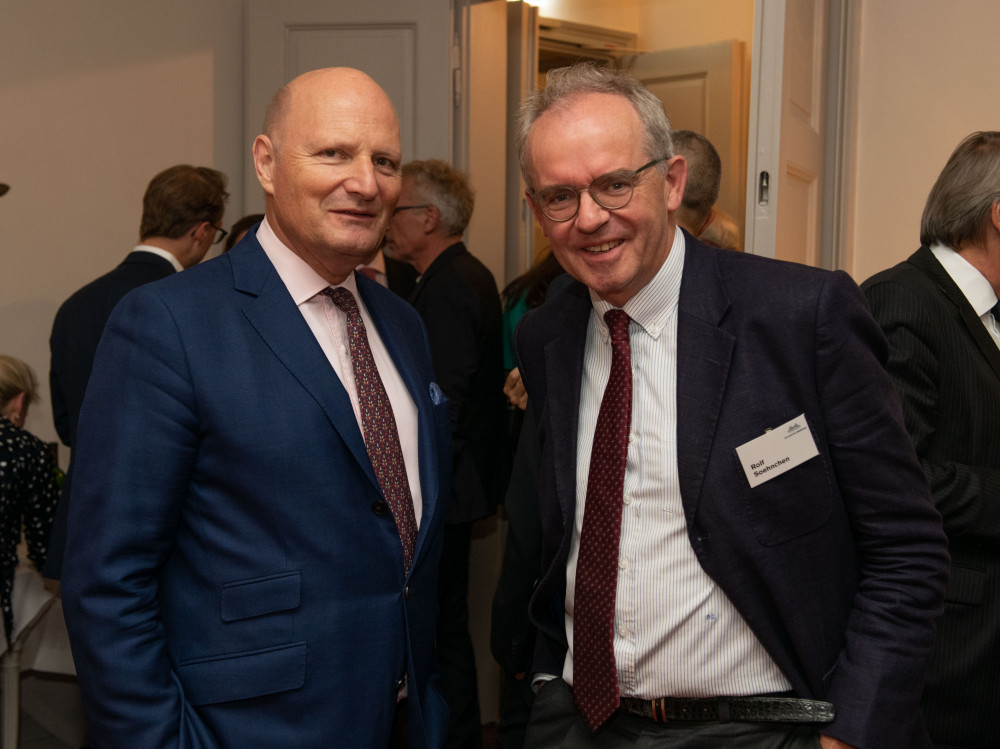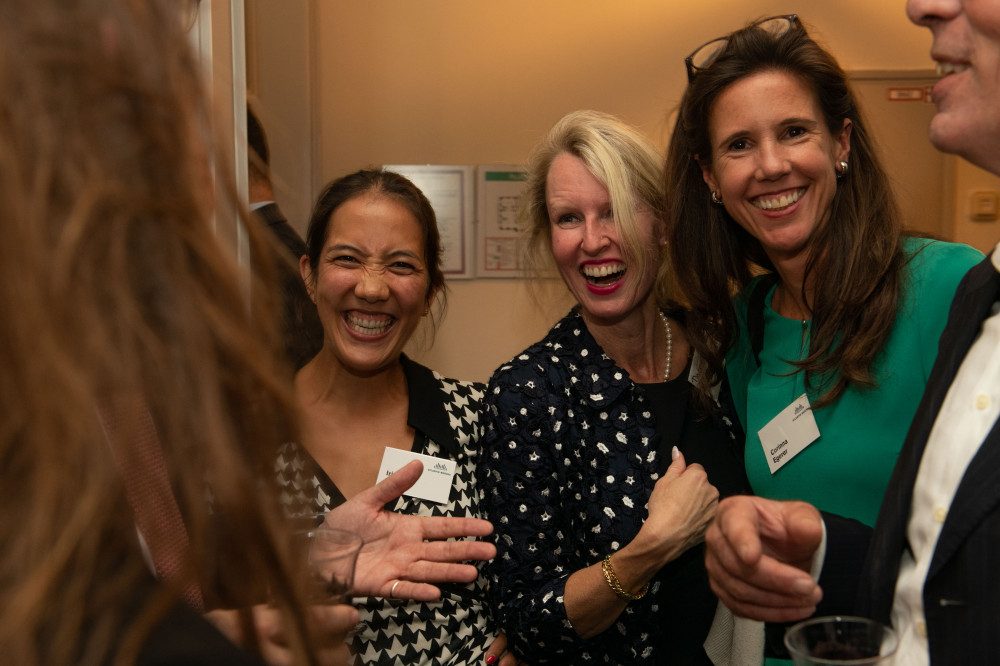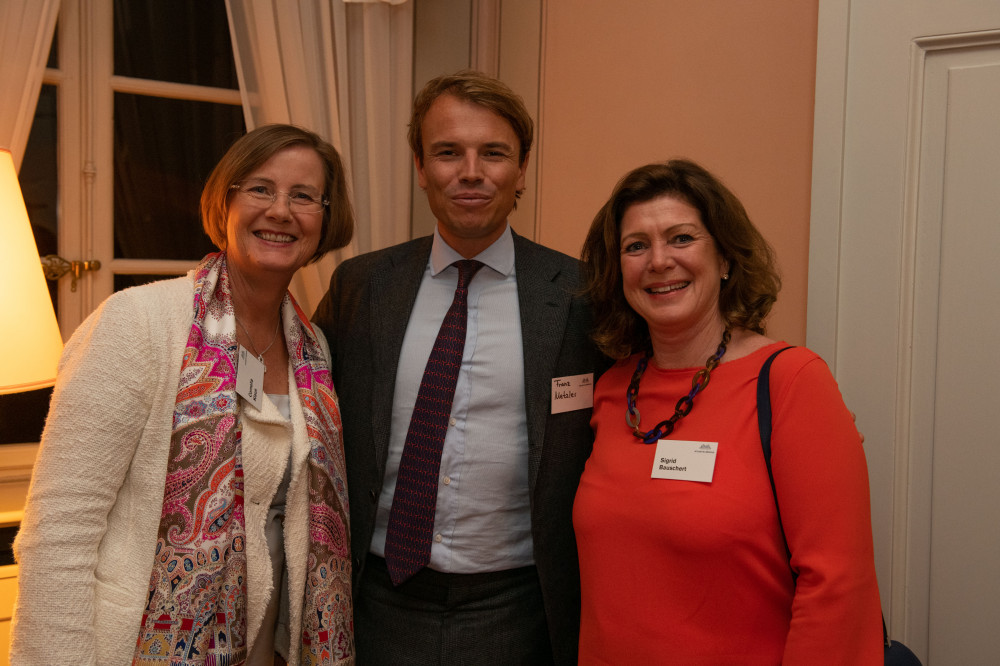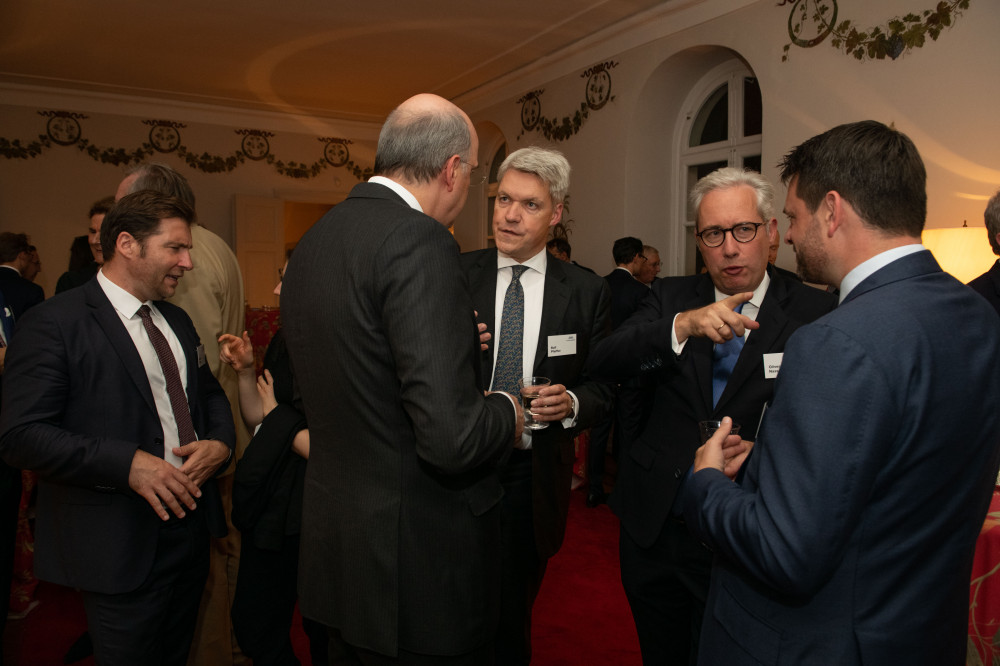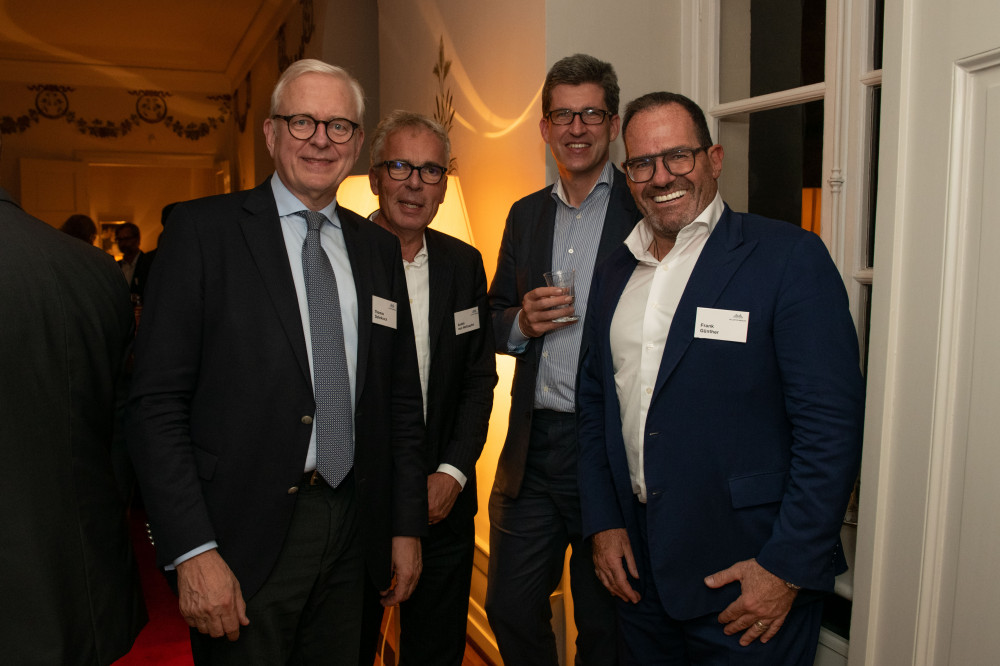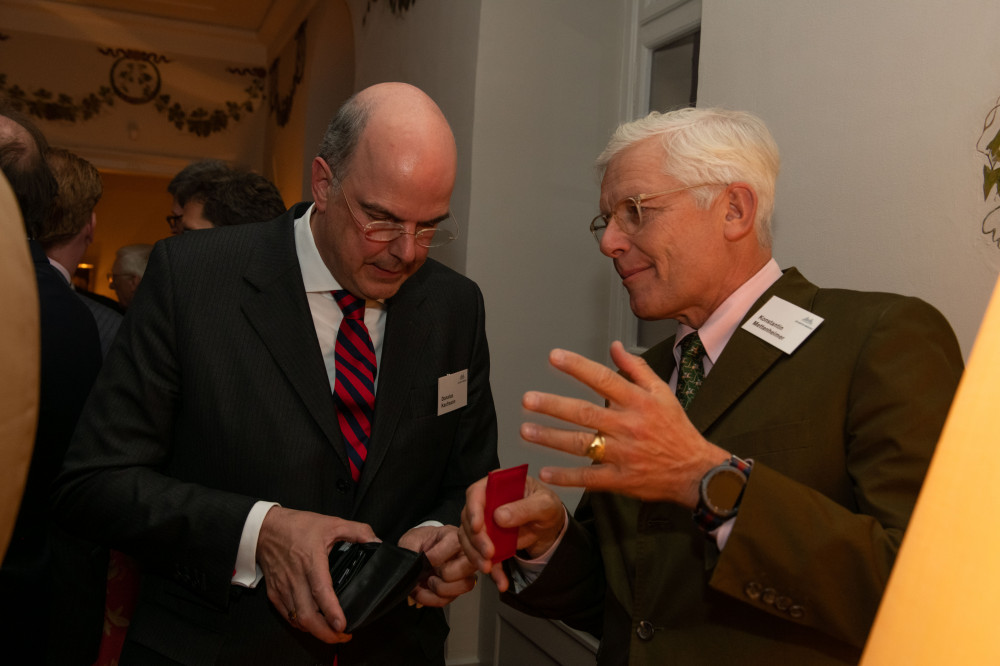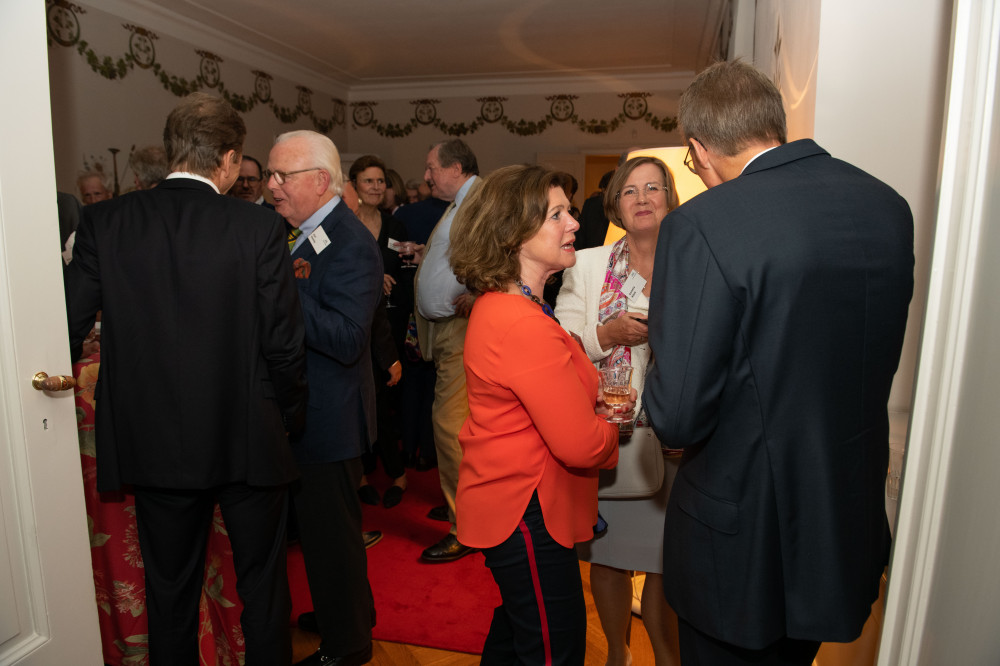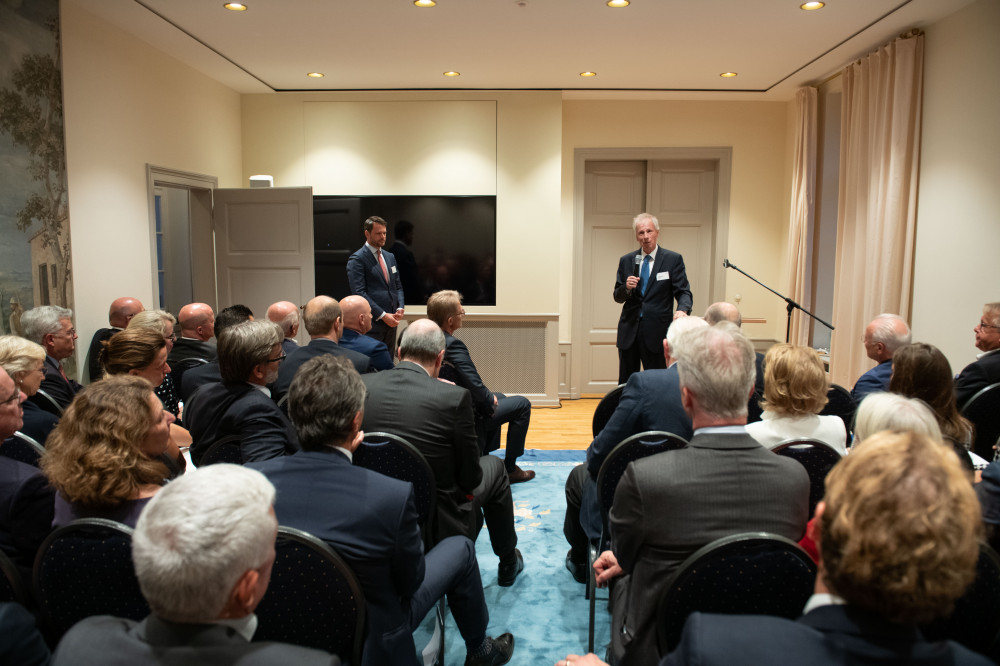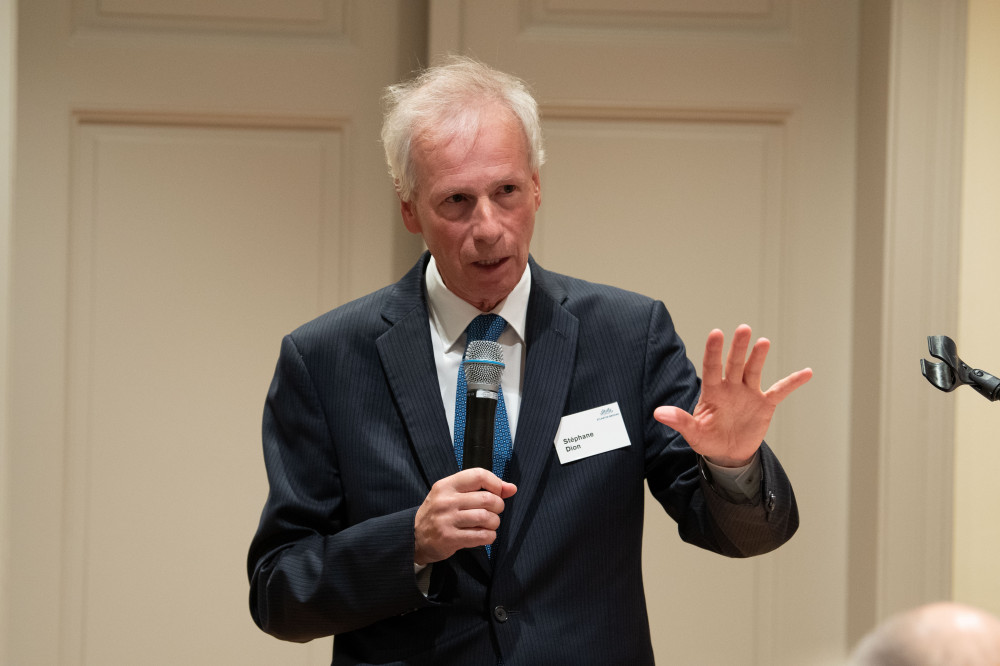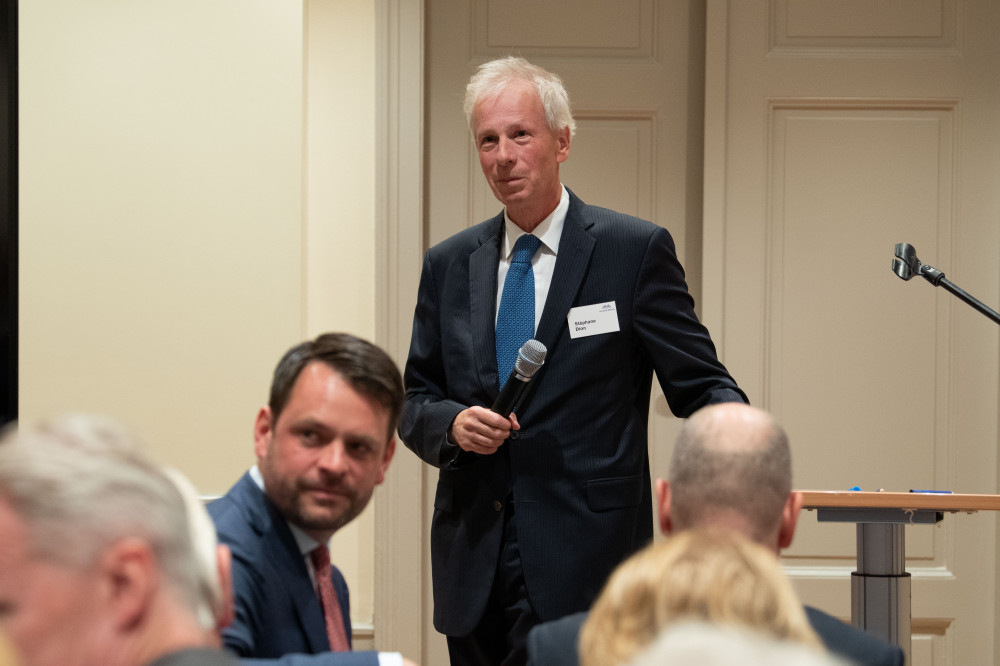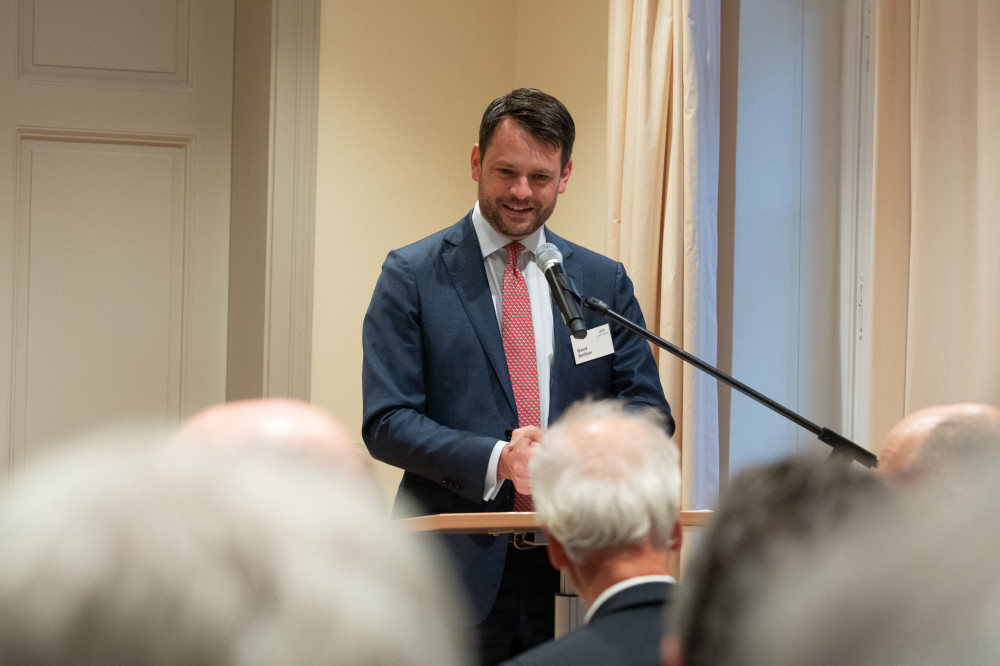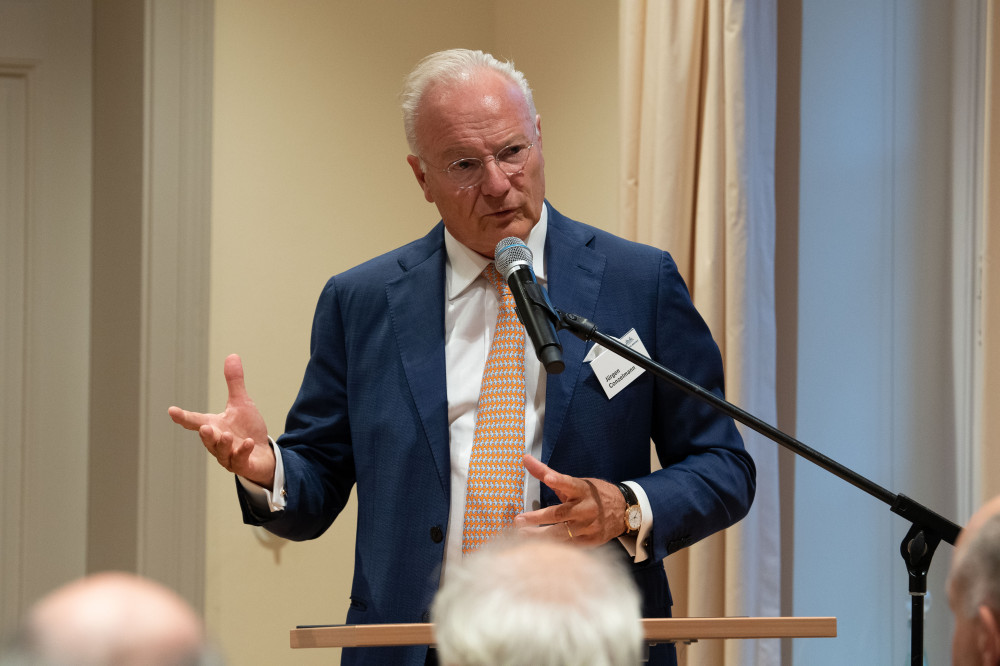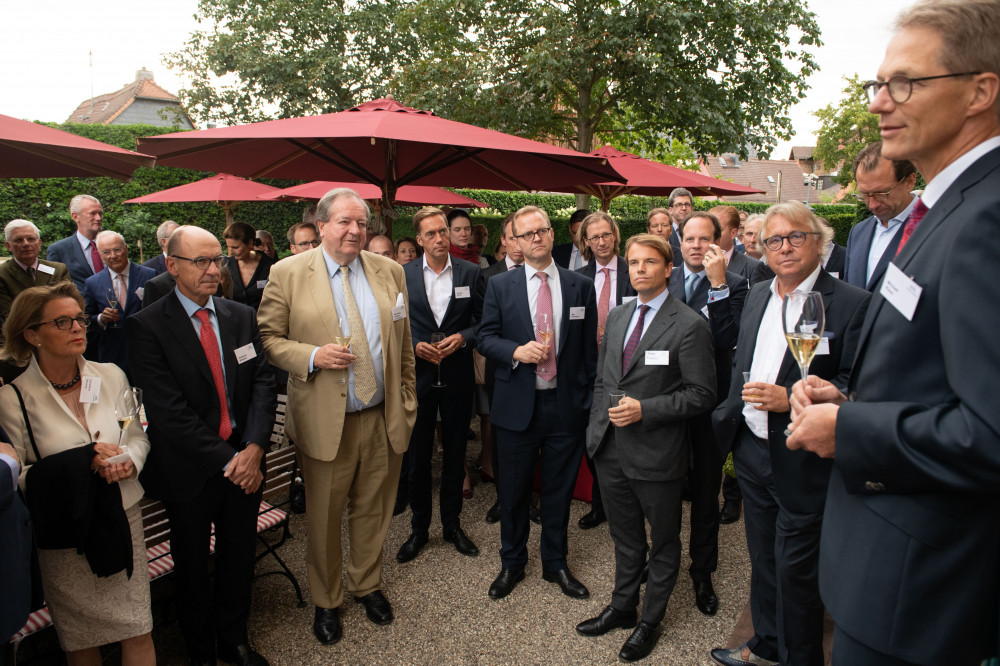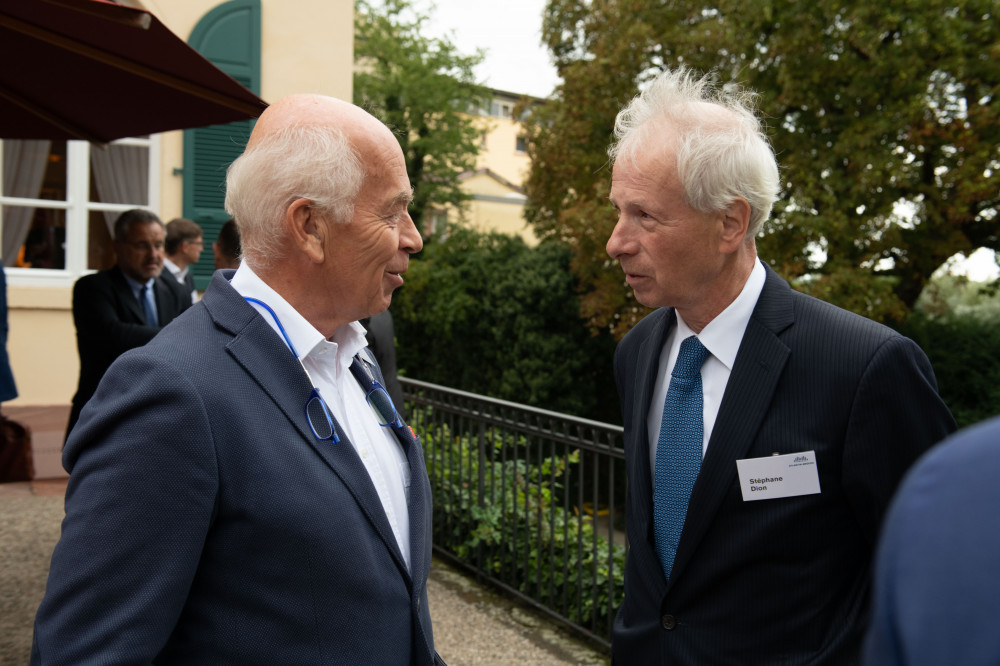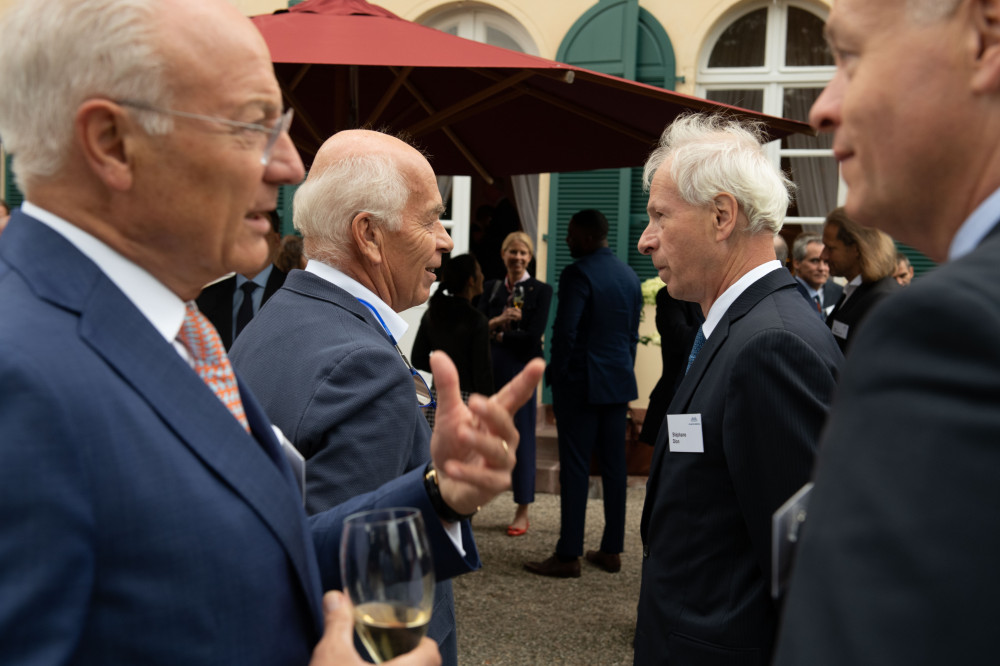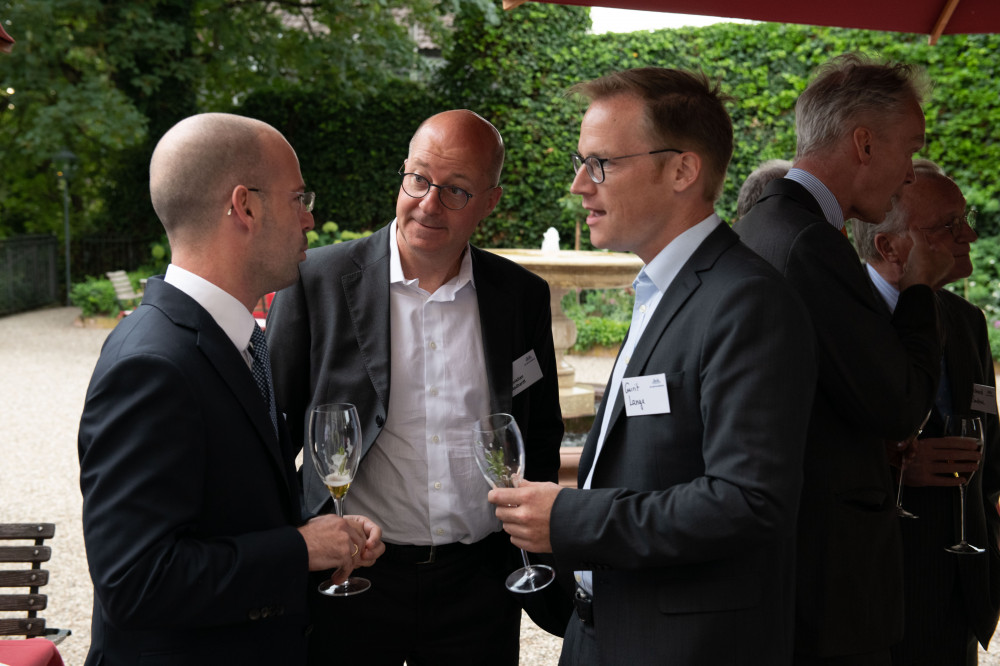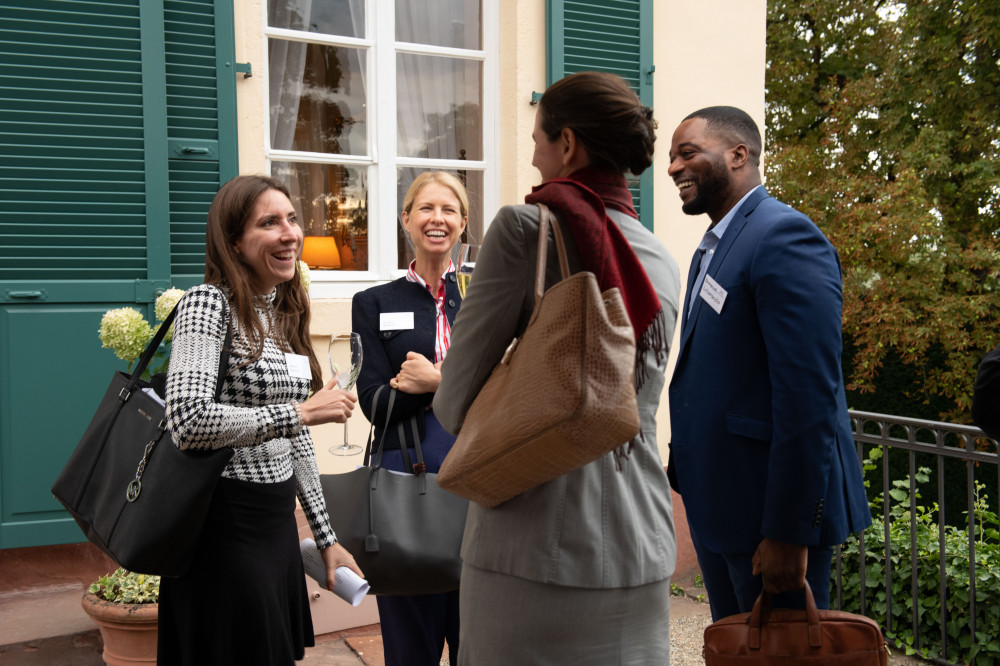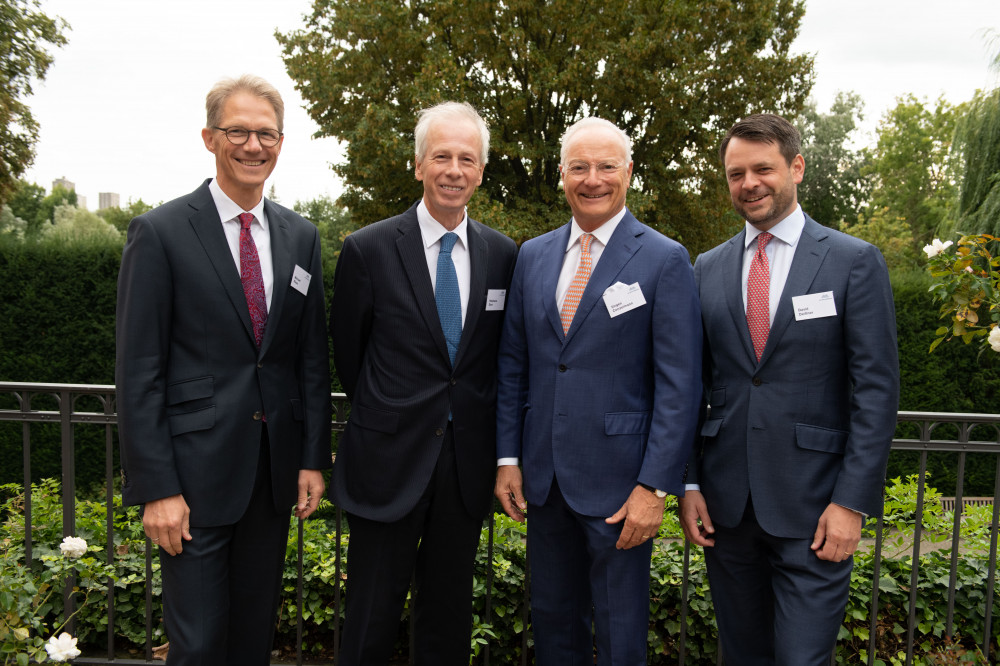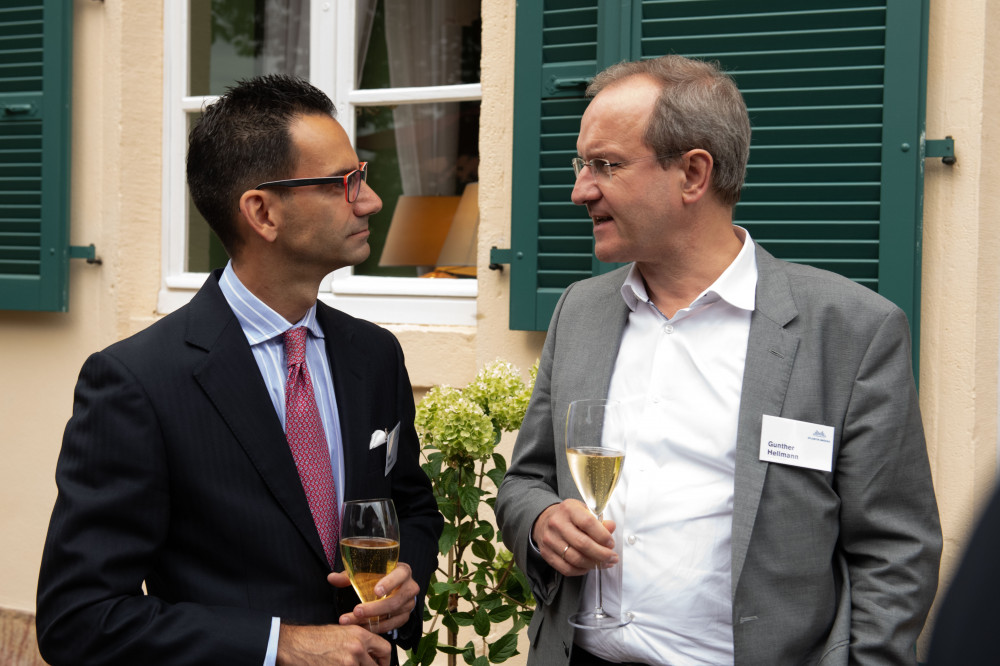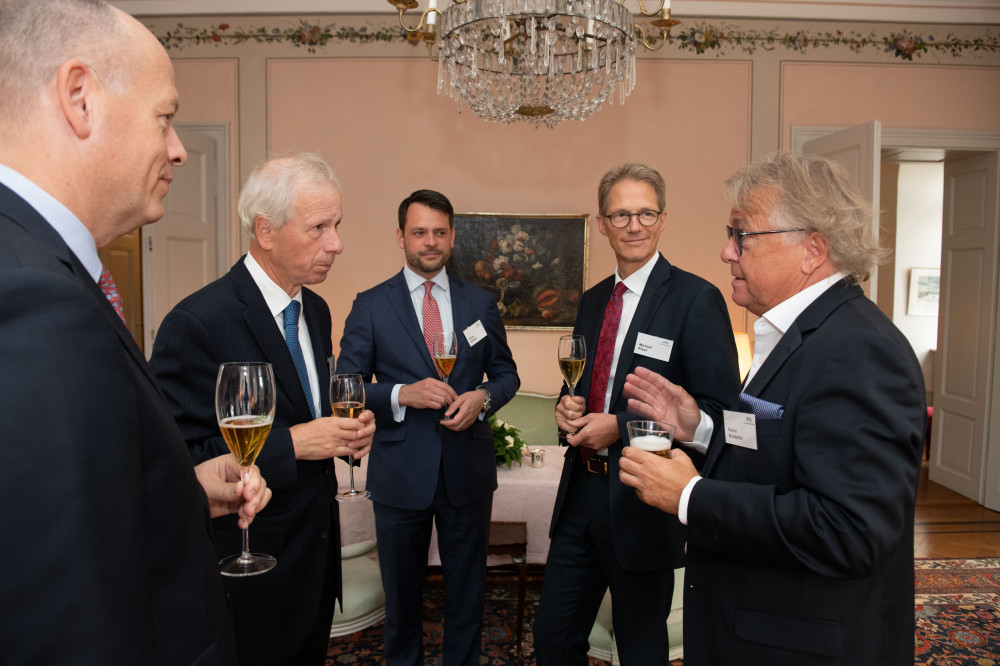 Beim Frankfurter Sommerfest der Atlantik-Brücke ließen Mitglieder und Young Leaders-Alumni den Sommer ausklingen und knüpften neue Kontakte. Stéphane Dion, Botschafter von Kanada in Deutschland und Sondergesandter für die Europäische Union und Europa, war der Redner des Abends und sprach über die deutsch-kanadischen Beziehungen.
The Relationship between Germany and Canada:
An Inspiration for the World
Lieber Herr Dr. Deißner, Geschäftsführer der Atlantik-Brücke, lieber Herr Michael Klaus, Partner am Bankhaus Metzler, lieber Herr Jürgen Conzelmann, CEO bei Haus & Grund Frankfurt am Main, sehr verehrte Atlantik-Brücke Mitglieder, Gäste und Freunde.
I am the other North American Atlantik-Brücke Ambassador. I am quite jealous that I do not receive as much coverage in Germany as my esteemed US colleague. But what can I do about it? The fact is that one would have to work hard to find provocative or controversial issues between Germany and Canada. Our relationship is like a blue sky, both bilaterally and in global affairs.
One can only dream of a world where all countries would be as friendly as we are. But Germans and Canadians should not take the excellence of their relationship for granted and always work to preserve and improve it. This is why I thank you so much for inviting me to join you at your annual summer party here in Frankfurt.
Over the next fifteen minutes or so, I will try to take a comprehensive – and I hope optimistic – view. My main point is that Germans and Canadians know that they appreciate each other, but increasingly, they realise that they need each other.  I think that sentiment bears repeating:
Wir haben uns in der Vergangenheit sehr geschätzt, sind uns aber zunehmend bewusst, wie sehr wir uns brauchen. Nous savons que nous nous apprécions, mais maintenant nous réalisons que nous avons besoin les uns des autres.
Inspired by the German-Canadian blue sky, allow me to inject a bit of cautious optimism about the challenges that we are facing. I think that we need this positive view, as the stories that are so often repeated are excessively gloomy.
Let's start with the state of the EU. Canada strongly believes in the EU and you may know that Prime Minister Trudeau appointed me his Special Envoy to the EU and Europe in addition to serving as Ambassador to Germany.
It is worthwhile to recall the extent of Europe's divisions and difficulties only some few years ago. The EU was deeply preoccupied with its internal efforts to forge and maintain Member State consensus in response to a series of grave and unforeseen threats to EU unity: the Eurozone debt crisis, prolonged recessions in large parts of Europe, chronic high unemployment, mass arrivals of refugees, the trauma of the Brexit referendum result and the rise of identity-based, populist and anti-EU parties.
Some of these threats remain, but the state of the EU in my view has improved considerably. The turning point for the EU came… when the EU successfully negotiated a free trade agreement with Canada! Since then, the Greek crisis has been addressed, economic growth in Europe has returned to some extent, and the unemployment rate across the Union is at the lowest level since January of 2000. No other country has followed the UK to try to leave the EU, and solidarity amongst its members remains strong – if not stronger as a result of the never ending Brexit saga. According to polls, the image of the EU amongst its citizens is more positive now than in the past 35 years, and the EU has surpassed the popularity of national governments and parliaments, including in Hungary and Poland.
Yes, the populist and Eurosceptic parties have made their presence felt, but support for them appears to have plateaued since the major impacts of 2015 migration crisis are behind us.
So, I think there are reasons for cautious optimism as to the state of the EU.
But what about trade. Can we be cautiously optimistic about international trade? Are we not facing a strong global protectionist mood?
Well, I would say that Canada, Germany and the EU can be proud to have made such progress on trade, despite growing protectionism. If you invest in Canada, you now invest in a country which has free trade with the EU, continued free trade with the United States and Mexico, and a newly concluded free trade agreement with 10 other countries of the Pacific, including Japan and Korea. Doing business in Canada means having access to 2/3 of the world economy, almost entirely duty-free. The EU has been equally active in opening its markets, as in addition to CETA it concluded agreements with Japan, Ukraine, Singapore and the Mercosur just in the past two years.
Since provisional implementation of CETA in September 2017, the two-way trade in goods between Canada and the EU has increased by 9.4% over pre-CETA volumes, and trade in services went up 5.9%. But this is only the beginning, there is a lot of room to increase the volume of trade between us.
The European Court of Justice released its decision on CETA in April, and it was positive, as anticipated; we look forward to a decision by the German Constitutional Court to follow. This opens a window of opportunity for ratification by EU member states. Thirteen EU countries have ratified already, and most recently France is moving forward. Clear leadership from Germany along with France is important in this critical phase.
Some Länder in the Bundesrat may have concerns about CETA as their coalition governments include the Green Party. But in my country I am known for being quite green myself, and I am making the point in Germany and elsewhere in Europe that CETA will facilitate the spread and implementation of the types of green innovation that Europe and Canada need. CETA includes ambitious environment provisions that commit Canada and the EU to uphold high levels of environmental protection as we liberalize trade, and to cooperate on issues of mutual interest such as climate change.
In fact, CETA is a major landmark in the development and global articulation of an inclusive Trade Agenda – an agreement that will improve free and fair trade between the EU and Canada and includes high standards for consumers, workers and the environment. CETA is an opportunity to convince our populations, and the world, that it would be a mistake to think we have to choose between trade and social progress. We can, and we must, pursue both.
More united than ever, Germany and Canada must work together to facilitate progressive trade around the world and to avoid protectionism and harmful tariffs. For example, we must prevent new tariffs especially on the auto industry and rebuff the surreal notion that our countries could be national security threats to the United States.
These tariffs are damaging each of our economies, including that of the United States. We should not sanction each other as friends and partners through damaging tariffs or extra-territorial sanctions. That much is clear.
As Germany and Canada watch the trade negotiations between the US and China, we hope that these negotiations will result in the protection of intellectual property, and ward off non-tariff barriers, the misuse of technology and massive public subsidies. These negotiations would be more likely to succeed if everything was done to strengthen, and not weaken, the WTO.
For our two countries, in fact for the world, China is an opportunity and a challenge. According to the IMF, China now accounts for 15% of global GNP and 14% of global military spending, versus just 1.7% and 1.6% respectively in 1990, a phenomenal increase.
For the first time since 1945, the second-ranked country on the list of the largest military and economic powers is not a liberal democracy.
That is an additional reason for liberal democracies to work together to strengthen rules-based trade.
China is not only a big economy, it is also an authoritarian regime, which raises many issues around human rights and the rule of law. If China is putting the freedom and security of our business people, diplomats, and other citizens at risk, then this is bad for all of us, including China.
The rule of law is essential for human rights, but it is also essential for a sound business environment. We as liberal democracies must work together, and not in a disjointed way, for inclusive rules-based trade. Strong cooperation between Germany and Canada will be key to successfully meeting this challenge.
I would apply the same cautious optimism about the future of multilateralism. Allow me to say a word about that issue.
For one thing, there has never been a golden age in which practising multilateralism, as a way of addressing bilateral and global challenges, has not faced headwinds. The end of the Cold War sparked hope that the difficulties were behind us and that multilateralism would henceforth be unimpeded, used by all. But states have always been inclined to follow those international rules that benefit them while ignoring or bending those they do not like. In a world fundamentally governed by state sovereignty, multilateralism will continue to be a system that cannot be taken for granted, one that requires constant attention, especially from committed countries like Germany and Canada.
It is a safe bet that multilateralism and its institutions such as the UN, the WTO, NATO and the European Union will survive today's pressures just as they have overcome past challenges. Canada will do everything toward this aim, starting by engaging our US friends, whose leadership is so needed. In the United States itself, nearly 9 out of 10 Americans (88 percent) want their country to continue playing an active role in the United Nations. Eighty-three percent want their country to continue working with its allies. Two thirds of Americans prefer a foreign policy that draws them closer to Europe rather than a more independent policy.
Canada and the United States enjoy a unique and interdependent relationship, forged by shared geography, similar values, common interests, deep connections and powerful, multi-layered economic ties. Close to 400,000 people cross the shared border each day for business or pleasure or to maintain family ties.
On the trade side, the new Free Trade Agreement between Canada, the United States and Mexico: CUSMA, will maintain the tariff-free market access from NAFTA, and includes updates and new chapters to address modern-day trade challenges and opportunities.
The strength of our transatlantic relationship and the common commitments of our three countries to international peace and security are evident in our important contributions to NATO's enhanced forward presence in Europe. Germany leads NATO's military deployment in Lithuania. Canadian soldiers are leading a NATO battle group stationed just to the north in Latvia, and the US is leading the NATO deployment in Poland. As our Foreign Minister recently said, "we may not all be neighbours geographically, but we are actually neighbours in those NATO deployments."
Canada is on the front line in supporting multilateralism along with Germany, but not just to defend it, to improve it as well. Canada is campaigning for a non-permanent seat on the Security Council for 2021-2022 and also plans to make promoting multilateralism one of the major objectives of its potential mandate. No country would be a better successor to Germany, on the Security Council.
The relationship between Germany and Canada may have never been more positive, true, but we need to make it even more effective, about trade, of course, but also among a range of other issues like climate change, international security and the Artificial Intelligence. Recently, Foreign minister Maas came to Toronto and Nunavut to strengthen our cooperation in key issues like digitalisation, climate change and the Arctic. This past spring, in late April and early May, the Deutsch-Kanadischen Parliamentariergruppe criss-crossed Canada, traveling from British Columbia to Yukon to Ontario to deepen the dialogue between our respective national parliaments. But is not only our politicians who bring us together, but our family, business, cultural and even sporting ties. For example, Germany and Canada have one of the oldest and most successful bilateral youth mobility programs, which brings our countries even closer together.
In all of this, Atlantik Brücke and you all here tonight have an increasingly important role to play and let me conclude on that. Just as we are doing tonight, the importance of our meetings of high-level groups of business leaders, political figures and academics, committed to strengthening the Germany-US-Canada relationship cannot be overstated.
Our Executive Director, Dr. David Deißner is responsible for the 35th annual Germany-Canada conference, to be held in Germany next year – and dear David, no pressure, but you have our full support in meeting the challenge, from the Canadian Embassy and myself, and as well, I know, from your excellent Ambassador in Ottawa, Sabine Sparwasser.
Abschließend wünsche ich Ihnen allen einen schönen Abend, einen tollen Sommerausklang und die besten Wünsche für den Herbst und das bevorstehende Jahr.
Danke sehr, thank you very much, merci du fond du coeur.