"As a leader, you have to take the time to make a personal connection"
General Jeffrey L. Harrigian, Commander, U.S. Air Forces in Europe and Air Forces Africa, im Interview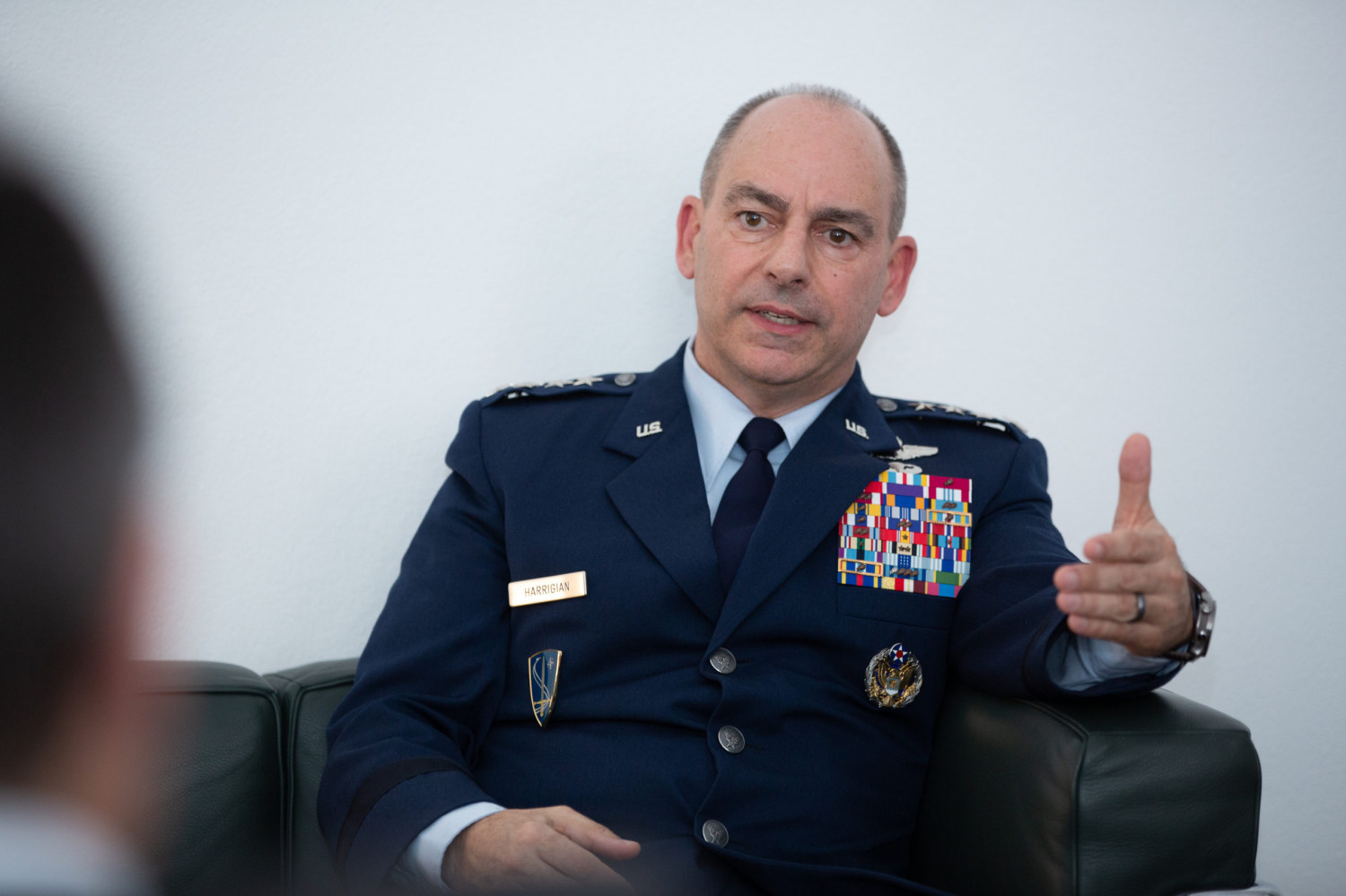 General Jeffrey Harrigian, Commander der United States Air Forces in Europe and Air Forces Africa, spricht im Interview über die zentralen Aspekte des Prinzips "connected leadership" in der Außen- und Sicherheitspolitik. Vertrauensvollen transatlantischen Partnerschaften kommt dabei für den General eine Schlüsselrolle zu angesichts der Großmächtekonkurrenz mit China und Russland und der Bedrohung durch gewaltsame extremistische Organisationen.
General Harrigian, from your point of view and capacity, what are the key aspects of connected leadership in today's complex foreign and security environment?
In my role as the U.S. Air Forces in Europe and Air Forces Africa commander, I find the key aspects to "connected leadership" include targeting communications, balancing inclusiveness, and strengthening relationships.
As a leader, it is essential to carefully target your communications and engagements in a way that builds buy-in from your people and ensures the team understands how they fit in the big picture. In today's digital age of email and social media, one-on-one communication is imperative to build trust and empower individuals.  You have to take the time to make a personal connection.
The second key aspect is inclusiveness. Leaders often face the dilemma of who to bring to the table, and in our case, this is a challenge because we have a wide range of stakeholders and partners.  The key is to maintain an inclusive environment that brings together a diverse group of talented individuals and different perspectives to solve problems.
Taking the time to build personal relationships and keep open lines of communication has helped me more times than I can count.
The last aspect of connected leadership is building and strengthening relationships. In the military, we often focus on relationships up and down the chain of command.  I find that reaching outside your organization and building support relationships is equally important. For example, during my time as the AFCENT commander, I experienced the importance of strong relationships in our daily operations. Taking the time to build personal relationships and keep open lines of communication has helped me more times than I can count.
Which security challenges for Europe and the European Union concern you the most at the beginning of this new decade?
We operate in a dynamic security environment and face a diverse set of challenges. As we look to the next decade, we must acknowledge that we're already engaged in a global power competition. China and Russia are actively challenging international norms, democratic values, and our collective security interests. Additionally, the threat of violent extremist organizations, compounded by destabilizing social and economic issues, remains a persistent global problem. In the face of these security challenges, the air component must continue to evolve and provide decisive capabilities alongside our joint and coalition partners.
Trusted partnerships remain the key to successfully meeting these challenges head-on. I have often said you cannot surge trust. I truly believe the relationships between our people will serve as the cornerstone of our ability to operate together in a dynamic environment. I am confident our actions over the next decade will succeed through the efforts of our people.
Could you give us an overview of the current difficulties Africa is facing and how these challenges influence the U.S. strategy for Europe and Africa?
Africa presents a complex environment with many challenges but also an abundance of partners who are interested in working together to improve the security landscape. Our core mission on the African continent remains one of helping our partners strengthen their defense capabilities. We concentrate our efforts on assisting African nations and regional organizations build capable and professional militaries that uphold human rights, adhere to the rule of law, and more effectively contribute to stability in Africa.
AFAFRICA takes a comprehensive approach to the complex security challenges in Africa. We work closely with African, U.S. interagency, and international partners to develop capabilities necessary to ensure Africans can collectively address regional security challenges. Our primary tools for implementing this strategy are security force assistance programs, exercises, military-to-military engagements, and joint operations with partner African Air Forces. With all this said, the foundation of our partnership will continue to be the trust we have built over time.
What makes you confident that the transatlantic relationship is on a positive track as to foreign and security policy within the great power competition that we face?
I have the unique distinction of wearing three commander hats as the Commander, U.S. Air Forces in Europe; Commander, U.S. Air Forces Africa; and Commander, NATO Allied Air Command. Being responsible for the air and missile defense of 29 NATO alliance member nations while commanding U.S. airpower across Europe and Africa affords me the opportunity to work closely with various partners.
It is through my experiences working with NATO forces that I have seen firsthand not only the importance of personal relationships but also the strength of our combined capabilities. Taking time to get to know our coalition counterparts helps us improve interoperability, gain basing and overflight access, and develop the trust and confidence to act decisively as a coalition.
Ein persönlicher Hinweis von General Harrigian: Dieses Interview hat unmittelbar vor der Covid-19-Pandemie stattgefunden, die weiterhin erhebliche Störungen verursacht und Gesundheitsfragen quer durch Europa und Afrika aufwirft. Seitdem hat USAFE-AFAFRICA den bewussten Ansatz gewählt, unsere Mitarbeiter zu schützen und gleichzeitig unsere Alliierten und Partner weiterhin zu unterstützen. Wir bleiben in Bereitschaft und sind weiter fähig, alle Anforderungen unserer Mission zu erfüllen, während wir kontinuierlich neue Wege entwickeln, uns durch Covid-19 zu kämpfen. Trotz der Herausforderungen haben wir die Bereitschaft verbessert, Beziehungen gestärkt und eine konkurrenzfähige Lage in Europa und Afrika aufrechterhalten.