Ein Signal der Verbundenheit aus Kanada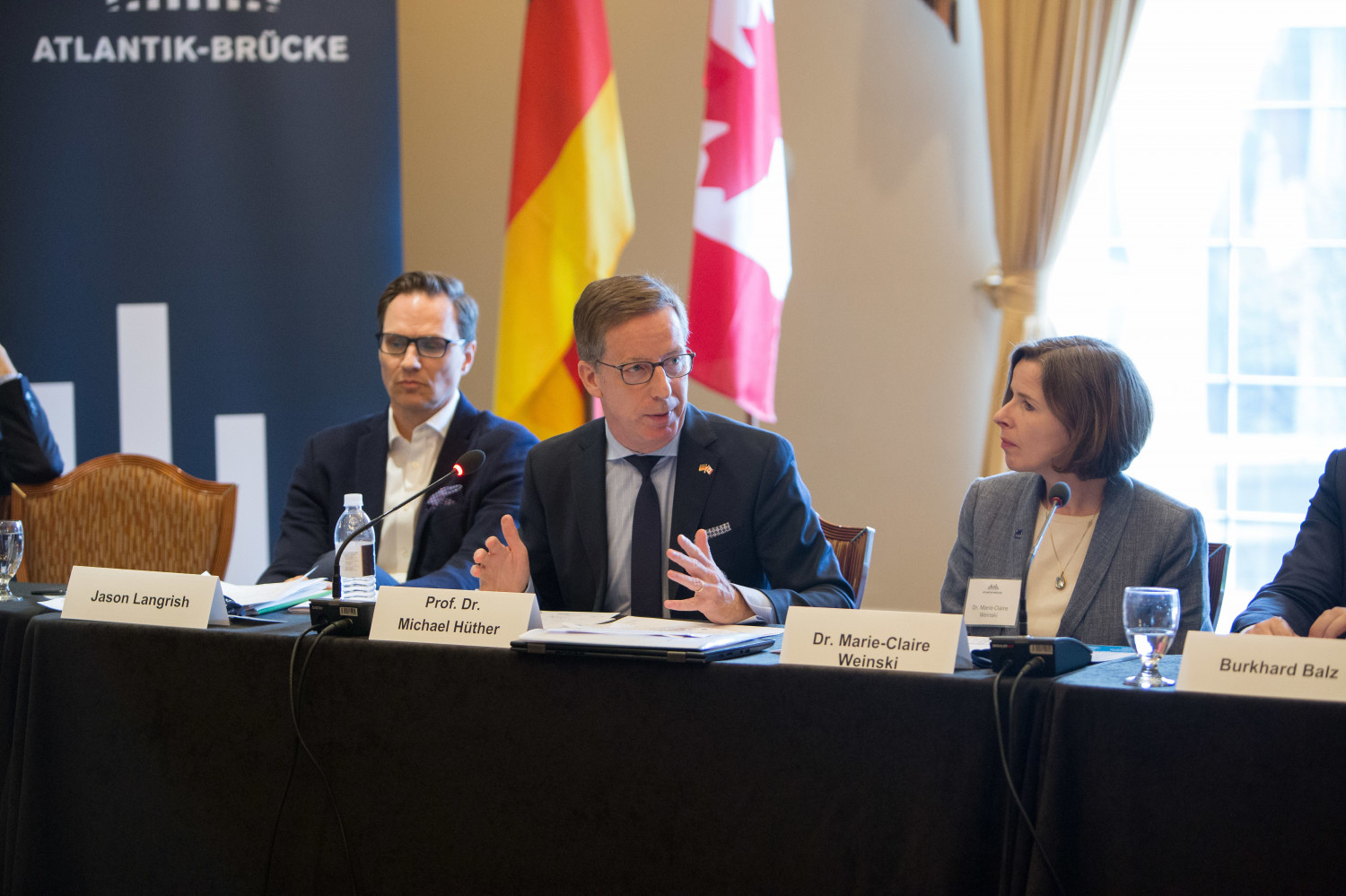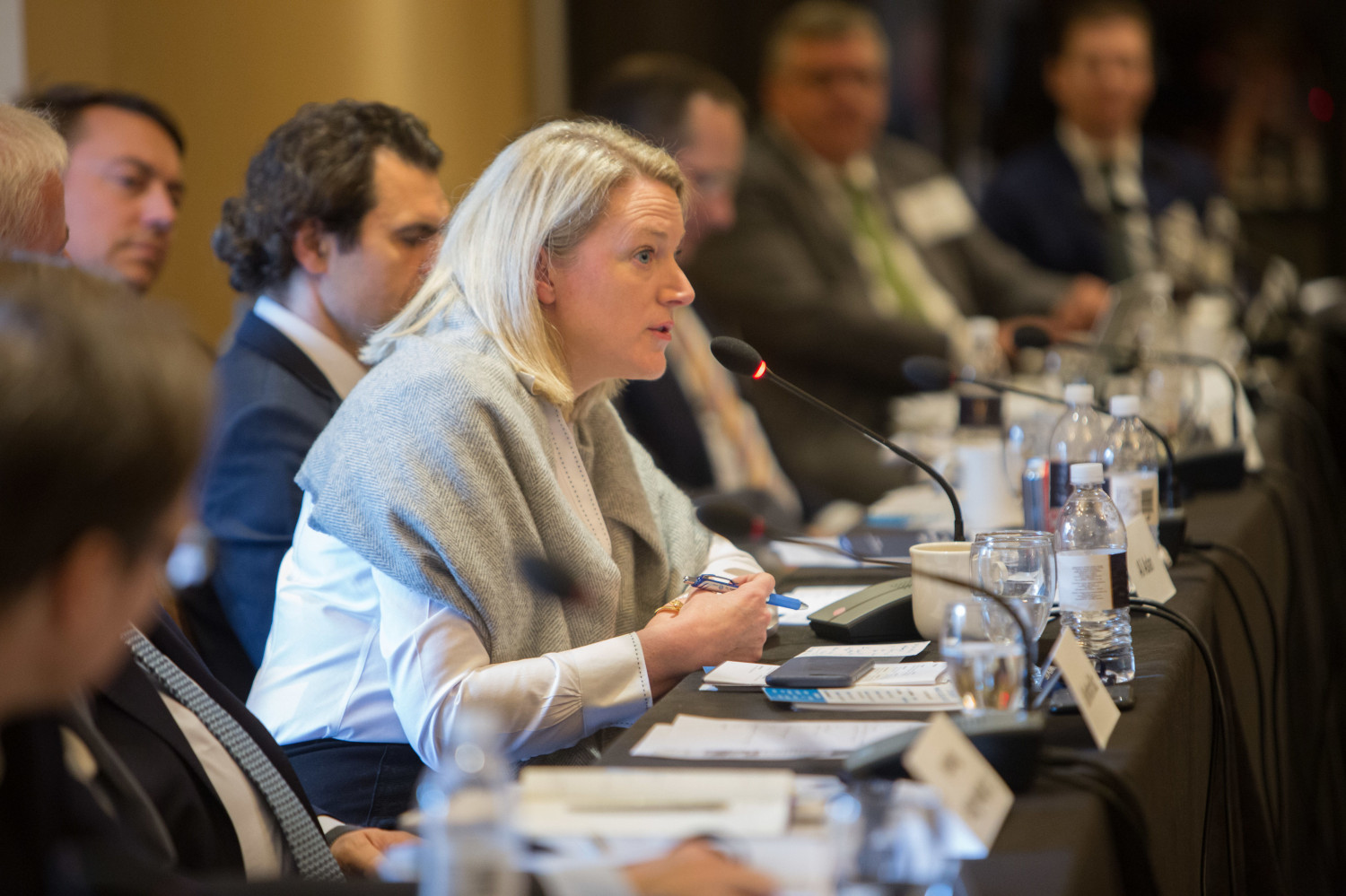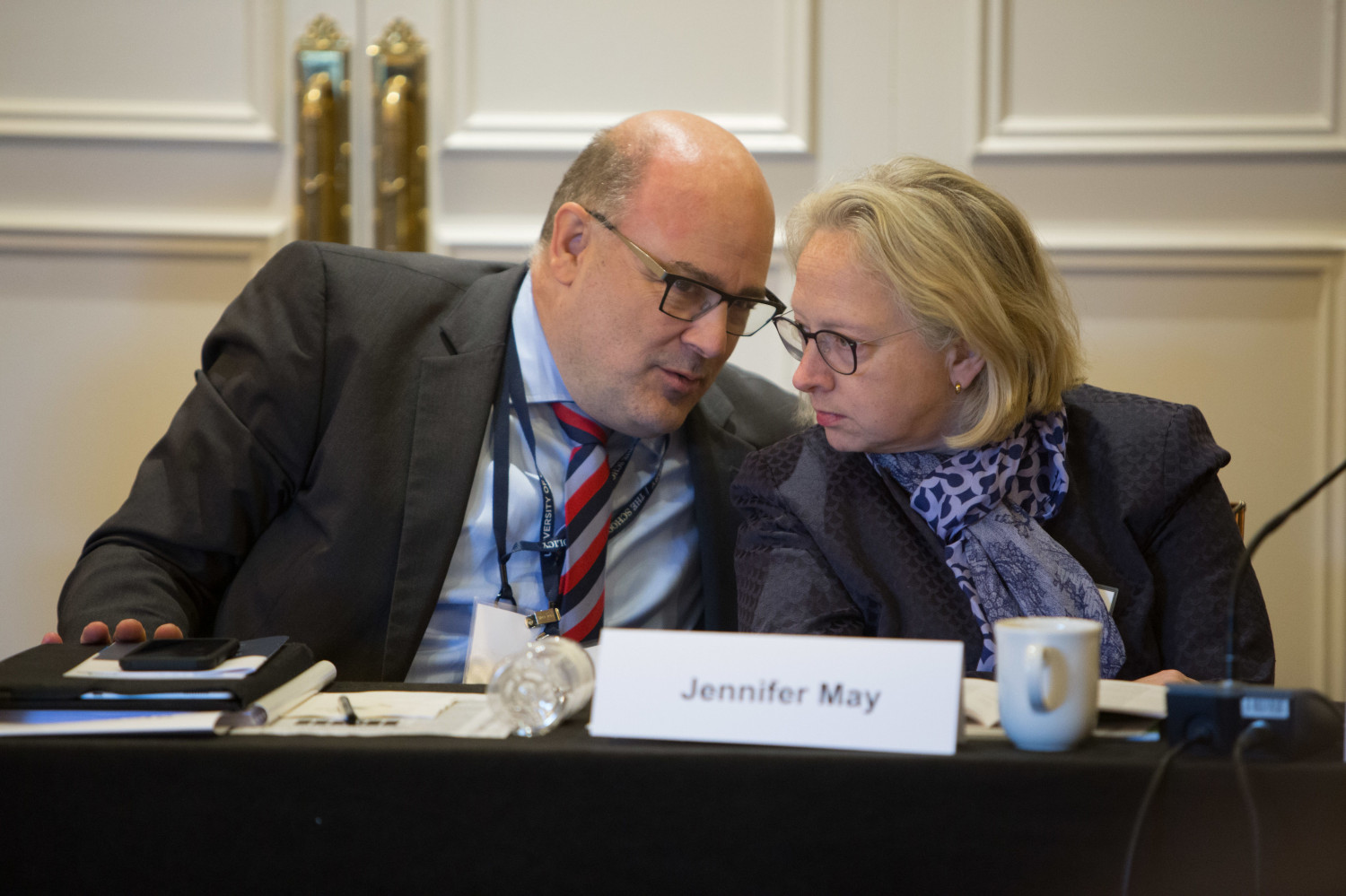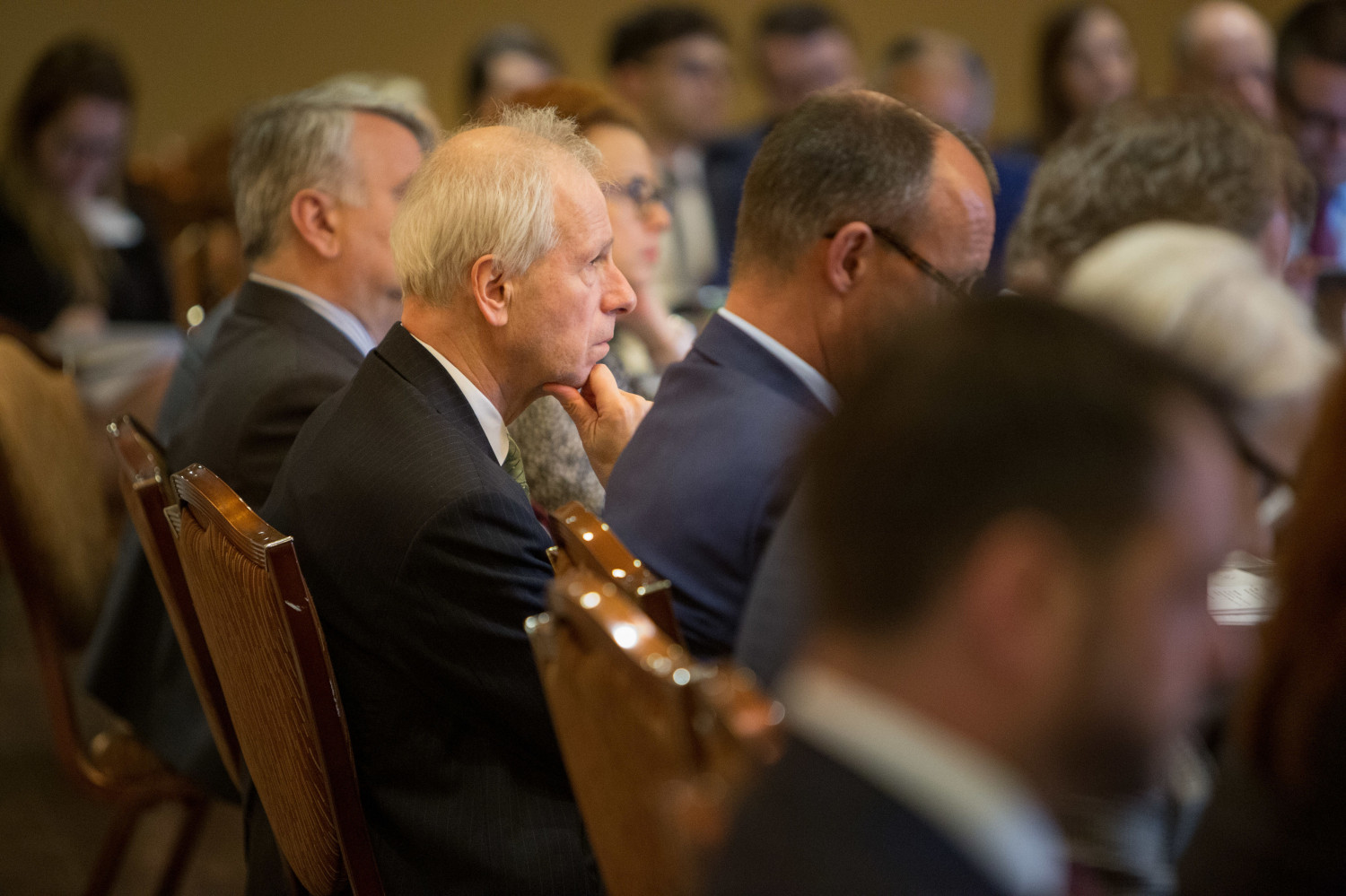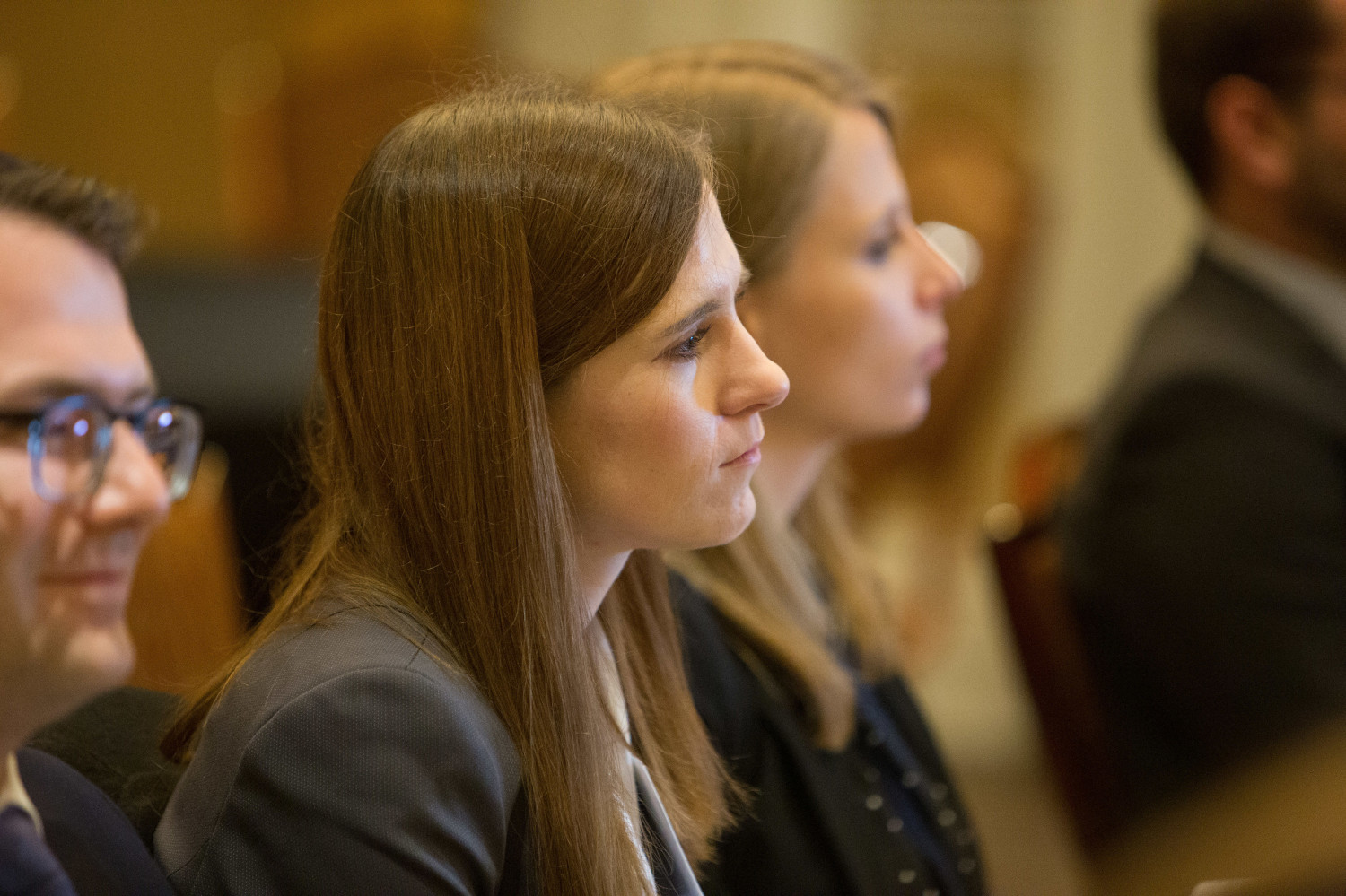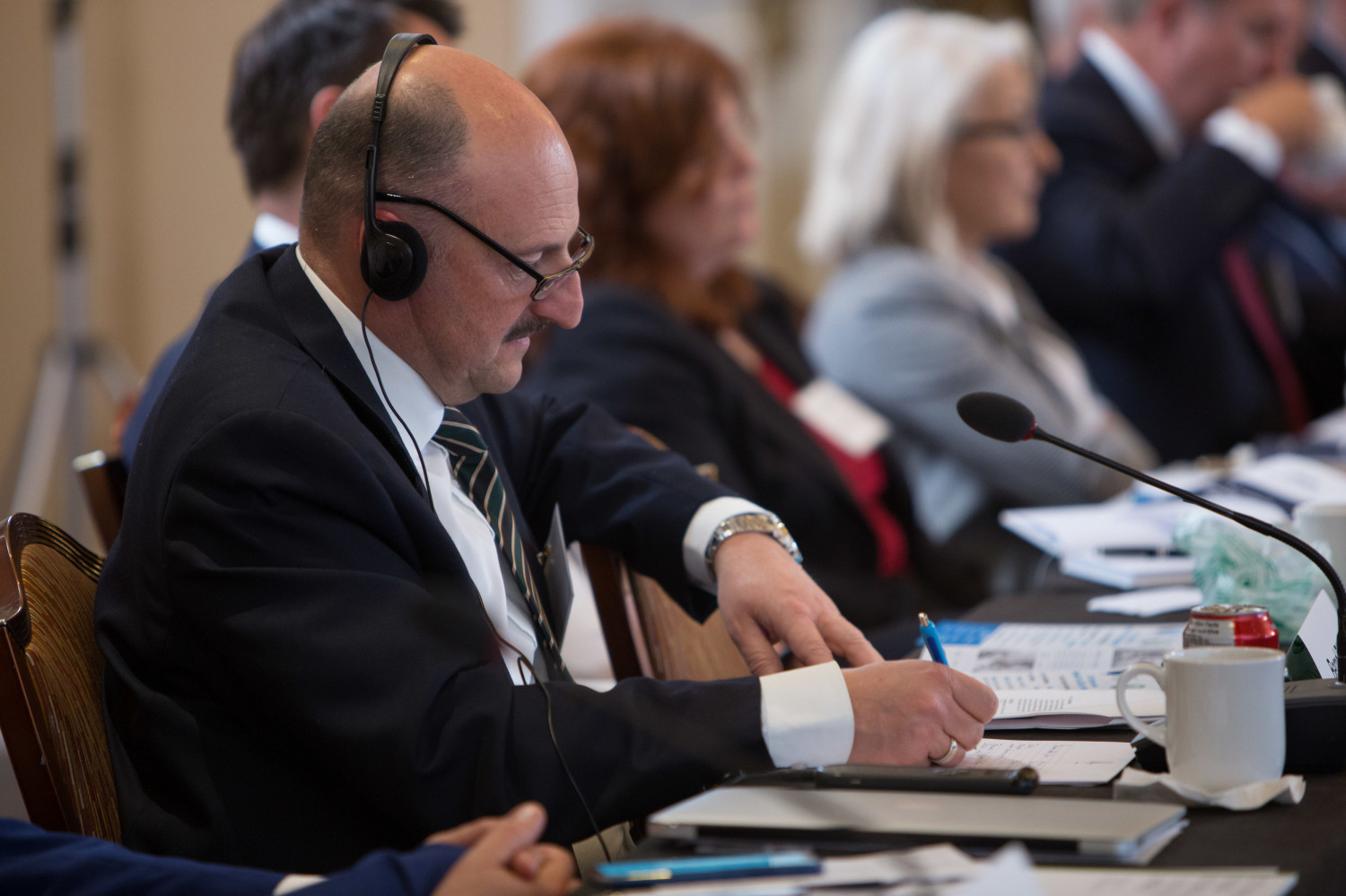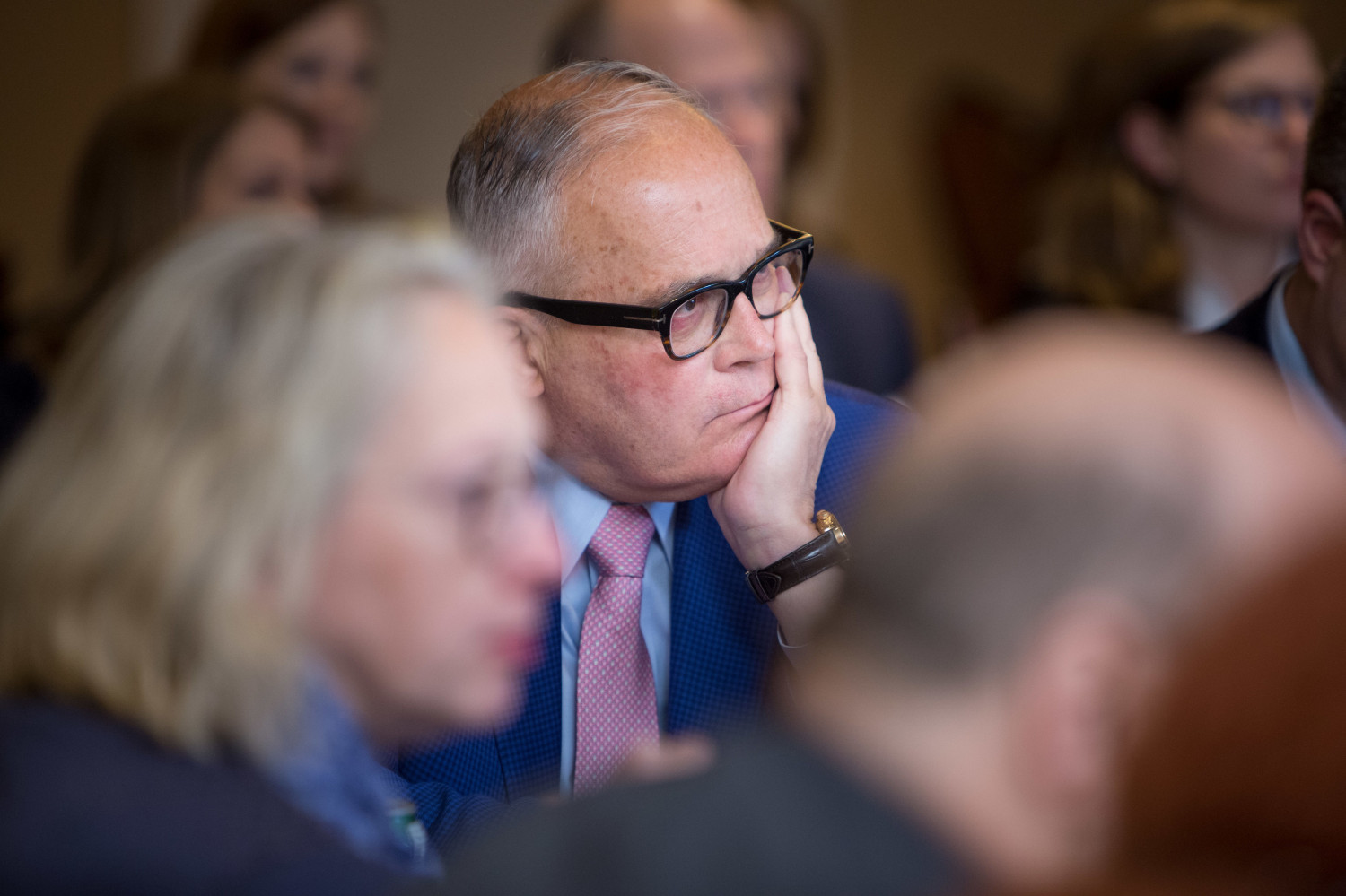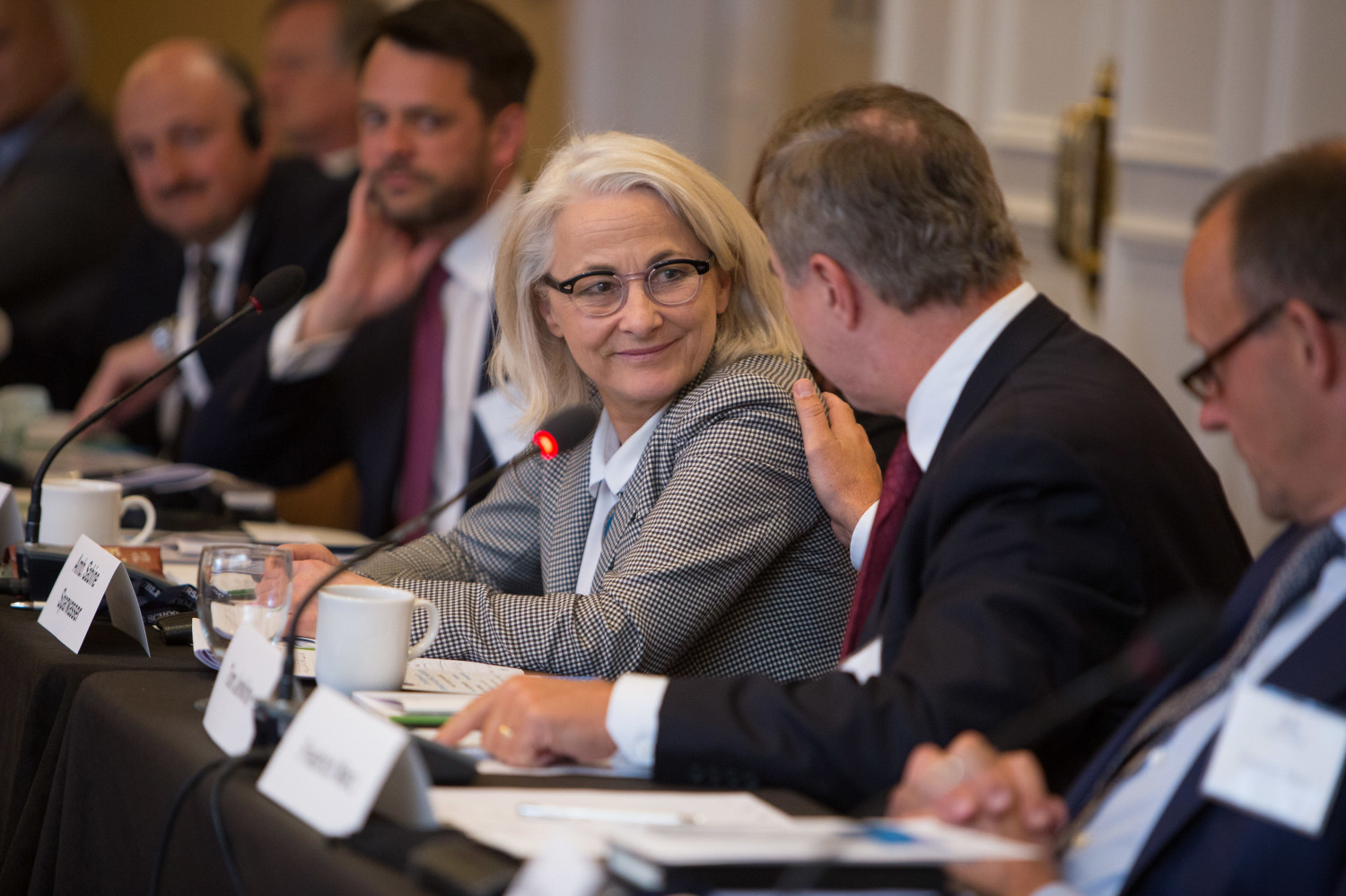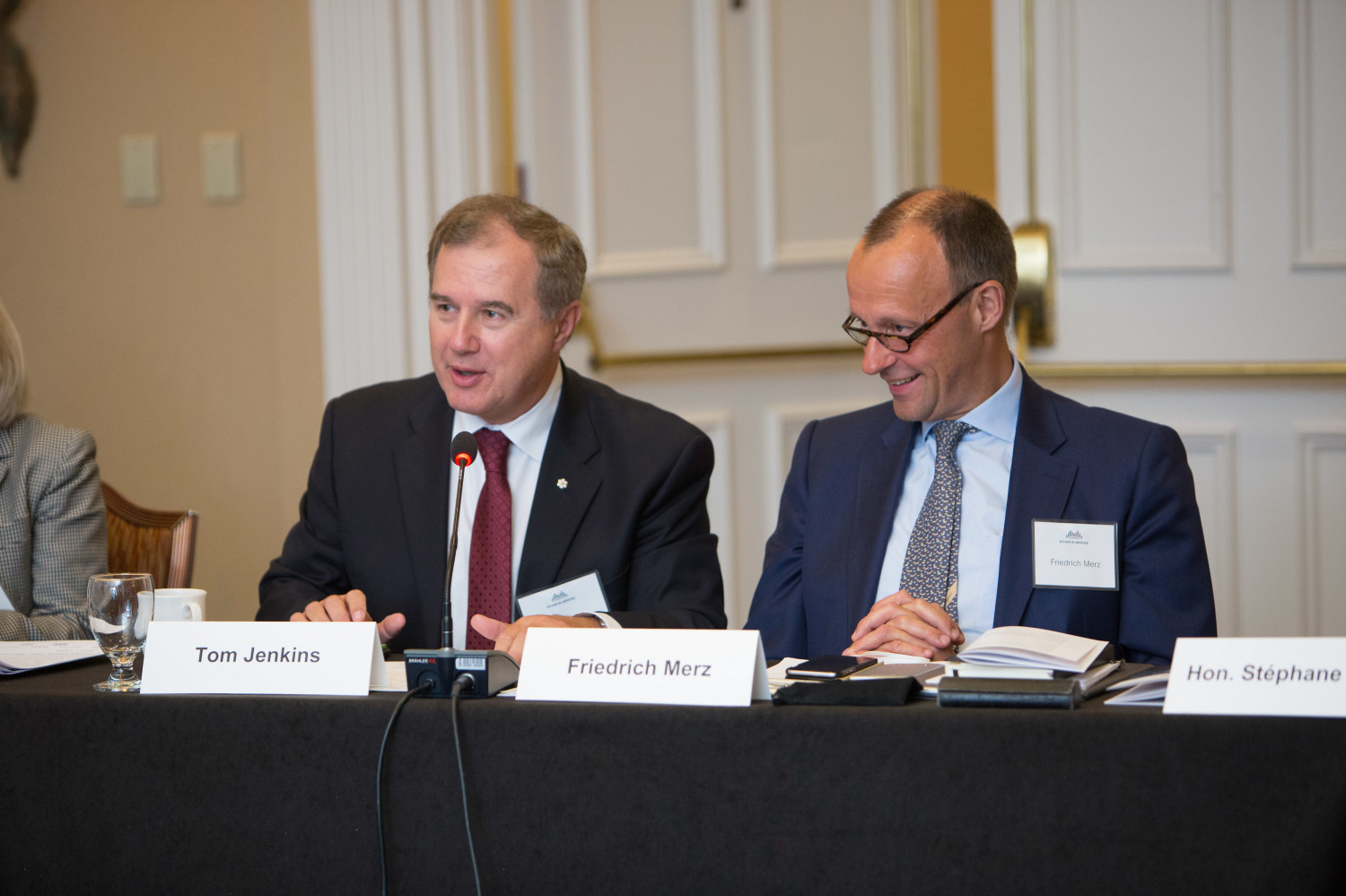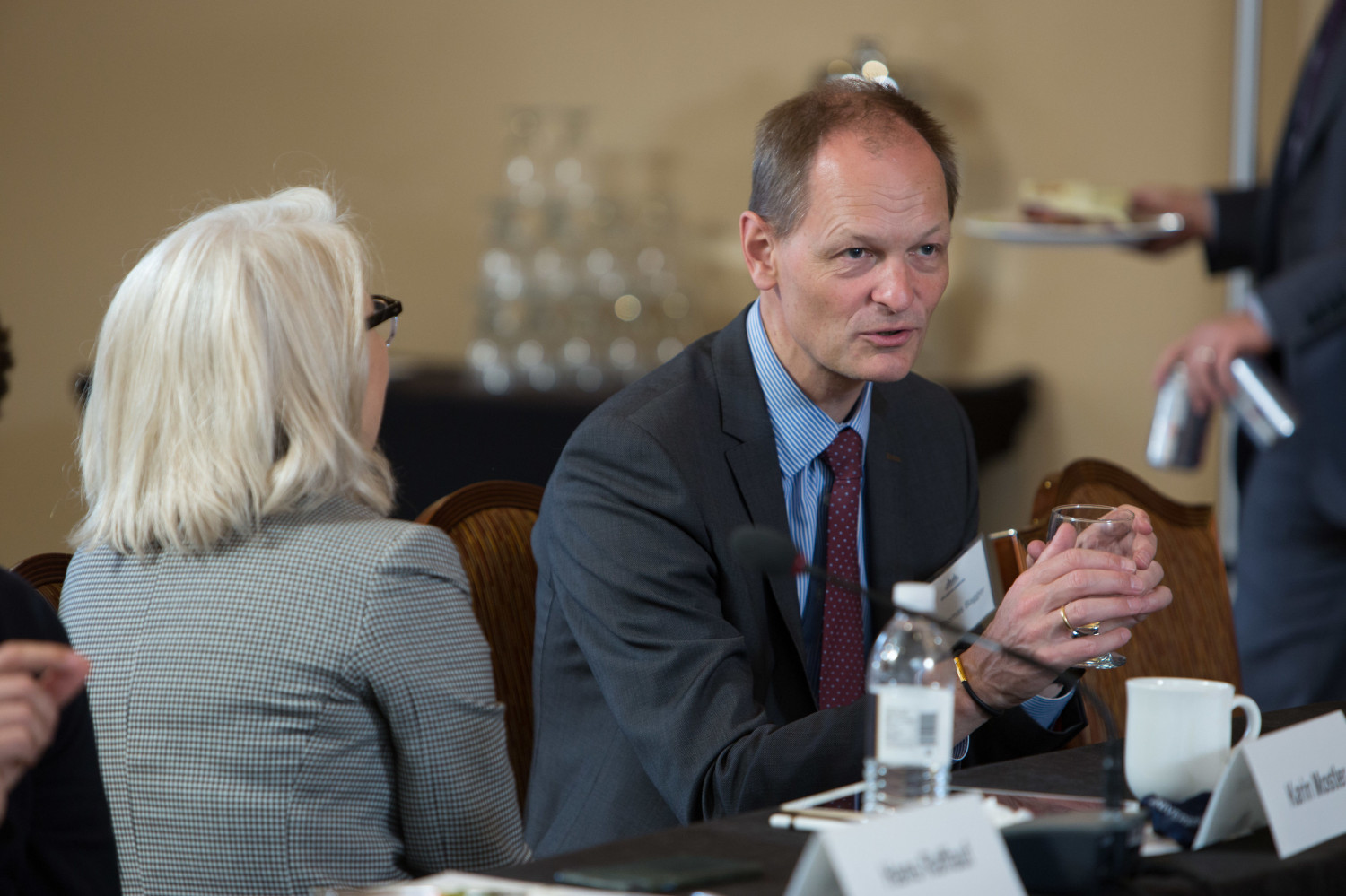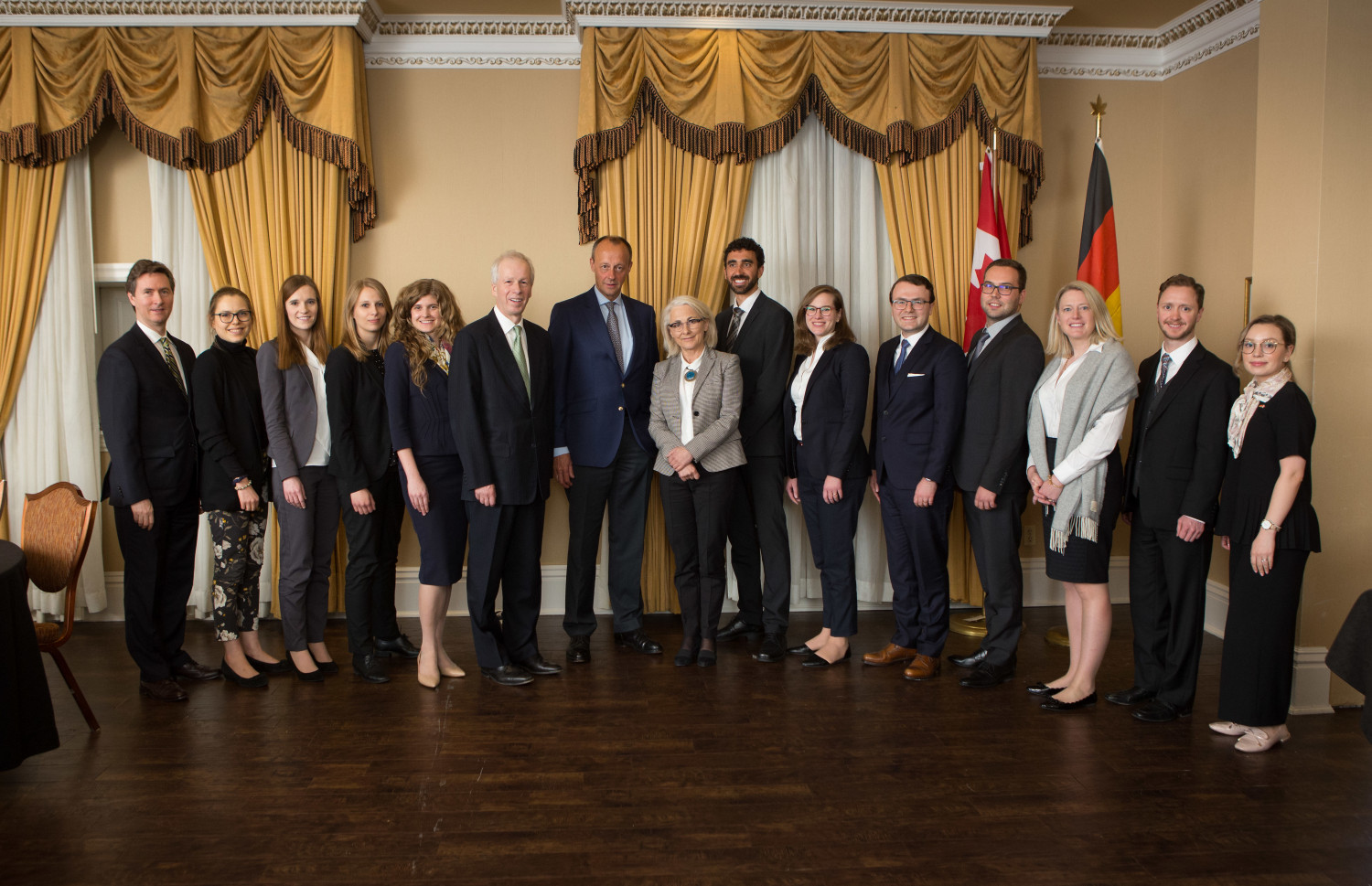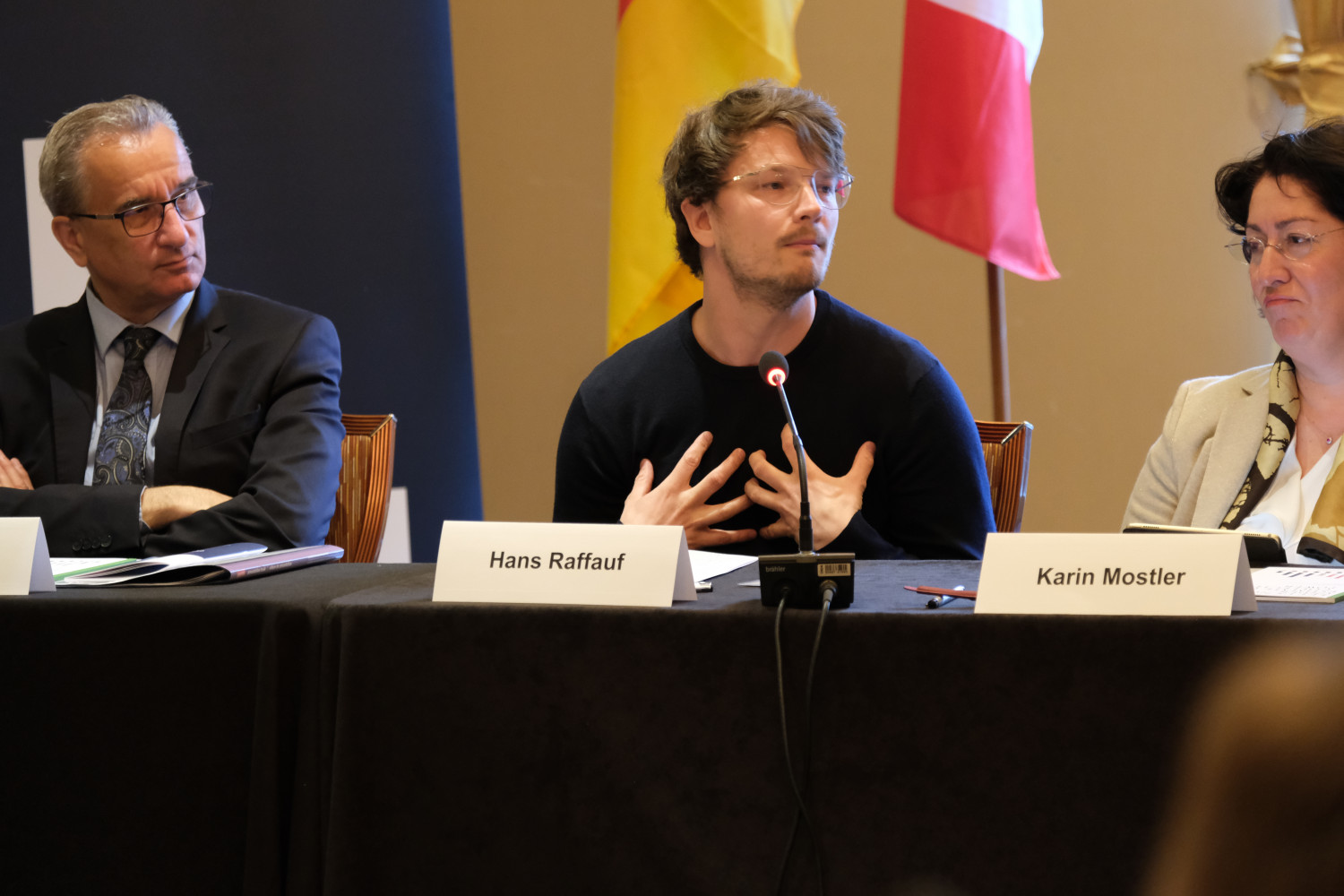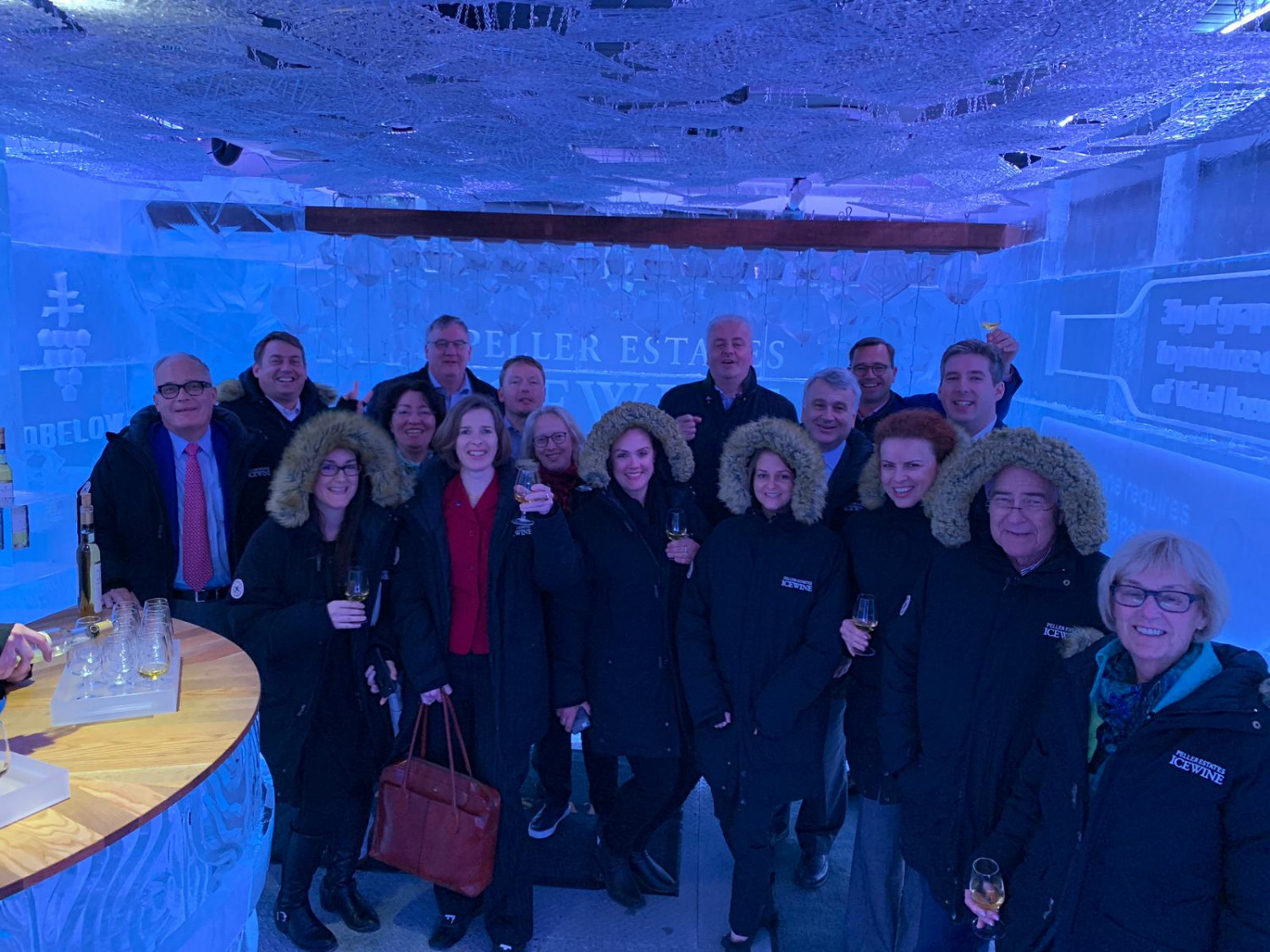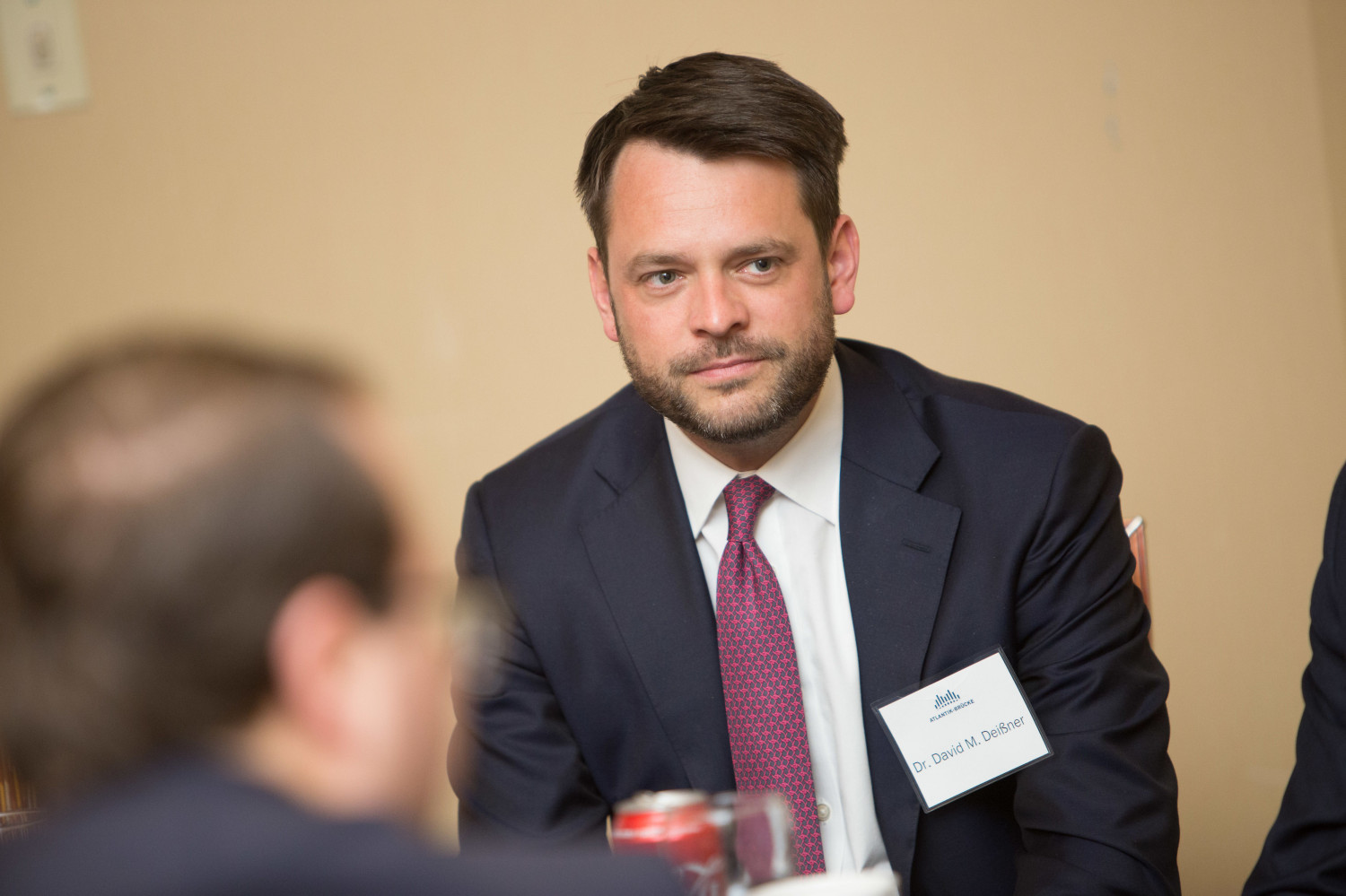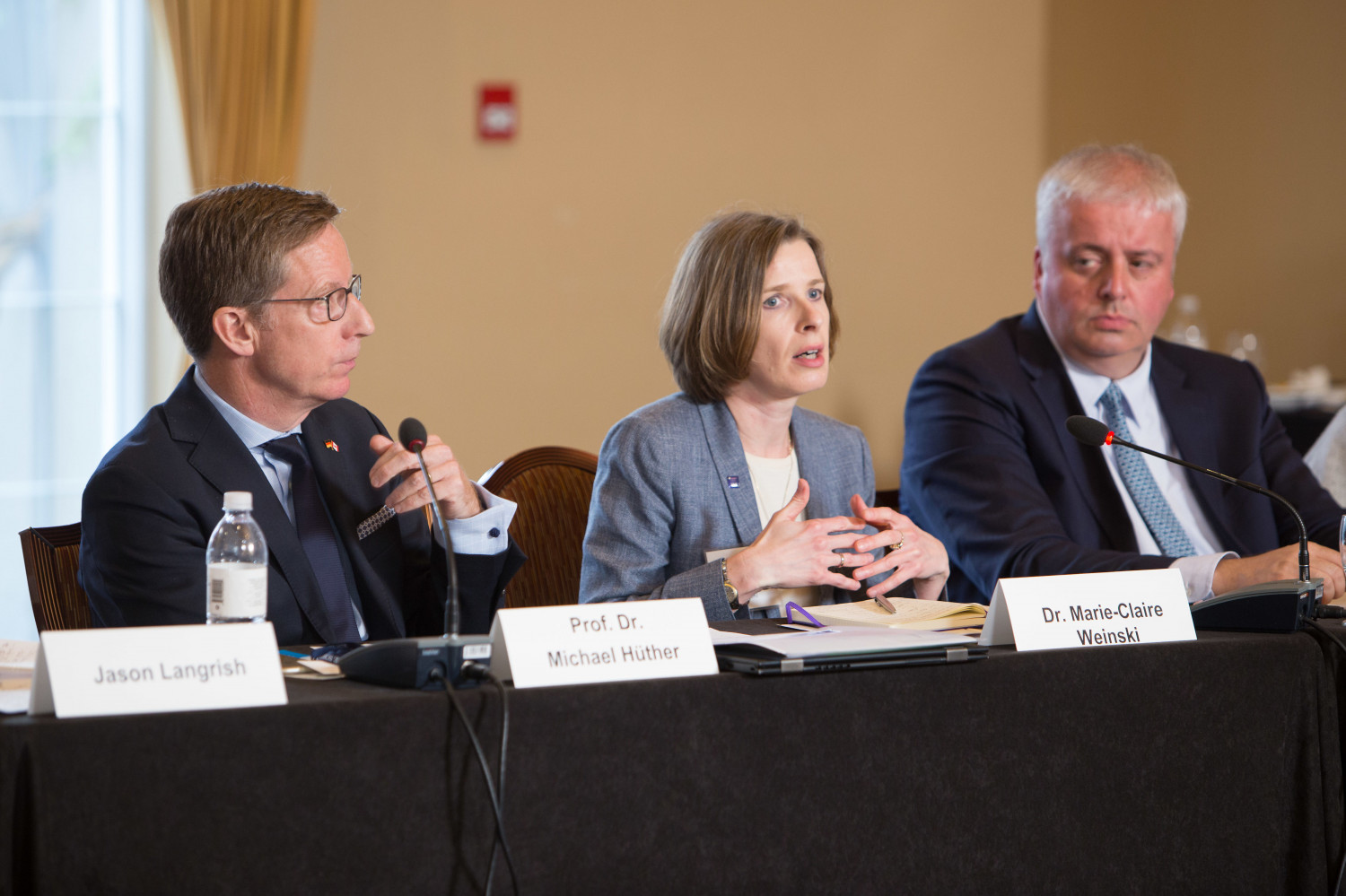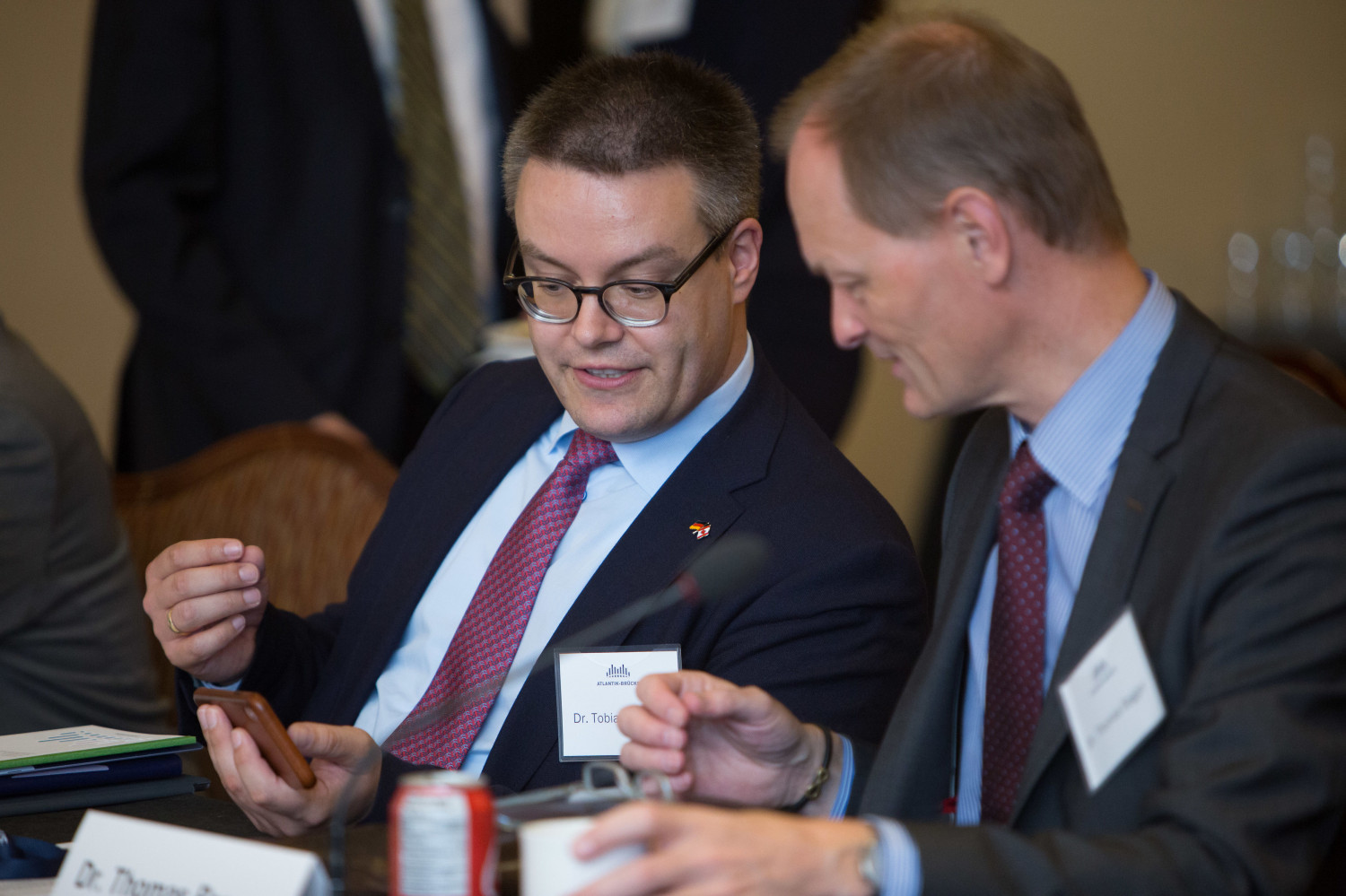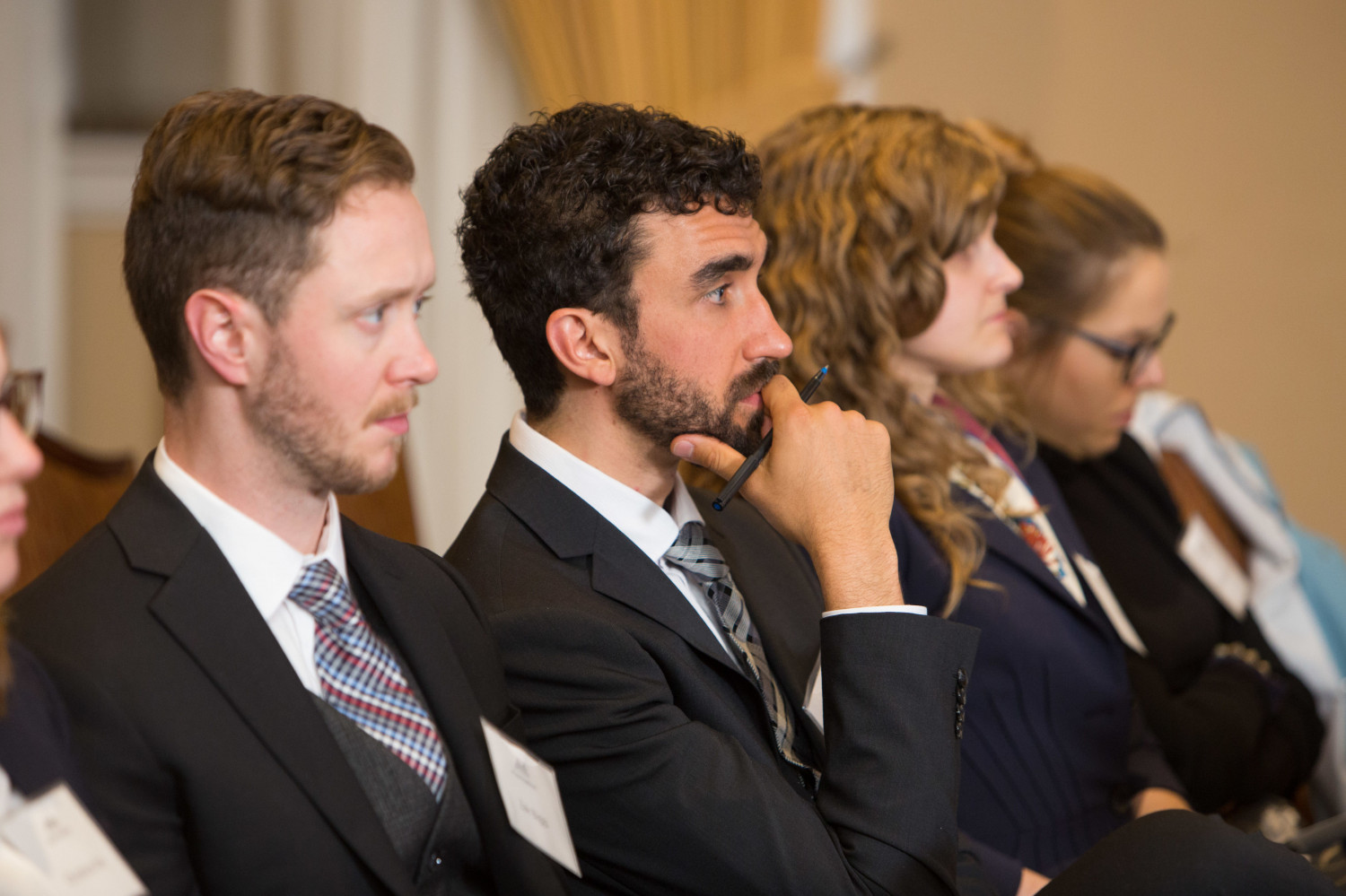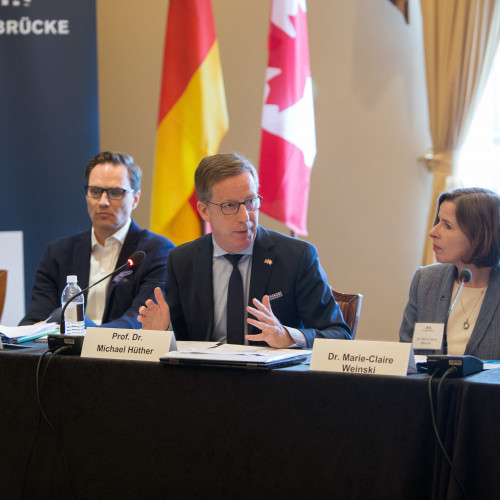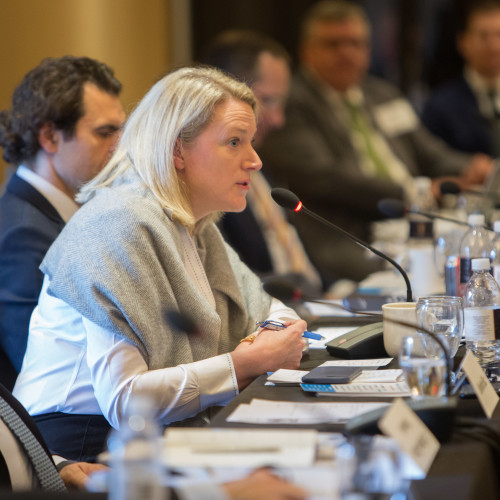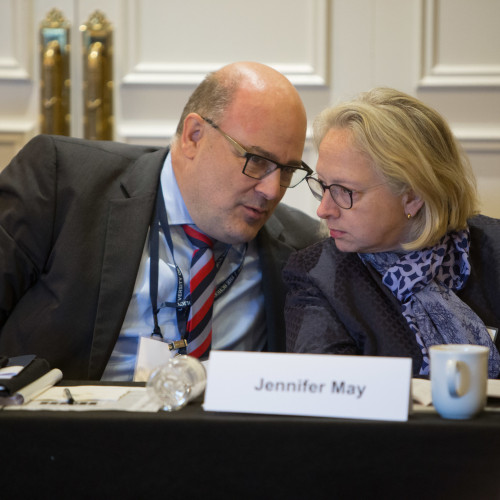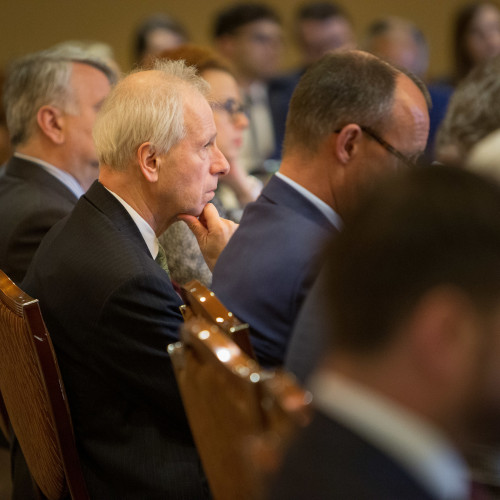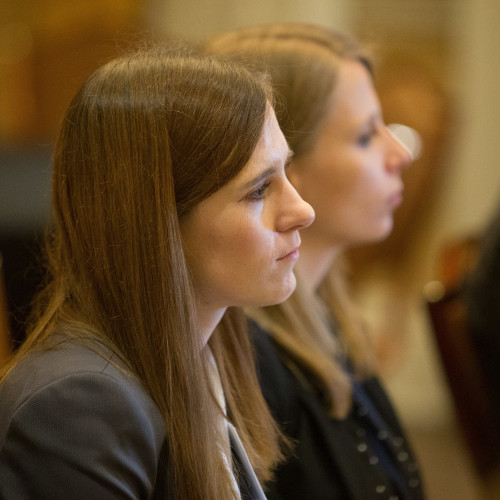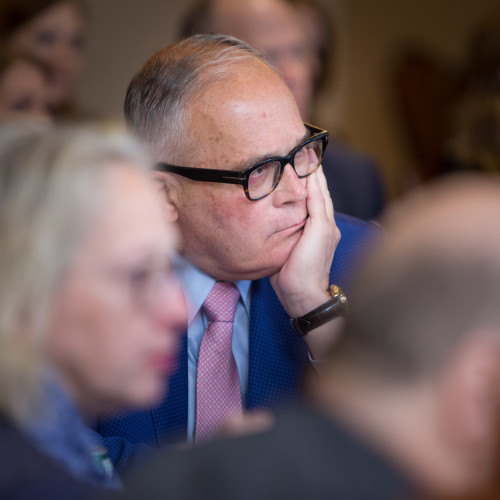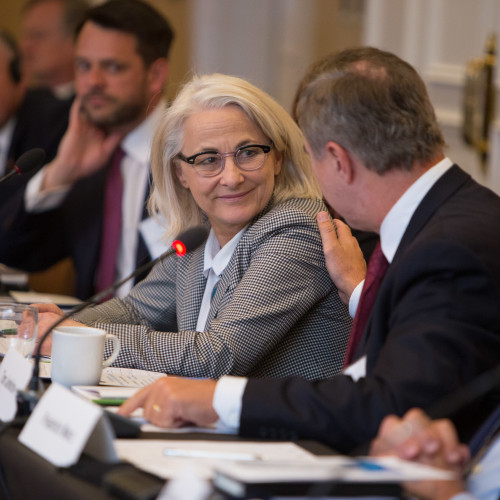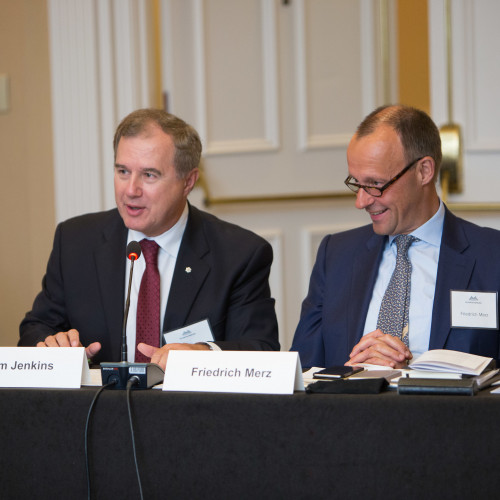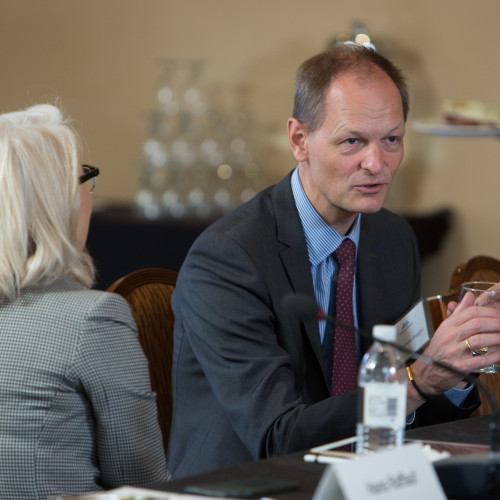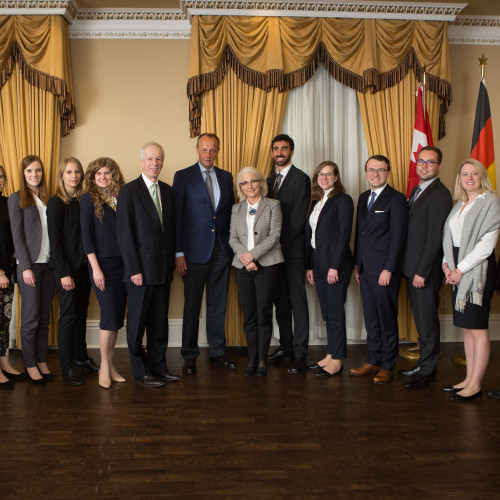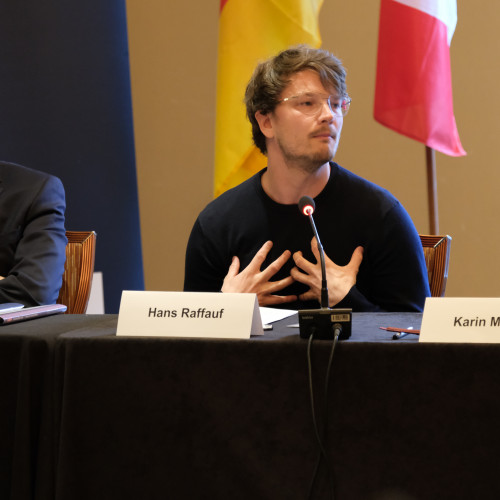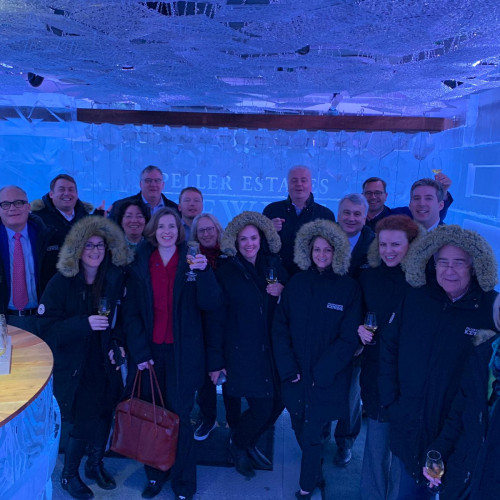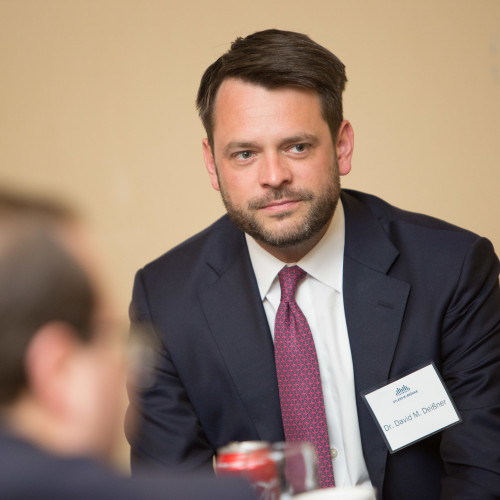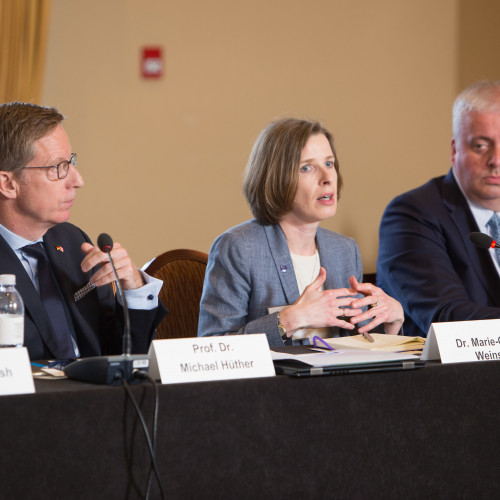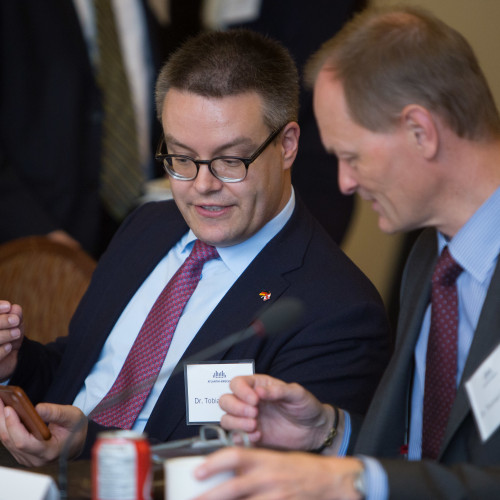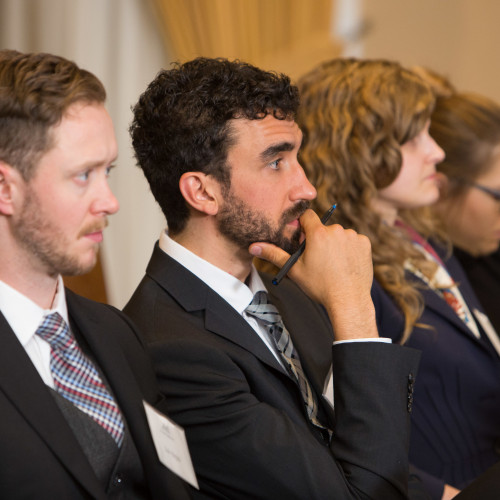 Die Deutsch-Kanadische Konferenz der Atlantik-Brücke hat die hohe Bedeutung der Beziehung beider Länder für globale Fragen unserer Zeit hervorgehoben. In Niagara-on-the-Lake diskutierten die hochrangig besetzten Delegationen Lösungsansätze zu Digitalisierung, Handelspolitik und China.
The 34th German-Canadian Conference took place in Niagara-on-the-Lake, Ontario from May 2 – 4, 2019. Main topics of discussion were German-Canadian cooperation in digital transformation, China's rising power, engagement on trade, and cyber resilience in light of electoral interference. 60 high-level business leaders, political figures and academics from Germany and Canada came together on this occasion.
Ambassador Stéphane Dion, Ambassador to Germany and Special Envoy to the European Union and Europe, Embassy of Canada in Berlin, kicked off the conference, stating: "At a time when relations between Germany and Canada are as good as they have ever been, when they are a patch of blue sky in a turbulent world, when our respective partnerships are presenting the same challenges, when our two countries have so much to do together, bilaterally and in the world, the importance of assembling this delegation committed to strengthening the Canada-Germany relationship cannot be overstated."
Digital Transformation: Impact and Outcomes
Discussion leaders on this panel were Iain Stewart, President of the Canadian National Research Council; Steffen Kampeter, Managing Director and Member of the Presidential Board, Confederation of German Employers' Associations; State Secretary Dr. Mark Speich, State Secretary for Federal, European and International Affairs, State's plenipotentiary to the Federal Government; Karin Mostler, Regional Vice President, OpenText and Hans Raffauf, Chairman & Co-Founder, Clue. The session was moderated by Dr. PG Forest, Director and James S. and Barbara A. Palmer Chair in Public Policy, The School of Public Policy.
Technological innovation creates both winners and losers. While winners enjoy significant benefits, losers find themselves on the wrong end of stronger competition, heightened job churn and shifting skill requirements. While there is little agreement among experts today on the likely net impact of digitalization, Artificial Intelligence, robotics, blockchain and Internet of Things, on employment, one thing is clear: technological innovation is not just an economic, but also a social issue.
The interface between people and technology is problematic for both countries. People entering the workforce today will have to adapt to the fact that the amount of available jobs will decrease significantly during their lifetimes. Workers also should prepare to be more "agile" as hiring models are changing and are becoming more digitalized.
This panel discussed that work will have to be continuously redefined, requiring a constant adaptation of skills. Intelligent automation will boost the importance of science, technology, engineering and mathematics, but will also require a high readiness for lifelong learning on part of the work force.
When comparing German and Canadian adaptation to new technology and digitization, it seems that German companies are better at coming to terms new technologies. While Canada has 15 research universities and the Canadian government helps with venture capital, often working closely with university faculty and students, Canadian companies seem to be slow to react to innovation. In comparison, Germany has 40 high tech clusters, and small and medium-sized enterprises (SMEs) partner with municipalities to train workers.
The China Question
Discussants on this panel were Goldy Hyder, President and CEO, Business Council of Canada; Dr. Thomas Bagger, Director Foreign Policy, Office of the Federal President, and Dr. Olga Petricevic, University of Calgary. It was moderated by Ali Aslan, Moderator and Journalist.
China simultaneously serves as partner and systemic competitor to Canada and Germany. Its rapid economic growth offers great opportunities, yet its state-dominated economy and single-party system differ from the liberal democratic system that has brought peace and prosperity to the West. Significant differences have led to disputes over intellectual property, the detention of foreign nationals, 5G technology and the definition of a level playing field for business.
Implications for Canada could be that the country is left behind in the event of a U.S.-China trade deal. On the German side, the relationship to China is no longer only economic. While Germany sold technology and machine tools, China is becoming a geostrategic competitor. China is Germany's largest trading partner outside the EU, having overtaken the U.S.
In order to tackle these new developments, Germany should be open for investment, with exchange of high-tech and open markets for each other's products. When nearly half of the Volkswagens in the world are made and sold in China, it becomes obvious that Germany has to adapt to the situation at hand. While the relationship with China is rules based partially, it is a matter of Chinese power and size on the other hand. German-Canadian Cooperation, as well as with the European Union, has to be more unified to counter this leverage.
How do we engage on Trade?
Canada's Chief Trade Commissioner Dr. Ailish Campbell, Burkhard Balz, Member of the Executive Board, Deutsche Bundesbank, Dr. Michael Hüther, Director and Member of the Presidium, German Economic Institute, Dr. Marie-Claire Weinski, The Association of German Women Entrepreneurs and Jason Langrish, Executive Director, Canada Europe Roundtable for Business, discussed the implications on trade on this panel, which was moderated by Ali Aslan.
Many of the most pressing economic issues we face are the result, at least in part, of segments of our societies feeling they are on the wrong end of a rigged economic system. Brexit is a symptom of this sentiment and CETA faces substantial hurdles to its ratification despite being pitched as a driver of inclusive growth. Furthermore, the perception by the American public that they have been treated unfairly by the Chinese has enabled a trade war with blowback felt in Germany and Canada.
Although free trade raises aggregate wealth on the one hand, it does not benefit everyone on the other. Consequences are the reduction of wages or the elimination of some jobs. Although there is a bigger pie, there is the issue of uneven distribution. The panel discussed that protectionism is not the solution to the distribution problem. Discussants saw possible solutions in a higher level of education and creation of a more flexible labor market as well as better protection of intellectual property rights.
Cyber Resilience and Electoral Interference
This session's discussants were Nik Nanos, Chair, Nanos Research; Dr. Tobias Lindner, Security Policy Spokesman of Alliance'90/ The Greens, Deutscher Bundestag and Jan Neutze, Senior Director, Digital Diplomacy Corporate, External and Legal Affairs (CELA), Microsoft. The panel was moderated by Dr. David Deissner, Executive Director, Atlantik-Brücke
Standing together on defense and security is critical for Canada and Germany in order to counter hybrid warfare threats and act as champions of democracy and open markets. With a Canadian federal election set for fall 2019, countering attempts to weaken Western democratic institutions is top of mind.
Interference in elections by nation states has increased over the last 10 years. While their targets have been businesses, the military, and general espionage, they now increasingly target the democratic process. This is not just affecting the U.S., but also France and Germany. It has been proven that 40 countries have been the target of election disruption. While there have been discussions at the UN since 1998 on ways to reduce interference, cyber intervention remains a serious problem. The panel discussion made clear that global cooperation is needed in order to strengthen German-Canadian resilience in this matter.
The German-Canadian New Bridges Program
At this conference, Atlantik-Brücke launched the German-Canadian New Bridges Program, a program for young Canadians and Germans to carry the transatlantic partnership to the next generation. The group of 10 participants took part in an in-depth, week-long exchange on current and future challenges on both sides of the Atlantic. Topics of discussion included technology's disruptive impact on politics, the economy and society, changing geopolitical realities, and the future of economic progress and the transition to a low-carbon economy. The program ended with the participation of the group in the German-Canadian Conference. The New Bridges program is carried out in partnership with the Embassy of the Federal Republic of Germany in Canada and the Embassy of Canada in Berlin.
Thank you to Rudolph Houck for his input for this report.