Reflections on the New Bridge Program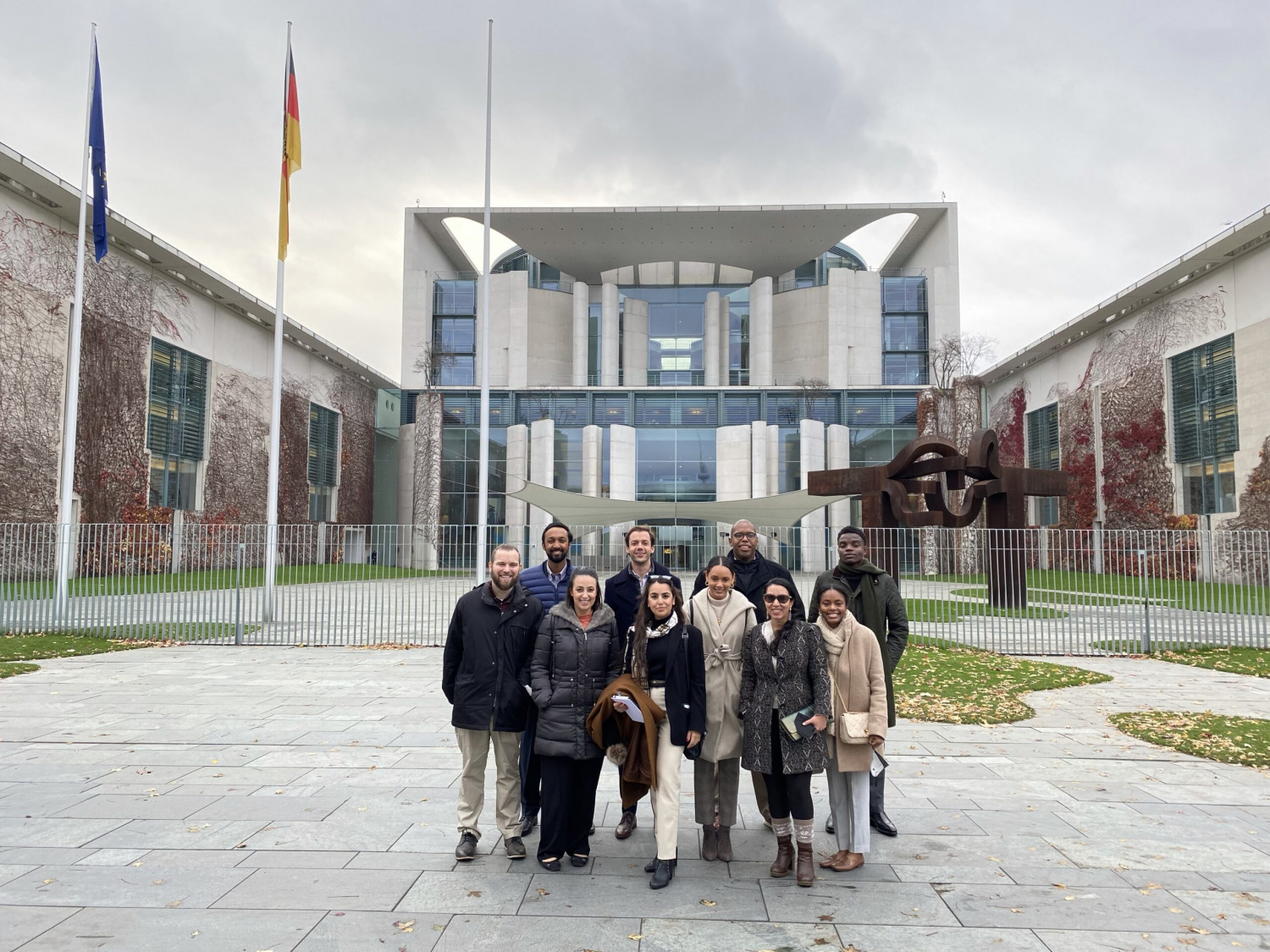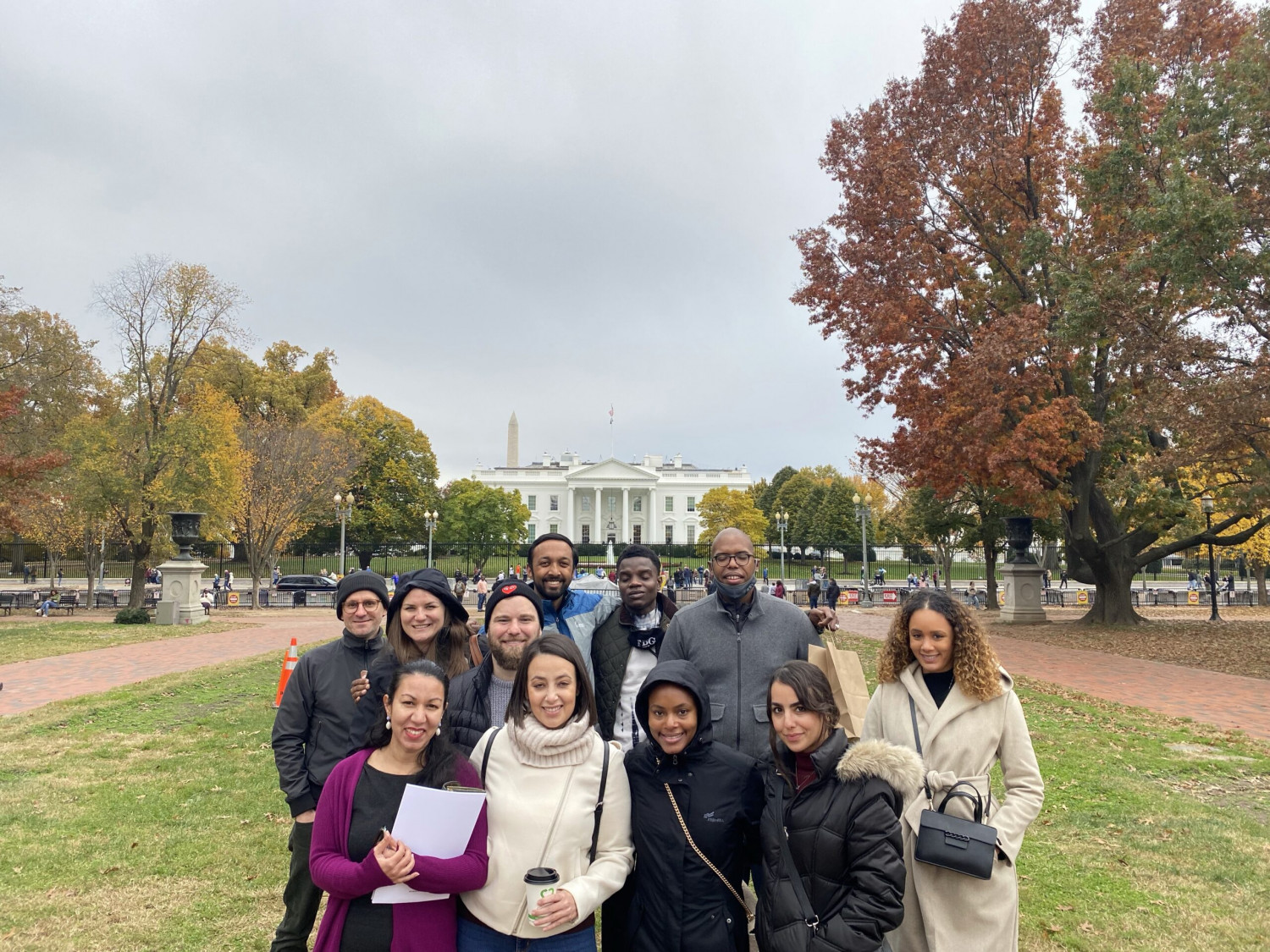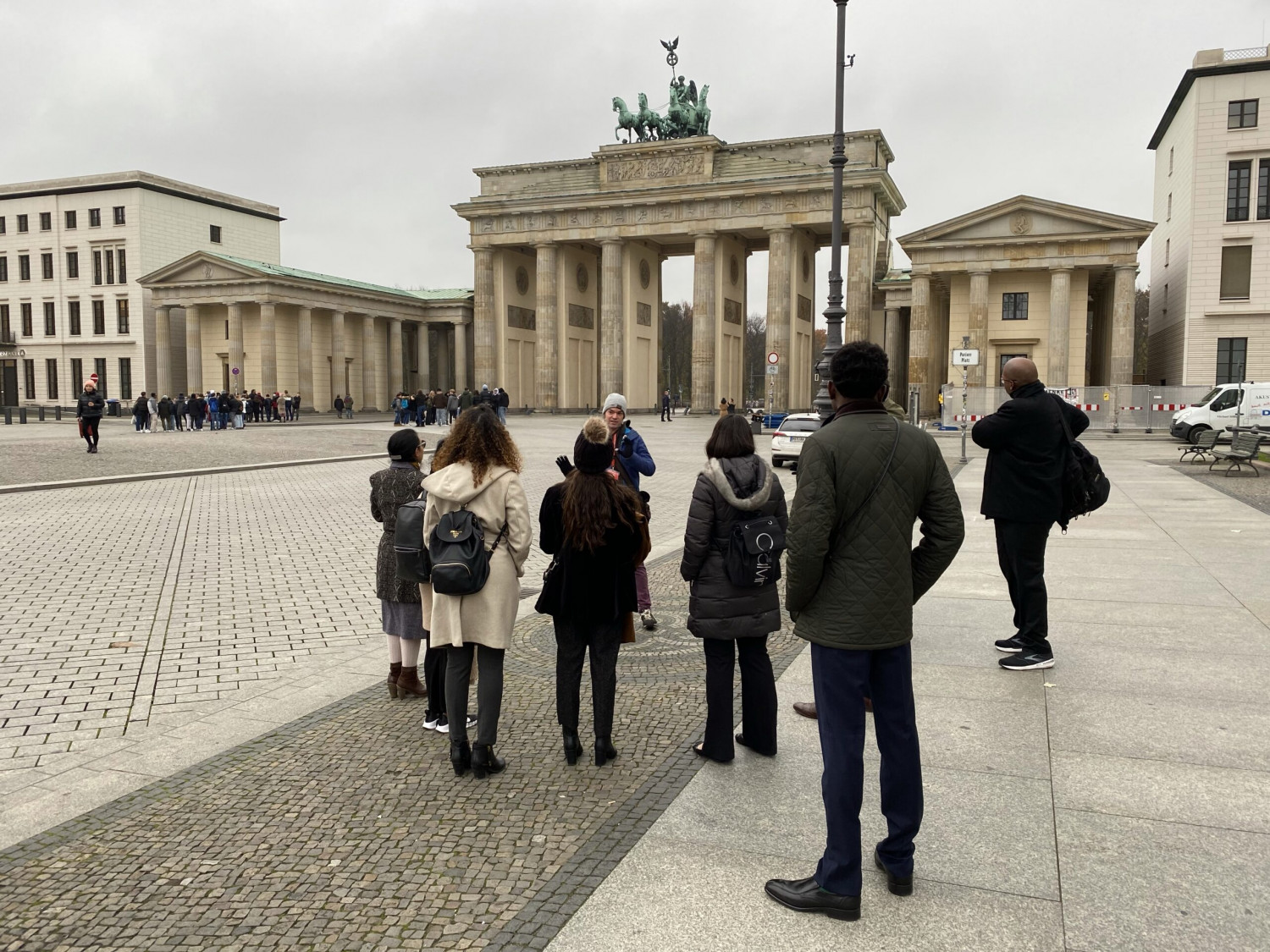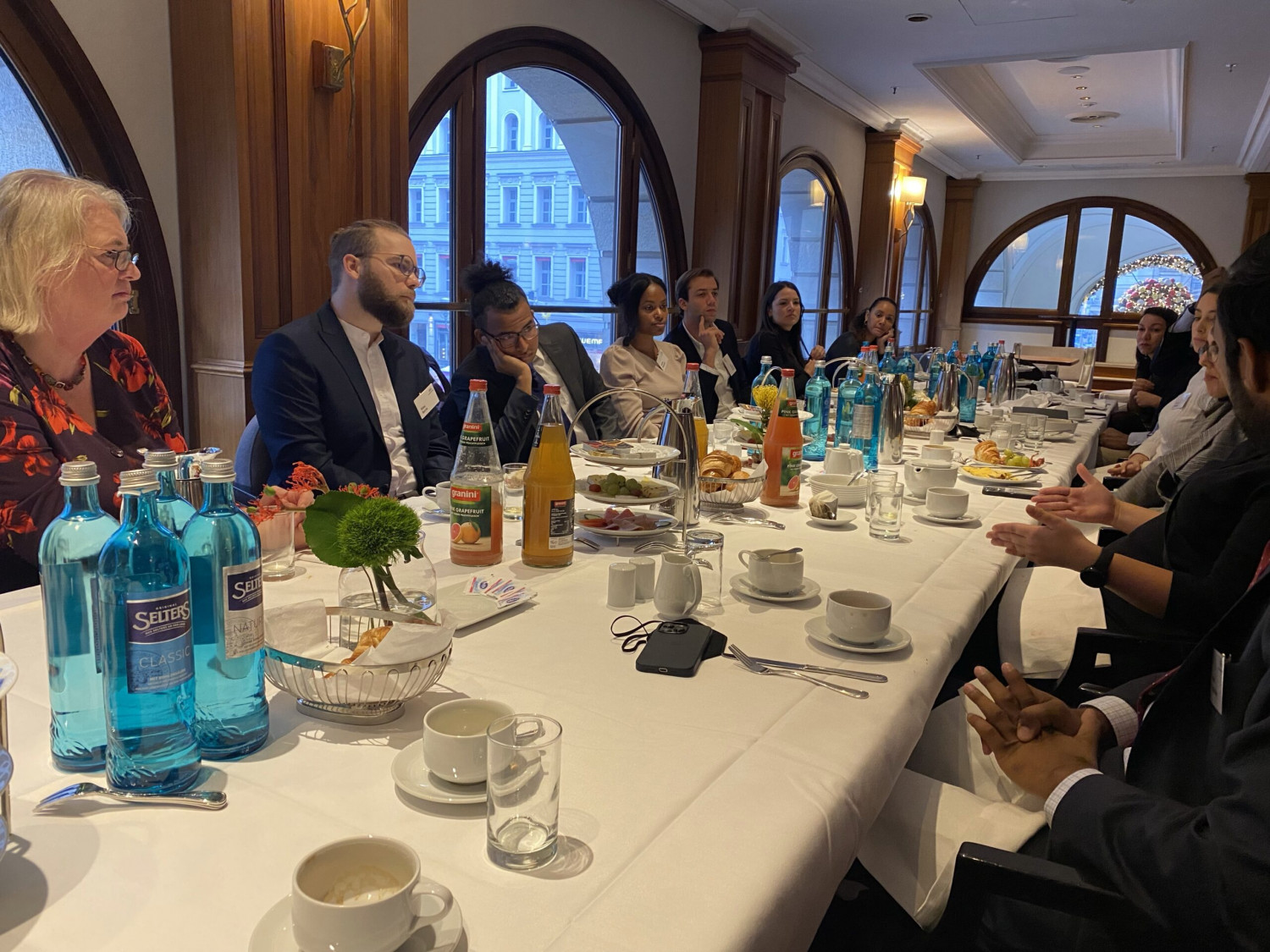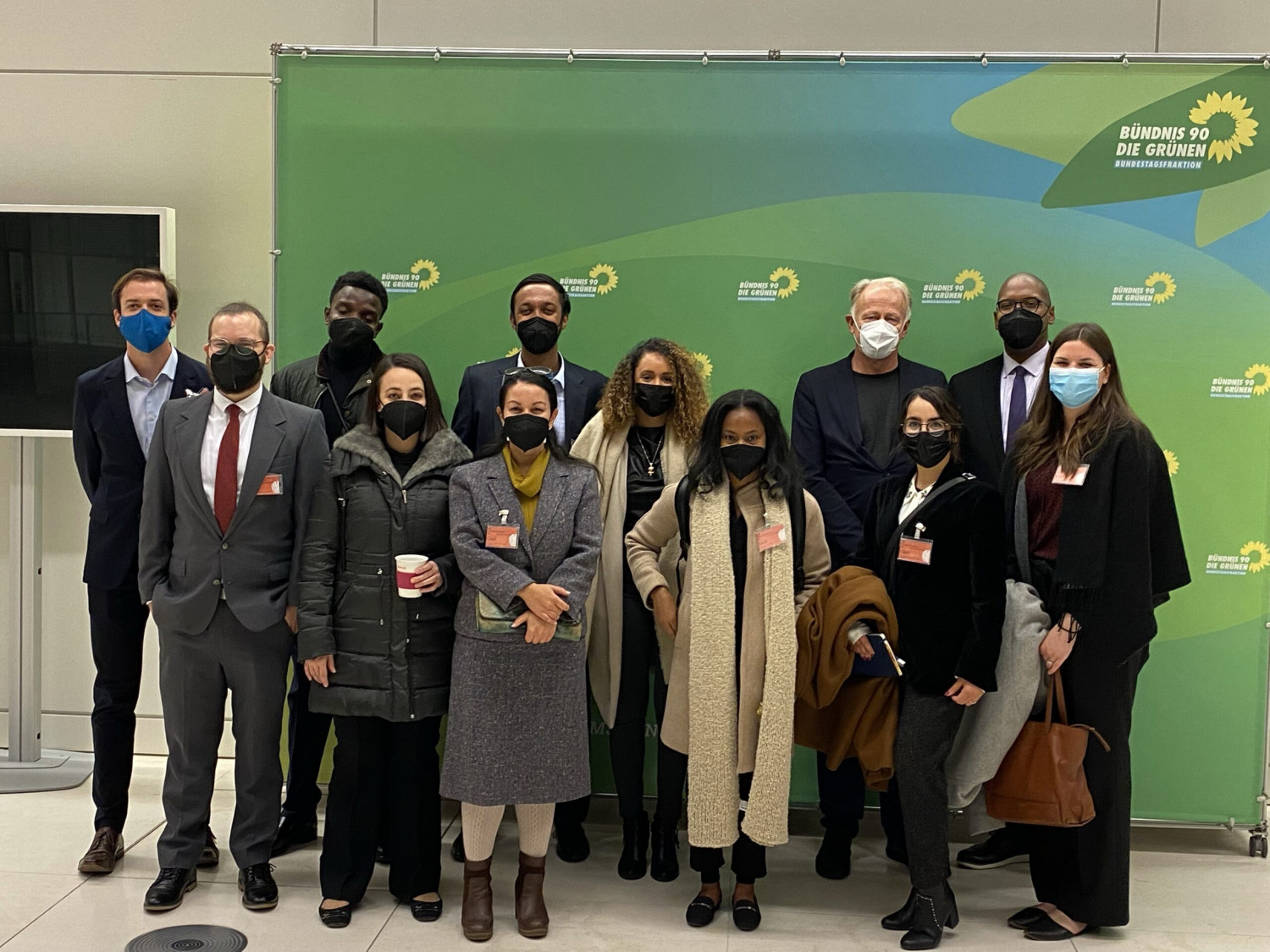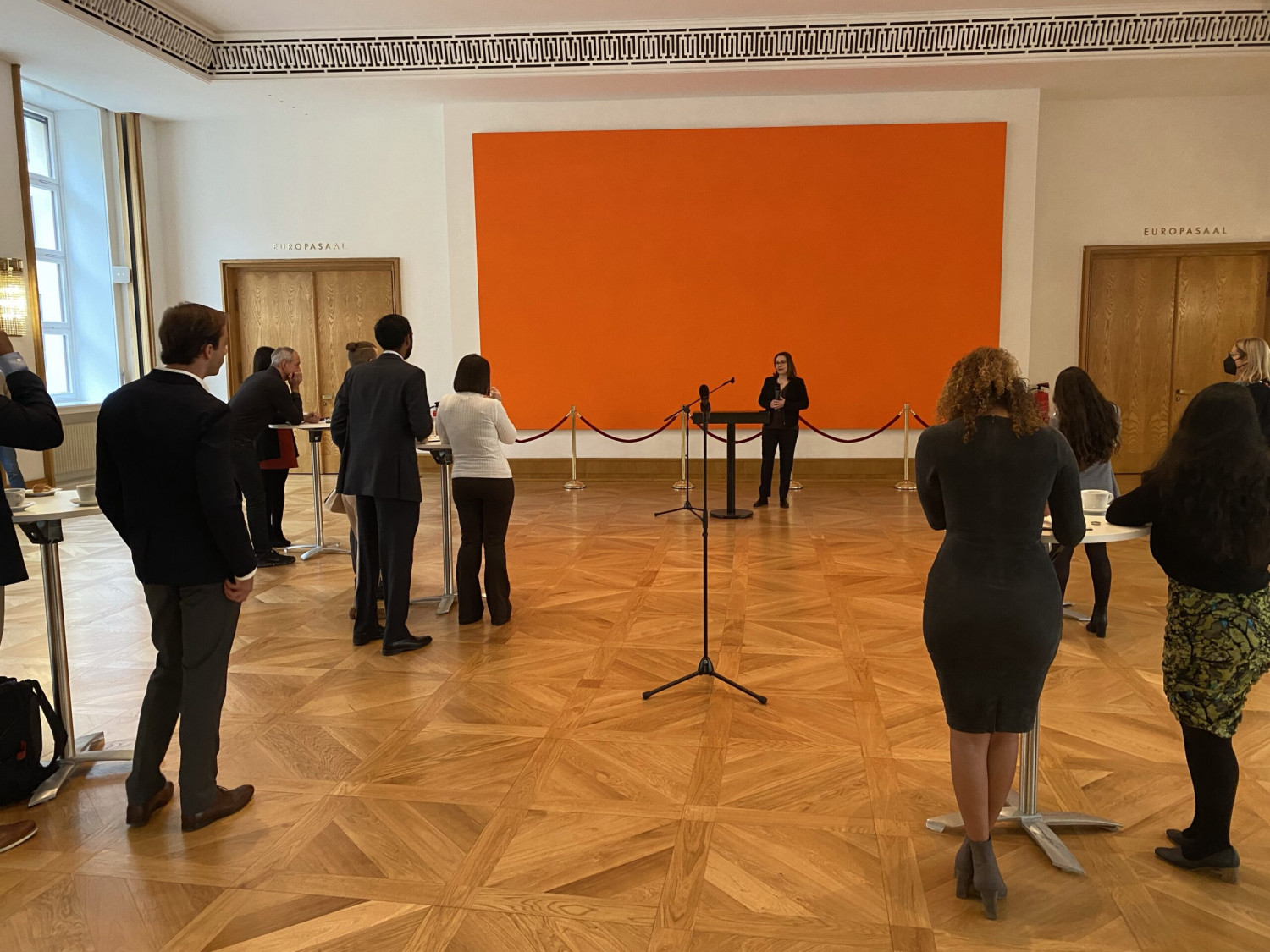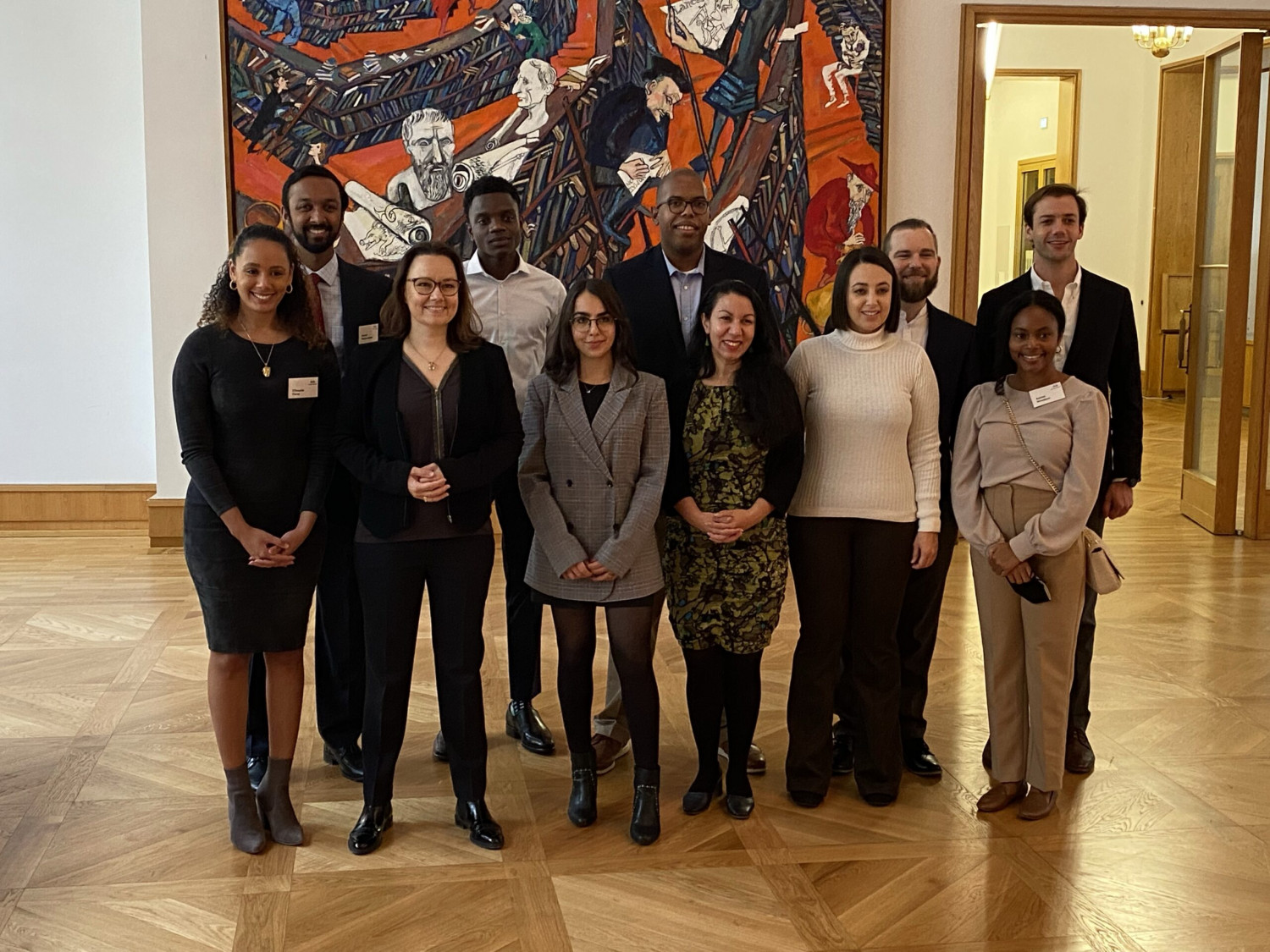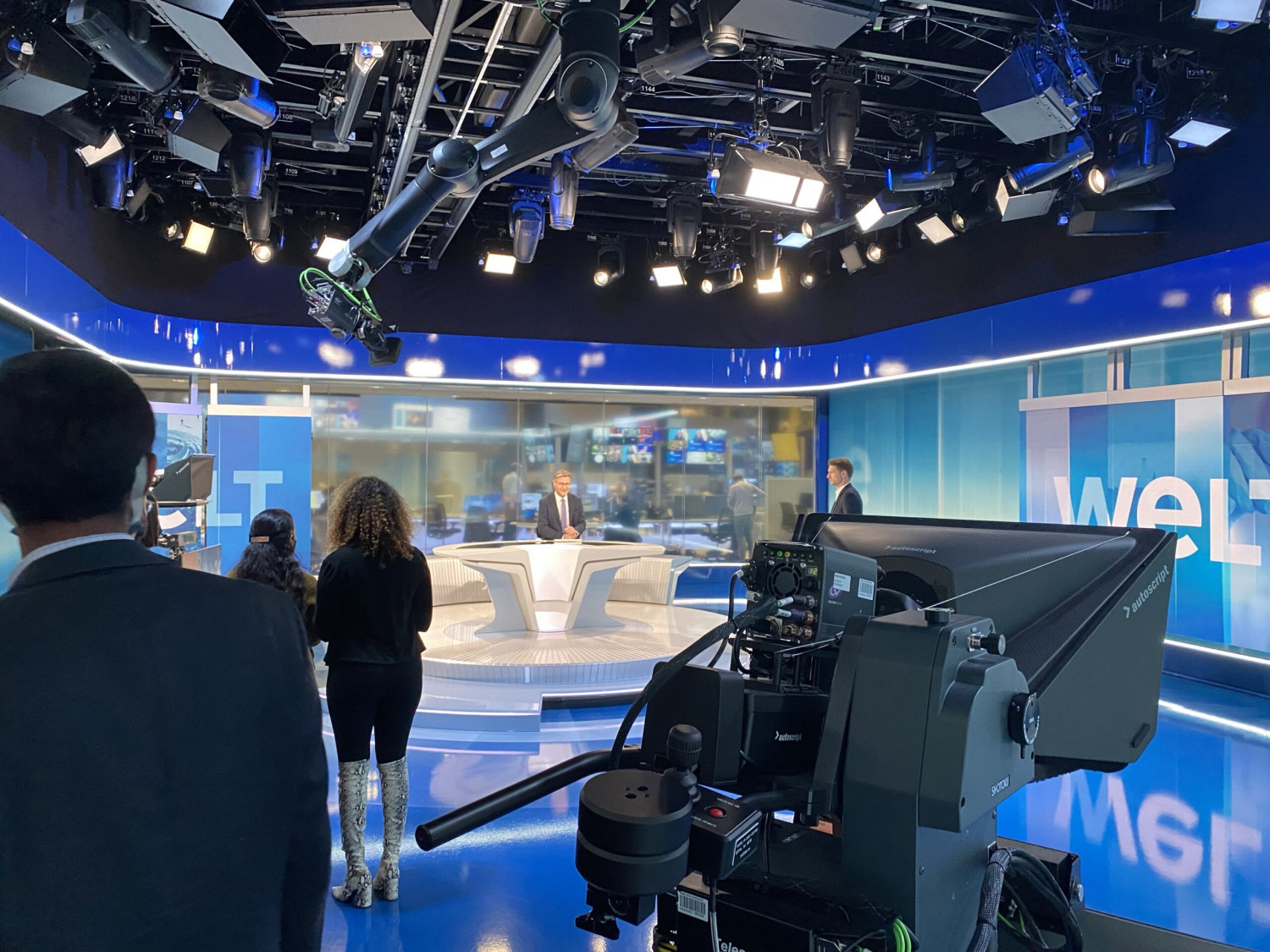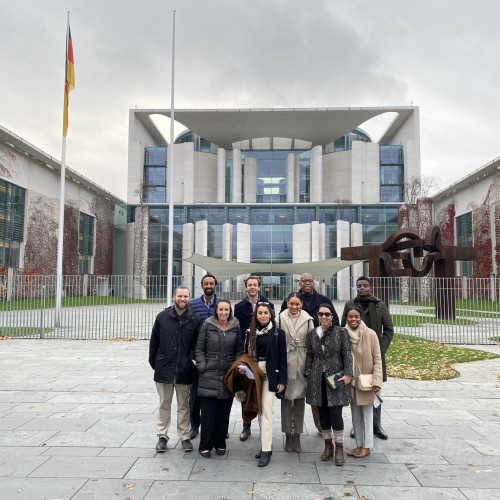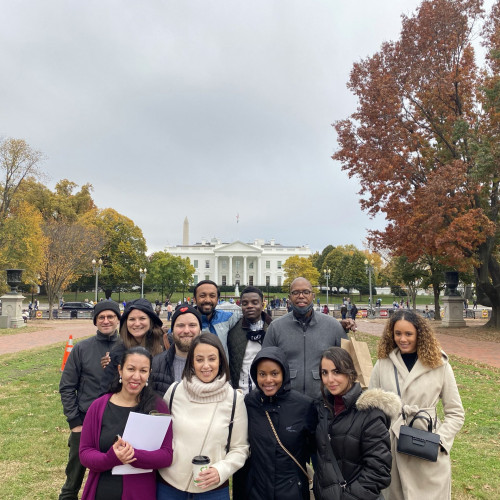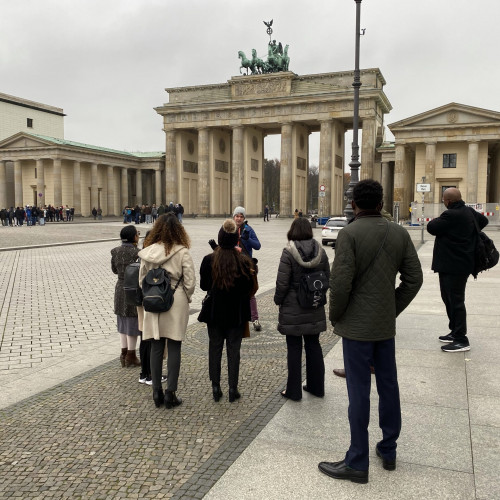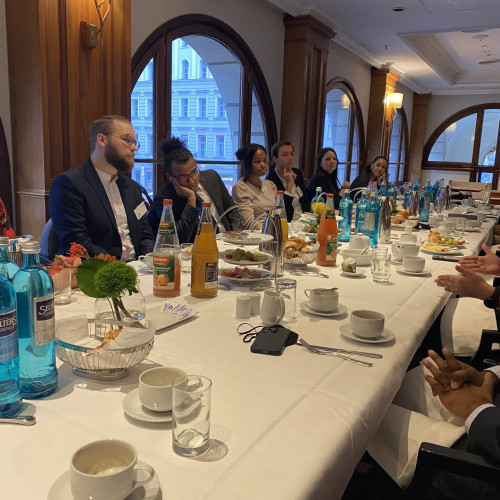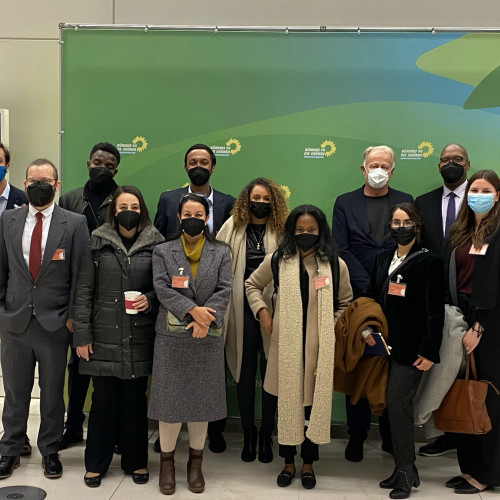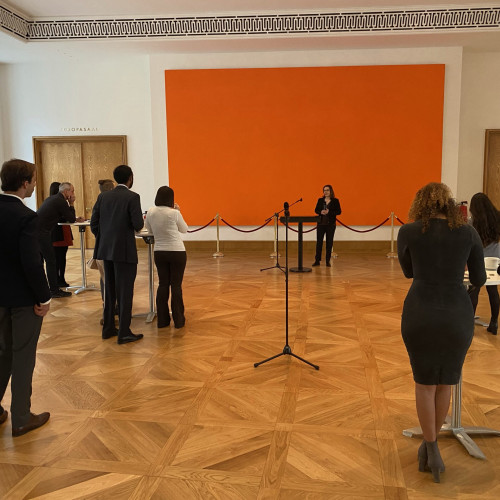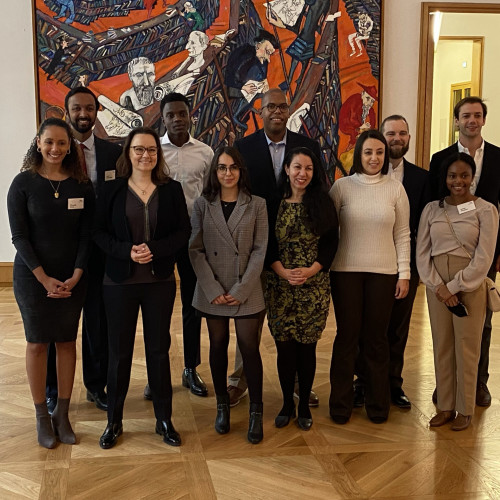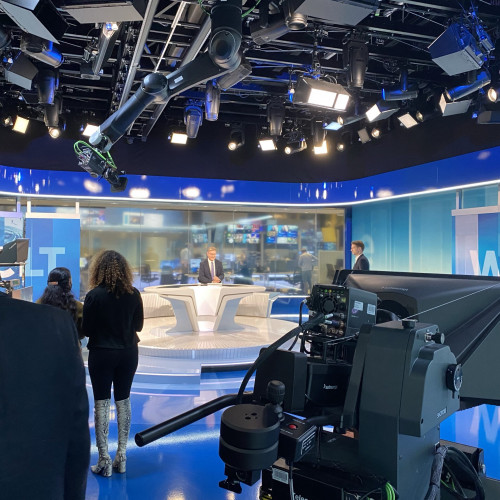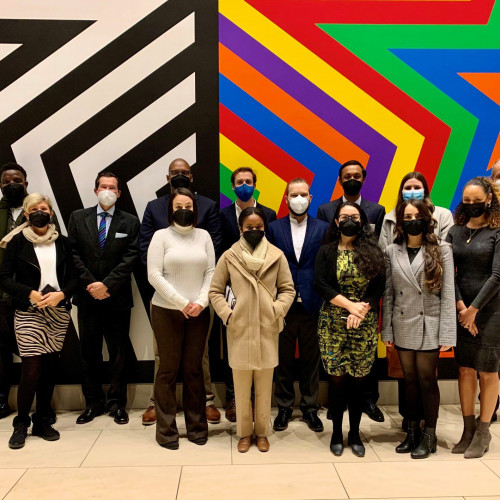 A group of New Bridge Fellows travelled to Washington, DC, Berlin, Wolfsburg and Brussels. Here, they recount their trip and reflect on what the experiences meant to them. Read about their trip and their thoughts below:
November 11, 2021
On November 11, the group members arrived in Washington, D. C., full of anticipation and excitement. They had never met one another; some had never even left the country. First thing on the agenda, after being picked up from the airport and checking into the hotel, was a reception at the home of Atlantik-Brücke board member Dr. Michael Werz. He made everyone feel welcome and at ease (of course, the Peruvian snacks and the New Mexican sparkling wine helped as well). An alumnus from the previous cohort, Mario Enriquez, who was also invited, shared his experiences and perspectives with the group and got everyone even more excited. They knew they were about to embark on the trip of a lifetime.
November 12, 2021
(by Silas Burris, Ph.D., social/behavioral research scientist)
Friday, November 12, was the first full day of programming. As a group, we had only just started to get to know one another. We were still learning what it meant to be part of the New Bridge. However, the events on this Friday set the tone for the busy week to come.
Our day began with a review of the week's itinerary at The Gathering Spot. As a cohort, we realized most of us had professional interests in diversity, equity, and inclusion issues but were fairly uninformed about how these topics apply to Germany. During this breakfast session, we were given some, perhaps shocking, insights into how Germany differs from the U. S., which began to alter how we would approach the upcoming week. Immediately I had questions, and others in the group were asking them as well: What do you mean Germany cannot legally collect demographic data on race? How is the population estimated? How are social policies communicated? What does it mean to a country when it doesn't have birthright citizenship? In this first discussion it became clear that this was about to be a week of discussions and learning none of us could have dreamed of.
With our eyes more open than before, we began with our roundtable on diversity in transatlantic relations. This was the first instance where we began to realize just how impressive and full of high-ranking officials this week's meetings would be. We met with Deputy Assistant Secretary of Defense for European and NATO Policy, Spencer Boyer, Georgetown University Professor of International Affairs and Senior Fellow at the Council on Foreign Relations, Charles Kupchan, and the Communications and Special Projects Director in the Office of Congresswoman Veronica Escobar (TX-16), Elizabeth Lopez-Sandoval. Over this first lunch, on our first full day, our cohort was given unfiltered access to these individuals. We were free to ask for their insights, learned relevant historical and political background on the U. S.-German transatlantic relationship, and heard what experts in this field believe to be are the most pressing questions. There was so much to absorb during this short meeting, but it left a lasting impression on us. We were here to learn about something important and complicated. We were here to ask questions. We were here to think about how the present can shape the future.
Following the lunch discussion, our cohort was taken to the State Department to continue our discussions and to meet with a Germany Desk Officer and Public Diplomacy Officer for the UK, Ireland, and Germany. Here, we also met an alumnus of Atlantik-Brücke's Young Leader's Program and were given a special audience to learn more about how defense perspectives can have an impact on the value of transatlantic relations. Once again, I found my mind and outlook expanding faster than I could have anticipated. We were left with heartfelt advice from our speakers: As authentic representatives of the United States, be yourselves. You are ambassadors. Creating and maintaining these people-to-people ties is important to transatlantic relations. So be true to yourself.
You are ambassadors. Creating and maintaining people-to-people ties is important to transatlantic relations.
Our next stop on the itinerary was a discussion on U. S. news reporting from a German perspective, hosted by Claudia Buckenmaier and Torsten Teichmann at the ARD Studio Washington. From the moment I saw this on our program, I knew this was a conversation I was looking forward to. Claudia and Torsten were very gracious in giving us a private tour of the studio and helping us to understand the similarities and differences in German and U. S. media structures and oversight agencies, as well as pointing out the real danger of the lines between journalism and entertainment becoming blurred. I struggled to imagine the burden any news media has in attempting to provide fair and balanced coverage in 100 seconds to their audience. Claudia and Torsten's commitment to honest and fair coverage was refreshing and a reminder of what journalism is meant to be.
The conclusion of our very full day was at the home of Ricklef Beutin, Deputy Chief of Mission for the Embassy of the Federal Republic of Germany. Here, our cohort was welcomed as guests of honor into a beautiful home, with hors d'oeuvres and champagne, and a dinner reception. Once again, I found myself rather shocked to be receiving unfiltered access to high-ranking officials and employees working at the Embassy, Germans living in the U.S., and others who would happily engage us in any conversational topic. My takeaway from the many conversations I had that evening was that there is still so much for Germans and Americans to learn from one another and that this is a good thing. It means that we can all continue to grow and perhaps even grow closer together.
This first day set the tone of the program. Looking back, I can see that our cohort was being welcomed every single moment as a special group of individuals, who were on the verge of an incredible learning experience. This group of diverse, impressive young leaders that made up our cohort was being brought into this program to learn, yes, but also to contribute to the dialogue. The events of this first, full day certainly prepared me to better understand what I was getting myself into. It was exciting to begin anticipating just how much more I was going to learn and have my perspective expanded. Each day of the New Bridge Program did just that.
November 13, 2021
The morning of November 13 started with a walking tour through Washington, D. C. It wasn't your standard walking tour, however. It was a tour tracing German history in the U. S. capital. Unfortunately, the weather wasn't on the group's side, so afterwards, they used the free time to dry off, warm up, and get ready for a long overnight flight to the other side of the Atlantic. After a lovely dinner, they grabbed their suitcases and were on their way to the airport.
November 14, 2021
After arriving in Berlin in the afternoon of November 14, the group's introduction to German culture began with a trip to a local "Döner-Bude." They learned that the Turkish-German delicacy is the most famous fast-food item in the country, with döner meat consumption equaling a staggering 600 tons each day. And for good reason: it is delicious! And many in the group did not leave it at just that one döner during the trip.
November 15, 2021
The first full day in Berlin started with a historic walking tour of the German capital – its attractions, stories of past wars, division, and reunification. The tour provided the group with a better understanding of Germany's history and the people's mindset that is often closely intertwined with the country's past and laid the groundwork for the week to come.
The next stop transported the group from Germany's past to its future. Dr. Julian Jaursch welcomed them to Stiftung Neue Verantwortung, a think tank working on current political and societal challenges posed by new technologies. At the center of the discussion was the debate over platform regulation, especially in a European context.
Staying on the topic of current debates, they then visited N26, a bank that was founded as a financial technology startup, and discussed financial technology and innovation with the bank's chairman of the supervisory board, Dr. Jan Boehm.
From there, they took the shuttle to the German Bundestag, where Jürgen Trittin himself, a Member of the German Parliament and a politician of the Alliance 90/The Greens, took the time to take them on a tour. Not only was he able to shed light on German politics, but he also turned out to be an arts connoisseur who knew all the artwork within Parliament that was worth seeing.
Afterwards, they remained in the Bundestag to meet with Cem Özdemir, another Member of the German Parliament and a politician of the Alliance 90/The Greens. He was directly involved in the coalition negotiations to form a new government at the time, and still, he took his time to answer every question, which was appreciated tremendously.
The day ended with a dinner discussion on Germany's remembrance culture with Prof. Dr. Susan Neiman, Director of the Einstein Forum, and a lot was learned about how Germans and Americans deal with their respective pasts and what they can learn from one another.
The first full day in Berlin was incredibly impactful and gave everyone a taste of what was to come.
November 16, 2021
(by Roby Mercharles, VP of Partnerships, The American Dream Fund & Marketplace)
Socio-Political Reform in Germany; A Contemporary Lens on Historical Issues
Vergangenheitsbewältigung
German people of diverse backgrounds continue to reflect on Germany's National-Socialist past as well as the country's division after World War II until 1990. The healing process has given rise to a culture of remembrance (Vergangenheitsbewältigung) which manifests as social solidarity and an increased respect for diversity. My time in the German capital allowed me to explore German society from both a historical and contemporary lens. Through my interactions with German locals and political leaders alike, I gained a greater understanding of how a once divided nation is making its recovery through the development of its economy, the remodeling of its educational systems and the influence of social movements.
Through my interactions with German locals and political leaders alike, I gained a greater understanding of how a once divided nation is making its recovery.
Economic Development 
Prof. Dr. Michael Hüther, Director of the German Economic Institute and Vice Chairman of the Board of Atlantik-Brücke – Social Market Economy
Globalization has long been the driving force behind the growth of Germany's GDP. Since the end of World War II, Germany has built its financial and institutional infrastructure to support the development of the manufacturing industry. According to Dr. Michael Hüther, manufacturing makes up nearly a quarter of the German economy, about twice the share that manufacturing has in the U. S. economy. Throughout the discussions, I also learned that the German economy can be categorized as a highly developed social market economy. Since its implementation, the social market economy has proven its ability to adapt to changing cultural contexts and societal demands.
Dr. Matthias Roßbach, Head of "Coordination of Federal and European Policy and International Affairs" at the State Chancellery of North-Rhine Westphalia, Berlin Representation – Briefing on Germany's Political System
North Rhine-Westphalia is a testimony to Germany's financial and institutional success. The state was created after World War II by merging land formerly owned by Prussia. According to Dr. Matthias Roßbach, Westphalia or as originally known, "The Land of Coal and Steel," has held strong as Germany's powerhouse, with the largest economy among its counterparts by GDP.
Education System
Breakfast Roundtable on "Diversity & Intersectionality" 
Our breakfast roundtable discussion on Tuesday morning centered around diversity and intersectionality in the EU. We were joined by experts who helped us navigate the many facets of institutionalism in Germany. While the panelists shared similar perspectives on many issues, niche topics like the privatization of educational institutions in Germany saw varying outlooks. Eduardo, himself a Hertie School student, argued that private institutions only cater to certain socioeconomic demographics, resulting in the wealthy getting wealthier and disincentivizing progress in disadvantaged communities. The German government is internationally renowned for its policy of offering eligible citizens free university education. While the shift to the dependence on government funding was the result of abandoning tuition, which increased enrollment numbers, it has also meant a 10 percent decline in spending per student in the last few years. The OECD reported that the discrepancy in student spending is about $16,895 per year, compared to $27,924 in the United States. Considering the relatively low funding, German universities are seldom near the top of international rankings. While this has some implications, the provision of free education resources in Germany promotes inclusivity and addresses the opportunity gap between diverse demographic groups.
Social Activism 
Discussion on Stakeholder Capitalism with Ruby Au, Head of Ecosia North America
Since its reunification, Germany has put heavy focus on social equality through employee participation and codetermination. These changes have caused some companies to switch to the stakeholder capitalism business model which differs from capitalism in that it attempts to create long-term value not only for shareholders but also for customers, suppliers, employees, communities, and other stakeholders. While the importance of profits and returns is maintained, many corporations have recognized that they will only thrive in the long term if they focus on green growth and climate-neutral production. As a supporter of stakeholder capitalism, Ruby Au believes that serving the interests of all stakeholders, as opposed to only shareholders, is essential to the long-term success of Ecosia.
Fridays for Future
Dinner on Climate & Environment with Friday for Future Activists
German students have long been pioneers in driving societal changes in German culture. One example was the student movement in the 1960s. Among many concerns, protesters in Germany strongly opposed the way Germany was handling its Nazi history. The attempted assassination of student activist Rudi Dutschke is regarded as the formal beginning of the German student movement. Dutschke had previously been labeled an "enemy of the people" in the Axel Springer-owned tabloid newspaper, Bild-Zeitung. Protests were later held outside the Springer offices in response to the shooting. The German student movement would create long lasting changes in German culture and serves as an example of Germany's response to social activism. The German student movement has since inspired many other students to raise their concerns about systemic issues within Germany. One that is currently making headlines is a youth-led movement that began in August 2018, after 15-year-old Greta Thunberg and other young activists sat in front of the Swedish Parliament every school day for three weeks, to protest the lack of action on the climate crisis. Since its inception, Fridays for Future has garnered international attention and has enlisted the help of over 14,000,000 people in 7,500 cities. For dinner, we were joined by two student activists from the organization to discuss their vision for the future and how we can collaborate to bring it about. Besides investing their valuable school time to organize protests, the students reassured us that they're also taking small steps daily to create a healthier environment. I was particularly impressed by how the student activists carried their missions throughout all facets of their lives. By adopting environmentally friendly products and habits, we can all do our part to create a better future.
I've been able to develop a clearer understanding of how Germans navigate economic development, educational innovations, and social activism.
The Merriam-Webster Dictionary defines progress as "the advancement or development toward a better, more complete, or more modern condition." As it refers to the development of modern-day societies, progress is made slowly and can take many shapes, but, little by little, a little becomes a lot. In German society, progress has been an active theme for over two decades since the fall of the Berlin Wall. My time in Berlin gave me clarity on topics concerning the social structure of Germany. Through my discussions with subject matter experts, I've been able to develop a clearer understanding of how Germans navigate economic development, educational innovations, and social activism.
U.S. Chargé d'Affairs Clark Price welcomed the group to the U.S. Embassy. Minister of State at the German Federal Foreign Office Michelle Müntefering invited the New Bridge fellows to the at the Federal Foreign Office. Both diplomats took time to discuss foreign affairs with the group.
November 17, 2021
The train ride from Berlin to Wolfsburg in the early morning of November 17 was a highlight already. Many in the group marveled at the efficiency and modernity of the public transportation system in Germany.
Upon arrival in Wolfsburg, they were welcomed at the world-renowned Volkswagen AG. There, the group first discussed German work life, the social partnership model, and the DEI efforts at the company and were then taken on a factory tour. They saw VWs being manufactured, from initially making the body to its completion as a fully-functioning car – it was fascinating! Afterwards, they were invited to lunch at the Autostadt and were able to dive into conversations with VW employees, including an American intern who also shared her personal experiences as an American living and working in Germany.
After another comfortable train ride, the group returned to Berlin and were able to visit the Federal Chancellery. They were welcomed by Deputy Head of the Security Division, Ludwig Blaurock, who not only answered their questions on security and defense matters, but also took them on a brief tour around the Chancellery. It was an unparalleled experience!
In the evening, some of the group made their way to a local Christmas market. There, they indulged in some typical German food (like Currywurst), drank Glühwein, and enjoyed each other's company. It was a great conclusion to an exciting day.
November 18, 2021
(by D'Seanté Parks, Founder, 1000 MORE)
Munich Security Conference and Discussion on Foreign and Security Policy with Ambassador Boris Ruge
Ambassador Ruge, Vice Chairman of the Munich Security Conference, engaged in a discussion with our group on how the Munich Security Conference interacts with diverse groups in various nations. We discussed how they are engaging with Americans who are aligned with former President Trump. They currently don't work with external consultants, but have an in-house communications team. In the nations they work in, they are interested in expanding their presence with small offices. They don't endorse candidates but hope that more diverse candidates will be elected to the foreign relations offices they work with. They are investing in partnerships with governors to strengthen bipartisan relationships. That was a trend that we heard throughout the trip. Diplomacy with America doesn't only happen at the federal level, foreign governments are working with governors and mayors as well. This helps create stability as the United States transitions through varying presidential administrations.
Diplomacy with America doesn't only happen at the federal level, foreign governments are working with governors and mayors as well.
Discussion on Refugee Experiences with Salma Jreige, Projektleitung, "Multaka: Treffpunkt Museum – Geflüchtete als Guides in Berliner Museen"
Salma discussed her experience coming to and living in Germany and the work that she does with the Multaka Project. Multaka means meeting point. Fifty percent of newcomers to Germany in 2015 and 2016 were from Syria. The group started with 19 guides giving tours at four museums. The objects in the museums served as bridges. All guides had migration experiences (forced and not). They connected the stories of the objects to their own experiences. The tour guides are authorities on their culture, so they were exercising agency. The program served as a way for communities to get into the culture sphere. Tour guides have diverse backgrounds in the work that they do (law, politics, architecture), so they give very different tours with different perspectives. The tours are free of charge.
We had a great conversation about the use of language and the way we can reframe stories. For example, Salma pointed out that Germany is a country with a history of migration itself, especially when people had to leave in the 19th century due to failed revolutions and economic factors.
Furthermore, beyond reframing stories, we also talked about critically thinking about the way we use words, terms, and labels. For example, "refugee" and "integration" are words the group doesn't use anymore because integration like assimilation should be a two-way street. Only non-white migrants are asked to integrate or assimilate. Salma noted that Americans often move to Germany to work in start-ups and aren't made to take German language classes or asked to speak German.
Lastly, on the word "refugee": instead of saying "refugee," years ago the group started to say "people who have fled." However, they stopped using that term because it wasn't true for all the people in the program. They started using "newcomers," but now, many of them aren't so new, as they have been in Germany for years. Now they try to stay away from labels. They say, "people with experience migrating." "Refugee" is just a type of visa or legal status.
WELT Newsroom and Discussion with Dr. Jan Philipp Burgard, Editor-in-Chief
This was one of my favorite meetings! I work at the intersection of media and politics in America, so all the stops on our trip involving media were especially exciting to me. The first media stop was in D. C. at one of the German public broadcasting station's foreign offices in the United States. There, I learned something that expanded my perspective of the role of media in society: Germany has a democratically elected body that oversees all public media. This gives the public a certain control over information that America doesn't have.
WELT is not a public broadcasting station, it's private, but they technically have to compete with the public stations that answer to the public oversight board. The WELT newsroom is state of the art. We got to see a live broadcast of the evening news – and accidentally were in the studio when the anchor went live!
There is a monitor front and center that displays the viewership in real time, which raised a discussion about how much the outlet values viewership when deciding what news to broadcast. In America, we see a trend of news outlets covering what gets them more ratings, regardless of whether it is responsible journalism. I would love to further explore the trends in Germany, especially since they have a larger public broadcasting presence with a democratically elected oversight board.
Jan Philipp Burgard was great! He has been to lots of American cities throughout his impressive journalistic career. He was very interested in where we were from and the work we were doing. I look forward to keeping in touch with him and all the other wonderful people who were gracious enough to meet with us throughout our trip.
November 19, 2021
(by Anand Raghuraman, Vice President, The Asia Group)
After one week in Germany, the New Bridge Fellows traveled to Belgium on Friday, November 19, navigating early flights and strict COVID testing requirements upon entry into Brussels. For many of us, this was a clear reminder of COVID-19's presence even in a post-vaccine world. In fact, our visit came as Belgium faced a new surge that would mark the early days of the Omicron variant. Rising caseloads understandably resulted in meeting cancellations during the program's first day in Belgium, but our group still had great opportunities to engage leading think tank experts and political advisors to European MPs through briefings and a lively lunch discussion.
We first met Mr. Roland Freudenstein, Vice President and Head of GLOBSEC Brussels, who introduced our group to the history of the European Union and the process that led the continent's leading lights to pursue shared sovereignty. Tracing the arc and origins of the European Coal and Steel Commission and the European Community, Mr. Freudenstein explained how the searing experience of World Wars I and II shaped the thinking of Europe's post-war leaders. In Germany and France, leaders such as Robert Schuman, Jean Monet, and Konrad Adenauer were willing to take bold measures to resolve longstanding political grievances between their two countries. Frankly, I came away struck by the political courage of these leaders, who were willing to pursue transformational statesmanship rather than repeat the mistakes of the past.
With this historical framing in place, the group moved to a fantastic Belgian restaurant for a lunch discussion on modern EU politics with Mr. Freudenstein and two policy advisors to European MPs. The discussion was spirited and far-ranging. We covered topics from the future of European security, emerging tensions with Russia, transatlantic relations under the Trump administration, and the state of U. S. politics heading into 2022, with several members of our group sharing their perspectives. However, the highlight of this discussion, for me, was hearing and debating ideas related to the migrant crisis facing Europe.
In fact, this was a common theme across all our meetings in Germany and Belgium, with the "migrant crisis" often described as the single greatest challenge facing the continent. Yet our interlocutors in Berlin and Brussels rarely seemed to acknowledge the fact that Europe's challenge with migration was really two-fold: (1) political and logistical, in terms of dealing with the large number of migrants and providing adequate social and economic support, but also (2) ideological and cultural, with some Europeans fearing that an influx of Muslim migrants would fundamentally change the national character and values of their respective states.
I think all of us (including our speakers!) benefited from the opportunity to test ideas and perspectives.
Our group debated both of these points, and the conversation – animated throughout and contentious at times – was one of my favorite memories from the trip. It was a great example of the tough conversations that arise when diverse voices participate in the transatlantic discourse, and I think all of us (including our speakers!) benefited from the opportunity to test ideas and perspectives. Best of all was the fact that our waiter – a local political science graduate – found the conversation so interesting that he stayed on to listen in, keeping his popcorn at the ready!
November 20, 2021
November 20 was to be the group's last full day in Europe. After all of the programming during the last week, they enjoyed a day on their own. A day of roaming through the streets of Brussels, enjoying its chocolates and waffles, finding the last souvenirs to bring back home, and soaking up the culture. Everyone reconvened in the evening for a farewell dinner. While the group members felt sad to know that they only had one evening left, it was incredible to see how much everyone had grown – both personally and as a group. During such a short time, they had become committed to transatlantic relations, and had also become family.
November 21, 2021
And here it was, the final day. Everyone said their farewells at the airport and left with memories, new friends, and plans to stay connected – with each other, with Atlantik-Brücke, and with the transatlantic community in general.