The future of R&D in Germany's aviation industry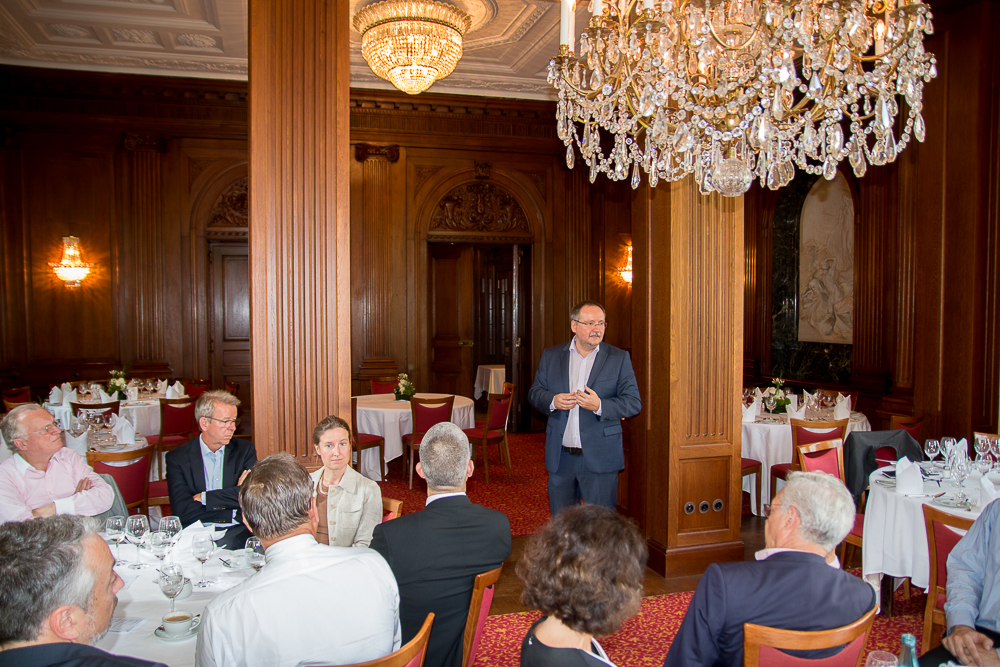 On Friday, June 9, 2018, the monthly Frankfurt Luncheon hosted Dr. Jens Schiefele, Director of Research and Rapid Development at the Boeing Global Services Lab, and Managing Director of Jeppesen GmbH, a Boeing subsidiary specialized in Flight Navigation and Optimization. The discussion focused on the transatlantic research and development landscape in the aviation industry.
After a brief introduction by Garrit Lange (YL 2010) who leads the EU Data Protection Program at Boeing, Dr. Schiefele shared his insights on the future of aviation. It seems that that future includes better use of airspace through technology such as improved airways or more advanced and quieter descents (especially in highly populated areas like Frankfurt); smarter cabins for better on-board experience; and the continuing development toward autonomous flying (pilot-less) through facilitating maintenance and chances of a single pilot cockpit. Dr Schiefele also shared his own history of studying in Darmstadt and Boulder (Colorado) and his effort to connect emerging talent across the Atlantic. Today, Boeing sponsors student exchanges and cooperation between universities in both the U.S. and Germany.
Boeing's presence in Frankfurt primarily consists of a digital aviation company (Jeppesen) acquired by Boeing in 2000. Captain Jeppesen, who the company is named for, began his career as a pilot for Boeing Air Transport before founding the navigation charts company. His company expanded across the Atlantic—to Frankfurt, in the 1950s—and still to this day produces charts and conducts research.